Mauricio Pochettino has new respect for Manuel Pellegrini in 'difficult time'
LONDON -- Tottenham's Mauricio Pochettino says he has newfound respect for Manuel Pellegrini because of the "difficult" situation faced by the outgoing Manchester City manager.
Earlier this month, City confirmed that Pep Guardiola, currently in charge of Bayern Munich, will replace Pellegrini when the Chilean's contract expires on June 30.
In a statement, the club said Pellegrini was "fully supportive" of the decision, while the 62-year-old told a news conference: "They are not doing anything behind me. I knew this a month ago."
Pochettino will go head-to-head with Pellegrini when Spurs travel to the Etihad Stadium for Sunday's crunch clash and the Argentine is full of admiration for his opposition number.
Manchester City

Tottenham Hotspur
Game Details
When asked if Guardiola's impending arrival could improve City's form, the Spurs boss told a news conference: "You never know the effect. It is difficult to guess if the effect will be positive or negative in a short time.
"It is true that it is a difficult time for Pellegrini, for Manuel. I try to show and send my solidarity and to be with him. He is one of the best managers in the world and I know now is not an easy period for him. I respect Pellegrini much more than before because now he is in a situation that is very difficult."
Pochettino stopped short of saying he felt sorry for the Chilean, however, adding: "No, because he is a strong man. He showed his quality like a manager and I wish him all the best. He has all my respect, more than before."
Spurs can move four points clear of City with a victory at the Etihad and centre-half Kevin Wimmer says the key to doing so is stopping Sergio Aguero, who has scored 18 goals in 25 appearances this season, and seven in his last five outings in all competitions.
The Argentina international scored all four goals in City's 4-1 victory over Tottenham at Eastlands last season and he boasts more goals against Spurs than any other team, with 10 in eight appearances.
Tottenham are yet to concede a league goal with Wimmer -- who is deputising for the injured Jan Vertonghen -- on the pitch but Pochettino conceded that the Austrian, and the rest of the team, face a stern test on Sunday.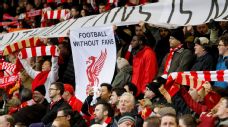 "Yes, it is a big test, but not only for Kevin, for the team, for the squad," Pochettino said. "Every time that you challenge one of the best players or teams, it is always a big challenge. But it is a collective challenge. They need to feel it is a collective challenge, not an individual one. But I understand that is maybe the position, he needs to challenge one of the best strikers in the world.
"After playing against Crystal Palace, Colchester, Norwich and Watford, I think he [Wimmer] has showed good maturity, and good communication with Toby [Alderweireld] and with [Eric] Dier when he played with Dier at Colchester. He is a very clever player, and has enough quality to play for us."
Dan is ESPN FC's Tottenham correspondent. Follow him on Twitter: @Dan_KP.