Hugo Lloris: Tottenham youngsters still 'don't know their limits'
Hugo Lloris believes Tottenham's young squad will only get better, claiming many of the players still "don't know their limit".
Spurs boast the youngest squad in the Premier League with an average age of just over 23 and goalkeeper and captain Lloris, 29, is the second oldest member of the group -- with the Frenchman's deputy Michel Vorm, 32, the oldest and the only over-30.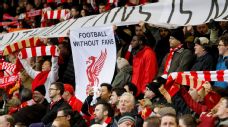 Tottenham's youth has not stopped them mounting an impressive title challenge and Saturday's 1-0 win against Watford saw them leapfrog Manchester City into second in the table, five points shy of leaders Leicester City with 13 matches remaining.
Lloris believes Spurs' youngsters are continually improving and says head-coach Mauricio Pochettino has found the "right balance in the team."
The France captain told the club's official website: "We have the talent, we have the working mentality and we have improved a lot tactically and technically. Individually as well, a lot of players are improving and because we are young, some players don't know their limit.
"That's very good. The competition inside the club helps push everyone even more. For me, I'm 29, I have more than 10 years behind me in professional football and I'm enjoying this moment at Tottenham because it's very difficult at the highest level of football to keep the right balance in the team and at the moment, we're doing that."
Spurs face a pivotal trip to Manchester City on Sunday, before their Europa League and FA Cup campaigns resume next week with matches against Fiorentina and Crystal Palace respectively.
Although the atmosphere at the club is currently rosy, Lloris fired a warning to his teammates, reminding them to remain focused as the business end of the campaign approaches.
"We cannot forget that things can turn around quickly in football. That's why we always have to be vigilant about what's happening every day. That's the role of the gaffer, the staff, the experienced players -- to put the team in the best condition every day for every game.
"We're having a great season because we are still in the cups, still in the league, there are a lot of things to try to reach and that's exciting."