Harry Kane, Jamie Vardy as good as Sergio Aguero - Mauricio Pochettino
LONDON -- England duo Harry Kane and Jamie Vardy are on the same level as Manchester City forward Sergio Aguero, according to Tottenham head coach Mauricio Pochettino.
Leicester attacker Vardy leads the Premier League scoring charts this season with 18 goals after his stunning volley against Liverpool on Tuesday, while he broke a league record by scoring in 11 consecutive matches earlier in the campaign.
Spurs striker Kane, meanwhile, has hit 15 league goals this term after missing out on the Golden Boot to Aguero last season, despite scoring 21 times in the Premier League.
Pochettino believes the England internationals are now on the same level as his compatriot Aguero, who cost Manchester City £38 million from Atletico Madrid in 2011.
"Today I think Vardy and Kane show big quality and the same quality as Aguero," Pochettino told a news conference.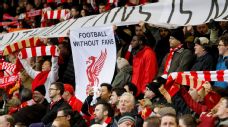 "They are different, they come from different circumstances but when we speak about Aguero, Vardy and Kane, they are among the better scorers in the world. We can't hide that. Today, Vardy and Kane are at the same level as Aguero."
However, Foxes boss Claudio Ranieri thinks comparisons between the two strikers are unfair as Vardy will need to prove his worth in more than one season.
"Sergio Aguero, every year. Jamie just one. I hope he does it next season, next season, next season for us," Ranieri said. "Jamie is playing very well and he links very well with his teammates but he must improve."
Kane's double in Spurs' 3-0 win at Norwich on Tuesday took his tally to 17 goals in 20 matches in all competitions this season and he will again lead the line alone for Saturday's home match against Watford.
By contrast, Watford are continuing with a front two of Odion Ighalo and Troy Deeney, and Pochettino took the unusual step of playing three centre-backs for Spurs' 2-1 win at Vicarage Road in December to counter the threat of the duo.
The Argentine has tended to stick to a 4-2-3-1 formation with Spurs, but he insisted that intelligence and flexibility of his players were essential to success.
"It's important, our flexibility, in different games how we play in possession of the ball and out of possession," he said. "The flexibility is important, and the clever players are important and then the delivery on the pitch.
"I'm happy with the level of players. We have a very clever squad that can adapt in different circumstances. We show in different games we can play in the same way and with the same philosophy but we are very flexible.
"They [Watford] played well against a good team like Chelsea [on Wednesday]. I was at Watford with Jesus [Perez, Spurs' assistant manager]. They are a good team with good players. Quique [Sanchez Flores] is a great manager and it'll be good to meet him Saturday. We need to be focused because they are a very tough team and we expect a very difficult game."
The transfer window closed on Monday night without Spurs adding a new striker, leaving Kane as the club's only recognised centre-forward.
With the Europa League and FA Cup returning for Spurs this month, Pochettino has admitted he could rest the England international.
"Yes, maybe," Pochettino said when asked if Kane could be rotated in the coming months. "It's important to keep performance high. Sometimes we need to rotate, to give a rest and some players may need a recovery and energy.
"From the beginning of the season, we try to share the minutes. We are in a competition, we have different games and you need all the squad. Why not? If he needs some time to rest or some to sit on the bench, it's good for him and the team, why not?"
Pochettino said Clinton Njie and Jan Vertonghen will miss Saturday's match but Ryan Mason will be assessed on Friday, along with Dele Alli, who was replaced at half-time at Carrow Road after complaining of feeling unwell.
"Today he [Alli] was good. We need to assess him tomorrow but all signals are good," Pochettino said. "I don't know why he was dizzy, but we need to do some tests next week, but we have very good medical staff. We are not worried, only we need to assess him and we need to know why, but we are sure it's not a big problem.
"We need to have some control. He feels good now but after today, tomorrow, we need to assess him again. If it's all normal, he will be available for Saturday."