Mauricio Pochettino denies Chelsea talk, happy to stay at Tottenham
LONDON -- Mauricio Pochettino has dismissed speculation linking him with Chelsea, insisting he is "very happy" at Tottenham.
A report this week claimed Pochettino was among four names -- alongside Antonio Conte, Diego Simeone and Massimiliano Allegri -- being considered as a permanent successor to Jose Mourinho when Chelsea's interim boss Guus Hiddink steps down in the summer.
Pochettino has also been linked with Manchester United, should they dismiss Louis van Gaal, but the Argentine insists he is focused on Spurs.
"It's the same rumours as about the players," Pochettino told a news conference. "There's a lot of names now in the media -- the facility to manage different clubs in the future.
"My focus is here, trying to achieve success with Tottenham and working hard. I think I've explained in the last news conference, I always work for the present and for the future. I am very happy here.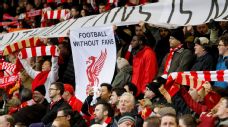 "After 18 months we have created a very good group and we've set a very good basis to get success in the future. I am very happy. My job is to be focused on my job and not hear rumours, only to be focused on my job -- this is the most important thing."
Asked if he is irritated by speculation, Pochettino said: "I don't mind. We are exposed to receive the rumours and we are in a media where everything is about rumours sometimes. I don't care about that.
"I think Tottenham are in a very good place. Personally I've enjoyed it so far a lot. The way that we play is to enjoy. I feel very proud for the squad, for the players. We've created a very good atmosphere and spirit.
"We're still very young but we've improved in our mentality. We can achieve many things but we need to wait, to keep working hard and see if we're able to achieve big things."
Dan is ESPN FC's Tottenham correspondent. Follow him on Twitter: @Dan_KP.