Nacer Chadli: Dele Alli Tottenham goal 'not lucky'; he always scores in training
LONDON -- Nacer Chadli insists Dele Alli's stunning goal against Crystal Palace was no fluke, and has backed his Tottenham teammate to have an impact at Euro 2016 this summer.
Alli, 19, scored a sensational volley six minutes from time to give Tottenham the lead at Selhurst Park, controlling the ball, flicking it over Palace's Mile Jedinak and finishing from 20 yards.
Harry Kane had earlier cancelled out Jan Vertonghen's own goal, and Chadli wrapped up a vital 3-1 win for Spurs with a curling effort in stoppage time.
All the postmatch talk was of Alli's goal-of-the-season contender, and Chadli revealed the strike was the result of practice rather than luck.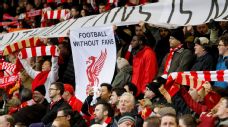 "Dele's goal was fantastic, a nice volley. It was unbelievable to see. I've not really [seen that] from a teammate, I never saw this," Chadli told reporters.
"Dele does [that kind of] volley in training. He's always scoring nice goals. He always gets in good positions in training and you can see it in the games. He's not lucky.
"I'm very impressed because it seems like he has a lot of experience. He's a very young player with a lot of potential. He's working hard. He's going to be a great player.
"He's a very nice lad, always smiling. I have a very good relationship with him and he's a very nice guy."
Alli also scored a stunner against France on his full England debut in November, and Three Lions boss Roy Hodgson was at Selhurst Park to witness the 19-year-old's moment of magic.
Belgium international Chadli expects his teammate to be included in Hodgson's 23-man squad for Euro 2016, and backed Alli to replicate his domestic form at the finals in France.
"The way he's playing this season, he's going to be picked and after it's up to him," he said. "He's shown his quality in the Premier League and he can do it at the European Championship.
"He's a very skilful player. He's got everything in his locker. He's still young, so he has to work hard but I think he knows that, so that's good."
Alli's strike overshadowed a brilliant 34-minute showing from Chadli, who crossed for Kane's headed equaliser before scoring a precision curling shot from 25 yards.
The Belgian, who scored 11 league goals last season, was ruled out for two months after picking up an ankle injury against Liverpool in October -- his last Premier League start for the club -- but says he is getting back to his best.
"It was a long injury," he said. "I had to get to fitness and feel nothing from the injury, which was hard. It was a long wait but yeah, I'm getting there and it's very nice.
"We have a lot of good players in the team and I'm just doing my job. I hope I can get time to show my skills."
Saturday's victory moved Spurs five points clear of fifth-placed Manchester United, who lost to Southampton, and Chadli believes it could prove significant.
"It's a big win, especially here where it's not easy to win," he added. "For us, it was a big game and we did very well. I'm very pleased with the team and everybody is very happy."
Dan is ESPN FC's Tottenham correspondent. Follow him on Twitter: @Dan_KP.