Tottenham boss compares Harry Kane threat to Brazil stars Romario, Ronaldo
Tottenham coach Mauricio Pochettino has compared playing against 'top class' Harry Kane to facing legendary Brazilian duo Romario and Ronaldo.
Pochettino believes Spurs' opponents are showing them more 'respect' this season, a shift he said was illustrated by defenders' treatment of England striker Kane.
Spurs' surprise push for a maiden Premier League title was dealt a major blow on Wednesday, when Leicester left White Hart Lane with all three points after Robert Huth's late winner.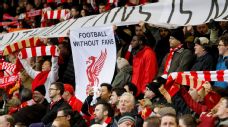 The hosts had over 60 percent of possession and 16 corners to Leicester's eight, but could not find a way past the Foxes, who were happy to defend and hit Spurs on the counterattack.
Leicester have based their stunning ascent to joint-top of the Premier League on this approach, particularly away from home, but Pochettino has noticed more teams adapting their play against his side.
"It's always difficult when you're on the top and the opponent comes and shows more respect than if you're 10th or 12th in the table. This is normal, it's logic, and for that we need to be ready or more strong than before," Pochettino told a news conference.
"It's realistic that they respect us more than before. We need to be ready because now when they run in behind us, maybe we feel different than before. Last night they [Leicester] played very deep -- counterattack and long ball -- and sometimes if you don't score early and take advantage, maybe you concede a goal."
When asked for specific examples of opponents' change in approach, Pochettino -- a former Argentine international centre-back -- compared facing Kane to his playing days, when he was asked to contain against Brazil's legendary "Ro-Ro" attack of Romario and Ronaldo, who spearheaded the Selecao during the late 1990s.
"I was a player. When you have up front Ronaldo, Romario, your challenge is to fight with them and you need be ready 200 percent, not 100 percent. It's like when Harry Kane starts, for example," Pochettino said.
"Now Harry Kane is a top-class player and it's always a challenge for the centre-backs to try to stop him. It's a big challenge. It's changed how they see us."
Defeat to Leicester left Spurs seven points behind the Foxes and joint-leaders Arsenal, and just one ahead of fifth-placed West Ham.
Pochettino has been cautious about talking up Spurs' title chances in public, but he admitted he would be disappointed if they fell out of the top four.
"If you keep for a long time the position in the top four, yes, our feeling will be disappointment. For that, we need to have a clear idea that we need to fight and to play better.
"We need to try. We'll try to stay in that position. I don't know what happened in the past, only that we need to try to fix that, don't repeat the same mistakes as last night and we'll try to win the top. This is our challenge."