Hugo Lloris: Tottenham lack maturity of Premier League title rivals
Tottenham goalkeeper Hugo Lloris has played down his side's title hopes, saying they lack the "maturity" of their rivals.
Fourth-placed Spurs are six points adrift of leaders Arsenal after taking 10 points from 12 over the festive period, increasing optimism that they can challenge for a first Premier League crown.
At 29, captain Lloris is the oldest member of Mauricio Pochettino's squad -- and the Frenchman warned that the White Hart Lane side may lack the knowhow to go the distance in the title race.
"We don't have the maturity of some teams, like [Manchester] City or Arsenal," he told The Evening Standard.
"You need experience. You can't buy it. You need to play games, you need to lose, you need to win.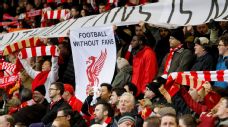 "We are young, we are talented, we are doing well, there is a great spirit in the team and we are working hard, so everything is positive -- but we need to go step by step.
"We will see where we are before the last 10 games, but at the moment we want to fight and stay as high as possible in the table."
Spurs have lost just twice in the league this season, the joint-fewest with next week's opponents Leicester City, and their success has been built the best defensive record in the division, with only 16 goals conceded in 20 matches.
But Tottenham also have the most draws, with nine, which has prevented them keeping pace with north London rivals Arsenal.
Sunday's 1-1 draw at Everton showed a failure to be clinical in front of goal, with just four attempts on target from a total of 19 shots.
Lloris added: "When you have control, as we've had in certain games, you need to be clinical with the last pass, or to make sure your shot is on target.
"It's the Premier League, it is a high level and games like these are about details. We have a lot of games ahead, and we are very excited to come to the second part of the season because we have a lot to gain."