Christian Pulisic, Michael Bradley 7/10 as U.S. battle for draw vs. Chile
Facing the best team yet in the Gregg Berhalter era, the United States weathered a storm of pressure to salvage a 1-1 draw on Tuesday at BBVA Compass Stadium. The game was a significant test of Berhalter's process and will provide plenty of data for the new American boss.
Positives
With the starting lineup on the field, the United States managed to put together several good attacking moves. The opening goal from Christian Pulisic came from a good touch from Gyasi Zardes, pointing to the possibilities for a full national team with Pulisic playing off a center-forward who is able to consistently bring him into the game. Again, the U.S. had a clear plan from the start of the match, which is in itself another step in the process.
Negatives
The Americans struggled mightily with Chile's pressure and were largely unable to pass the ball accurately enough to play from back-to-front. Turnovers proliferated, and when the U.S. did attempt to get the ball forward, gaps in behind turned into dangerous Chilean moves. The back line was particularly troubled with clearing danger.
Manager rating out of 10
5 -- For Berhalter, this match was more about bedding in ideas and improving the team's execution than the result. Yet even with that in mind, the result was encouraging. The Americans played on the back foot for most of the evening, but the commitment to the systems the coach has only just installed will help to inform future work. Berhalter rotated through the entire roster over two games, save third goalkeeper Jesse Gonzalez.
Player ratings (1-10, with 10 the best. Players introduced after 70 minutes get no rating.)
GK Ethan Horvath, 5 -- Was unable to do anything to save Chile's goal. Forced to make just one other reasonably difficult save. Had good and bad moments with distribution, a red flag in Berhalter's system.
DF DeAndre Yedlin, 4 -- Missing on the attacking end, save a single shot when pushed up into the attacking third. Beaten one-on-one early in the second half and in general gave the ball away too easily.
DF Matt Miazga, 4 -- Uncomfortable on the ball and uncomfortable defending for most of the night. Collected 12 defensive interventions while attempting to slow Chile.
DF Omar Gonzalez, 4 -- Part of an American defense that looked ragged and confused defending deep. Missed a handful of passes but did not provide the probing balls out of the back needed to break Chilean lines.
DF Tim Ream, 3 -- Prone to simple mistakes with passing, nearly gifting Chile a goal with a sloppy back pass. Provided a pair of late interventions when the Americans were under pressure.
MF Michael Bradley, 7 -- Excellent all-around, particular with his distribution. Found teammates in dangerous areas, including a pinpoint pass to Baird that should have resulted in a goal.
MF Cristian Roldan, 5 -- Energetic and willing but did not seriously impact the game. Dropped deeper to help defend Chile's midfield. Loose with passing and gave the ball away in midfield traffic several times.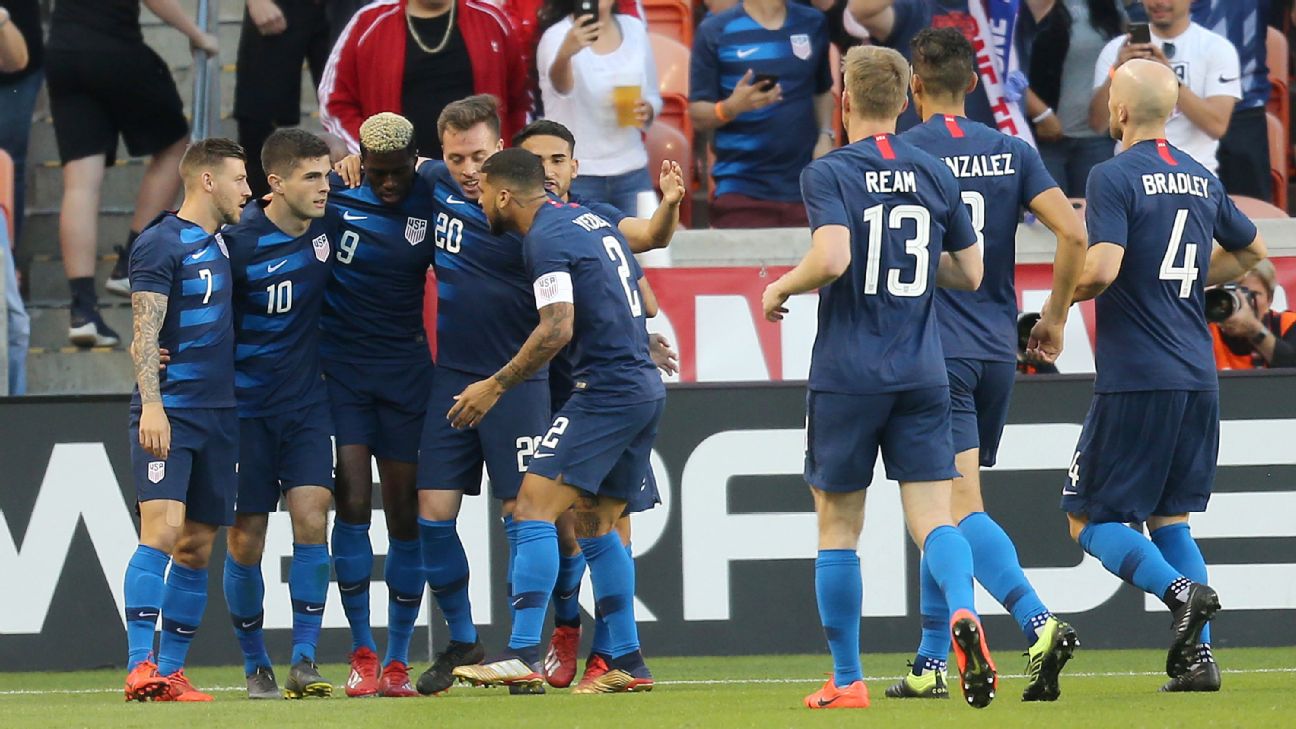 MF Christian Pulisic, 7 -- Forced off with an injury after just 35 minutes. Vibrant and influential with the Americans on the ball. Clever chip converted breakaway chance to give the U.S. a lead.
FW Paul Arriola, 5 -- Killed a handful of U.S. attacking moves with either poor touch or slow decision-making. Added one or two good moments helping the Americans deal with pressure and contributed defense on the flank.
FW Corey Baird, 5 -- Got into dangerous positions on several occasions but lacked the final product. Given an excellent chance from a Bradley pass late in the first half but couldn't put enough power on the shot.
FW Gyasi Zardes, 6 -- Showed a good first touch and played the pass that sent Pulisic in on goal. Guilty of a poor turnover that led to a Chile chance but was overall one of the better Americans on the night.
Substitutes
MF Sebastian Lletget, 5 -- Forced on with short notice because of Pulisic's injury and struggled with the pace of the game. Missed several passes and did not communicate well with teammates.
DF Daniel Lovitz, 4 -- Put in a pair of poor crosses in just over half an hour and looked unsettled by the pace and physicality of Chile when defending.
MF Wil Trapp, NR -- Helped the U.S. grab a modicum of control after coming on in the 66th minute. Missed just a pair of passes.
FW Jordan Morris, NR -- Pressed the ball late in the game in a bid to force a Chilean mistake but was able to touch the ball only twice in a cameo.
FW Jonathan Lewis, NR -- Popped up in good spots in limited time but was let down by a poor touch.