U.S. striker is a big question mark under Berhalter. Can Ramirez or Zardes take the reins?
SAN JOSE, Calif. -- As goals go, Christian Ramirez's tally last Sunday against Panama in his international debut was the equivalent of a 2-foot putt, a simple finish after some heavy lifting on the left wing from Jonathan Lewis. You would think, then, that Ramirez would have preferred to open his international account with a long-distance strike or a spectacular volley.
You would be wrong.
"If you had asked me what my first international goal would be like, I would have told you it would be just how it happened," he said in an exclusive interview. "I think it defines me. I just get the simple tap-ins, right place, right time."
In recent years, that approach has proved successful for forwards playing under U.S. manager Gregg Berhalter. In fact, the former Columbus Crew head coach, who was a defender in his playing days, has turned into something of a "forward whisperer."
In 2015, Kei Kamara was an MVP finalist after scoring 22 goals, tied for the top mark in MLS with Toronto's Sebastian Giovinco. Two seasons later, after Kei Kamara was shipped to the New England Revolution, Ola Kamara stepped in and delivered 18 goals, good for fifth-best in the league. After he was dealt to the LA Galaxy prior to the 2019 season, Gyasi Zardes was sent to the Crew in the same deal and netted 19 times, tying him for fourth best in the league.
"This particular lineup allows a lot of success for the striker," Zardes said in a recent interview at the U.S. team's training camp in Chula Vista, California. "You may not get the most touches in a game, but it's about the opportunities. With this particular lineup you can get five chances in a half, which is a lot for a striker. This style really allows the striker to have a lot of success."
In the current U.S. camp, Zardes figures to have an advantage given his history at the club level with Berhalter though he notes that in the current system, the forward is more involved in the buildup than in Columbus. But Ramirez has proven to be a quick study, so much so that another forward in camp, Jeremy Ebobisse, has been moved out to the wing.
"[Berhalter] just makes it so clear for you. 'The ball is going to be here and these are your movements,'" said Ramirez. "He gives you all the confidence in the world that there have been numerous times where he's talked to me in this camp and said, 'Look, everything that I expect of you, you've been doing, your knack for goal. Be you, be confident, do your thing and you're going to score goals. Get yourself in the box.'
"[Berhalter] gives you that confidence and as a forward, that's all you can ask for: somebody who believes in you, reassures you why you're here, and lets you play for him."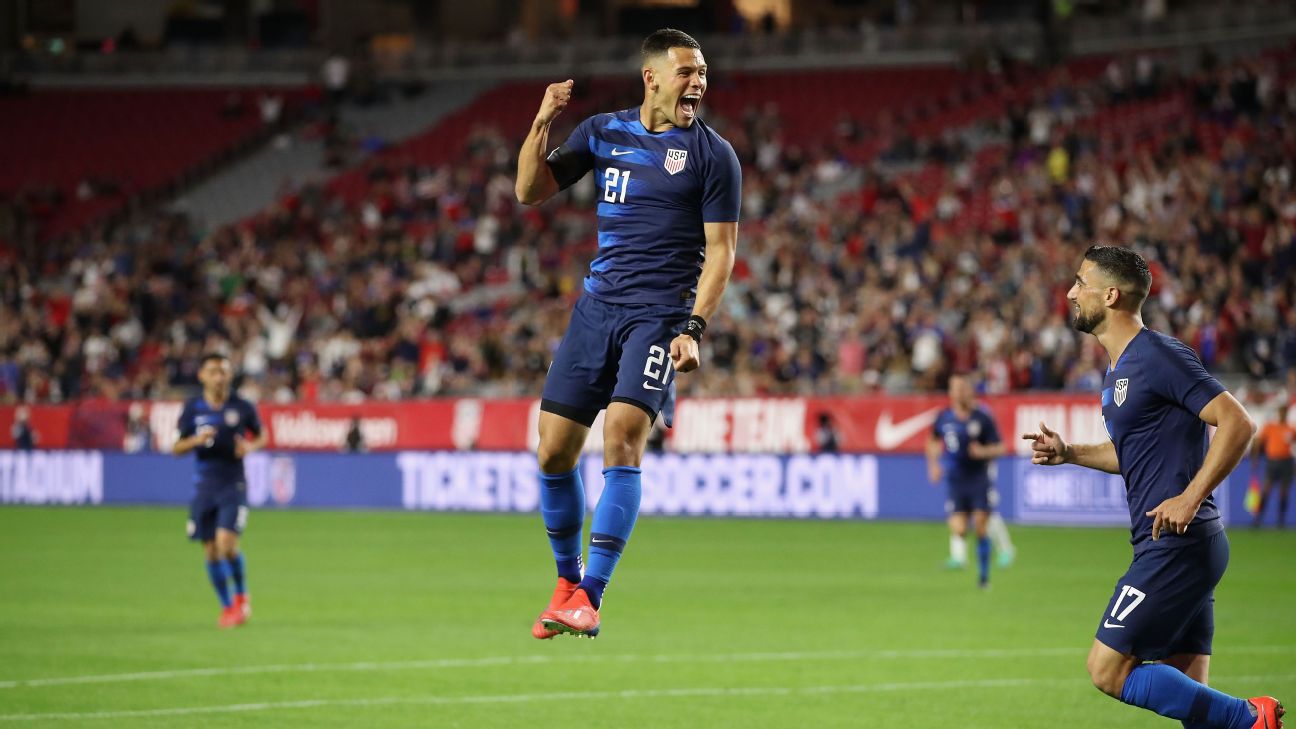 The forward position is one that always invites scrutiny. Strikers are the difference-makers, the players who can turn losses into draws or ties into victories. Conversely, a lack of production can condemn a side to mediocrity or worse. Yet a combination of factors has put more focus on forwards during this current national team camp.
One is Berhalter's aforementioned system. Another is the fact that the forward position within the U.S. side is in something of a transitional state. Jozy Altidore remains in the mix, though his last campaign was shortened by ankle surgery and it wasn't the first time an injury blighted his season. Bobby Wood continues to struggle in the Bundesliga with Hannover. Tim Weah has shown glimpses and has started well at Celtic, though his ultimate position is still to be determined. Josh Sargent's career is off to an auspicious beginning with Werder Bremen, having scored twice off the bench. His rapid progress points to him being the forward of the future, though there are never any absolutes.
With the next U.S. camp slated for late March, one that will include overseas players, the time is now for Ramirez and Zardes to make an impression even as they brush away the offseason rust. Both are 27 years old, meaning this is the last cycle in which these players will likely be considered for the national team.
"The competition is huge, so it's important as a striker you make the most of the opportunities," Zardes said. "Next camp you're going to be competing against guys playing in America, outside of America. [Berhalter] only called in three forwards, it shows you it's only a few. You just hope your name gets called."
Ramirez is the ultimate late bloomer, having risen through the various tiers of the U.S. soccer hierarchy to finally get some time with the national team. Zardes' path has been slightly less meandering in that he's toggled between forward and a wide midfield role. His career seemed to be on a downward slide as well, only for it to be revitalized last year under Berhalter.
Sunday's 3-0 win over Panama appeared to offer a contrast in fortunes for the two forwards. Zardes got the start, but squandered multiple chances to score. Ramirez converted his, though Berhalter looked beyond the pair's play in front of goal.
"We're confident that when [Zardes] gets in those positions, more often than not, he's going to put the ball in the back of the net," said Berhalter following Tuesday's practice. "His work on both sides of the ball, his defensive back-pressing was excellent. It was some of the best I've seen since we've begun working with him. That was great.
"Christian [Ramirez] came in and made a good impact. You can't ask anything more from substitutes than coming in and impacting the game in a positive way. I think Christian definitely did that. In buildup, he had a couple of nice layoffs. He got on the end of a good cross from Jonathan Lewis by good positioning. Overall I think both of them had solid outings."
Given the promise attached to a player like Sargent and the emphasis on a single-striker setup, it would be easy to dismiss the possibility of Zardes or Ramirez breaking through to play a big role. But the World Cup cycle has a way of creating opportunities -- however fleeting -- for players to contribute in important ways. That is what Ramirez is banking on, with Saturday's game against Costa Rica offering up the next chance to impress.
"There's always a role for a player that's a good teammate, that's selfless, that's willing to do whatever is needed on a national team," Ramirez said. "Guys before me that have been in that position, who were scoring goals at the club level and we're playing behind guys like Jozy, Clint [Dempsey].
"A guy like Chris Wondolowski or Alan Gordon, who were valuable pieces for qualifying, for World Cups, for Gold Cups, who always accepted that role on the national team because it's such an honor and a privilege to put this uniform on. So I sort of took this last game, coming on as a sub, in a way that I think that they would have. They came on with full energy and did what was needed."
For Zardes and Ramirez, that may well be the way forward.