A 10-letter word to describe the competitive spirit of the USMNT camp? Crosswords
CHULA VISTA, Calif. -- For his first camp as manager of the U.S. men's national team, Gregg Berhalter instituted a rule: no cell phones in the dining area. The idea was that he wanted the 28 players in attendance to talk with one another and bond over meals rather than have their heads buried in their phones. Little did Berhalter know that the players would find a low-tech way to put their own twist on meal time: crossword puzzles.
"They've kind of blown up over the past two weeks here," midfielder Wil Trapp said. "But we're all competitors, right? It's something where you wouldn't think that crossword puzzles would get a bunch of professional athletes jazzed up. We're sitting, we're talking, and now it's something where it's a little bit of competition and fun tension you have at the meals. And the guys enjoy the fact that at first, it's a daunting task. It's easy to give up on it."
It's enough to leave Berhalter to joke, "we banned phones from the meal room, but now everyone is doing crossword puzzles, so now we might have to ban crossword puzzles to get guys talking to each other again."
Team administrator Jon Fleishman will provide the USA Today crossword at lunchtime and another one at dinner. Some players work in pairs. For others, it's a solo endeavor. While Trapp is widely viewed as the top dog when it comes to both speed and precision, the likes of Walker Zimmerman and Aaron Long are putting up a fight.
"I've picked up more crosswords here than I have in my entire life," said defender and first-time U.S. call-up Mark McKenzie. "It helps us, especially off the field, getting to know the guys, getting to know each other with some banter in between as well as working together."
McKenzie says he has made progress the past two weeks, gradually filling up more of the page and picking up some tricks along the way.
"Crosswords will make you feel smart sometimes, but a lot of times, you'll try to go with the complex answer, and it will just be the simple words that work," he said.
This echoes the approach the U.S. is taking on the field at camp. The January camp remains a rarity in international soccer. Because of the vagaries of the calendar at both international and club level, there just aren't many opportunities for national teams to get together, uninterrupted, for four weeks.
Looking back over the history of the January camp, the stakes are much the same as they've always been: It's an opportunity for players to be noticed. Coaches get to accumulate an immense amount of data. How does a player train? How does he take care of himself? How does he bounce back after a bad day?
While it's easy to dismiss the camp, given that many of the players will never be national team mainstays, it seems that every year, a player or two breaks through to become a more consistent contributor, whether it was Pablo Mastroeni back in the day or in more recent times a Geoff Cameron or a Graham Zusi. Last year, it was Trapp who emerged to take on a bigger role, though the circumstances this time around are a bit unique compared to the camps the past few years.
Two years ago, it was about getting ready for a pair of World Cup qualifiers in March. Last year, it was about moving on, in any way possible, from the World Cup qualifying failure. Now it's about Berhalter and the new staff representing a fresh beginning both on and off the field. Games the next two weekends against Panama and Costa Rica will comprise the initial tests. Everyone in camp, from coaches to players, stresses that the games will not be perfect. Progress will have to suffice.
"We're finally building something," Trapp said. "The new staff is here. The new model is being implemented. For all of us, it's adapting to that and then seeing how we shake out when the games come around."
A new year, a new manager, a new USMNT base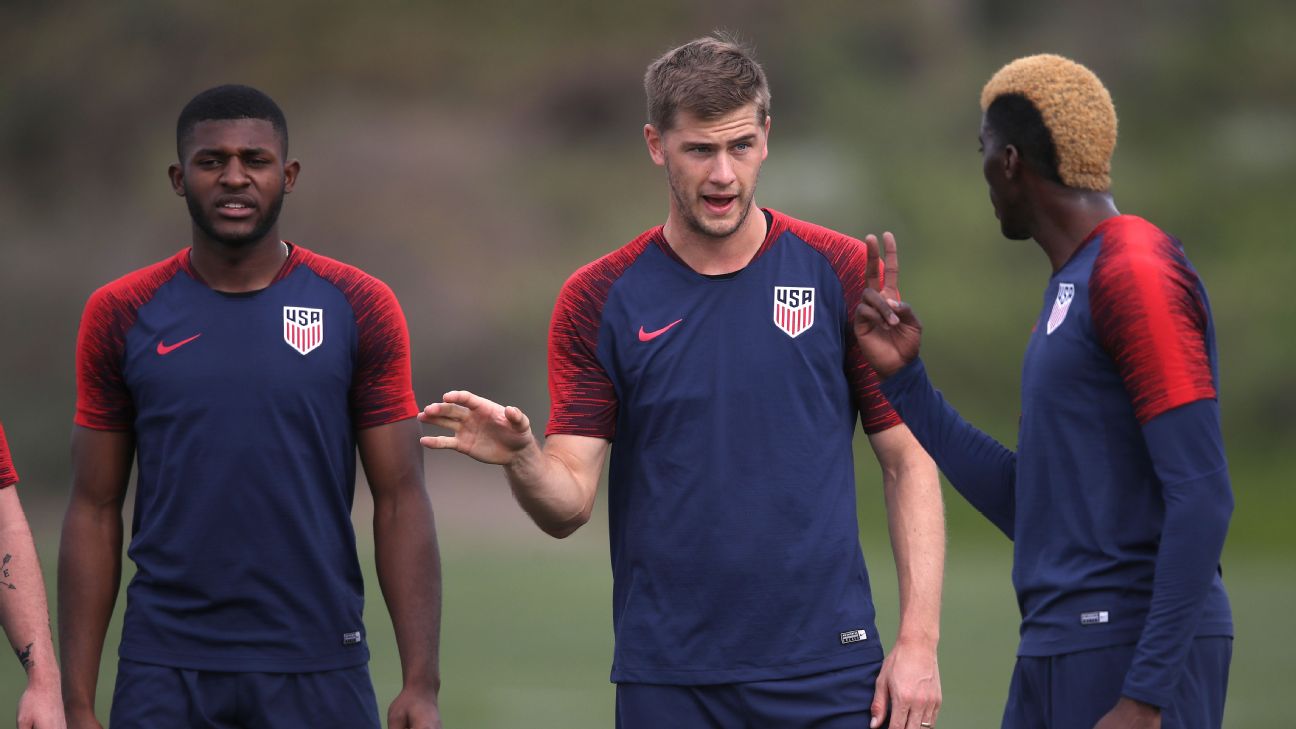 It started with Berhalter's choice of location. The Chula Vista Elite Athlete Training Center is a facility Berhalter was familiar with as a player. While it's not quite boot camp, it isn't the posh digs that have characterized previous camps, either. Four players are placed in each suite, which is comprised of two bedrooms, two bathrooms and a living room. The facility has the advantage of having everything on site from the fields to the dining area, the apartments and a gymnasium.
"You think about the number of Olympic athletes that have trained here," Berhalter said. "The Paralympic teams are here training ... it's inspiration all around."
Berhalter used the word "isolated" to describe the set up. The facility is about a 30-minute drive from downtown San Diego.
"It's great because you don't have to drive to training. You just walk to where you have to go," forward Gyasi Zardes said. "Simplifying things for the players really allowed them to focus more on their sport."
For the U.S. men's national team, that focus starts around 7:30 a.m. every day with breakfast, followed by a weigh-in and a questionnaire detailing how players are feeling after the previous day's workout. There is a practice session at 10:30, followed by lunch. A break in the early afternoon precedes an afternoon practice or gym session, though there is the occasional afternoon off. Dinner is at 7 p.m., and the rest of the evening is left to the players, though the focus is on gearing up for the next day. Many players use the opportunity to review film from the day's practices on their iPads or laptops. It gives them a better feel for what was done well or what can be improved.
"I'm a visual learner, so when you see it and get a different angle from a drone, or you see what specific areas are being worked on, it's a huge plus," forward Christian Ramirez said.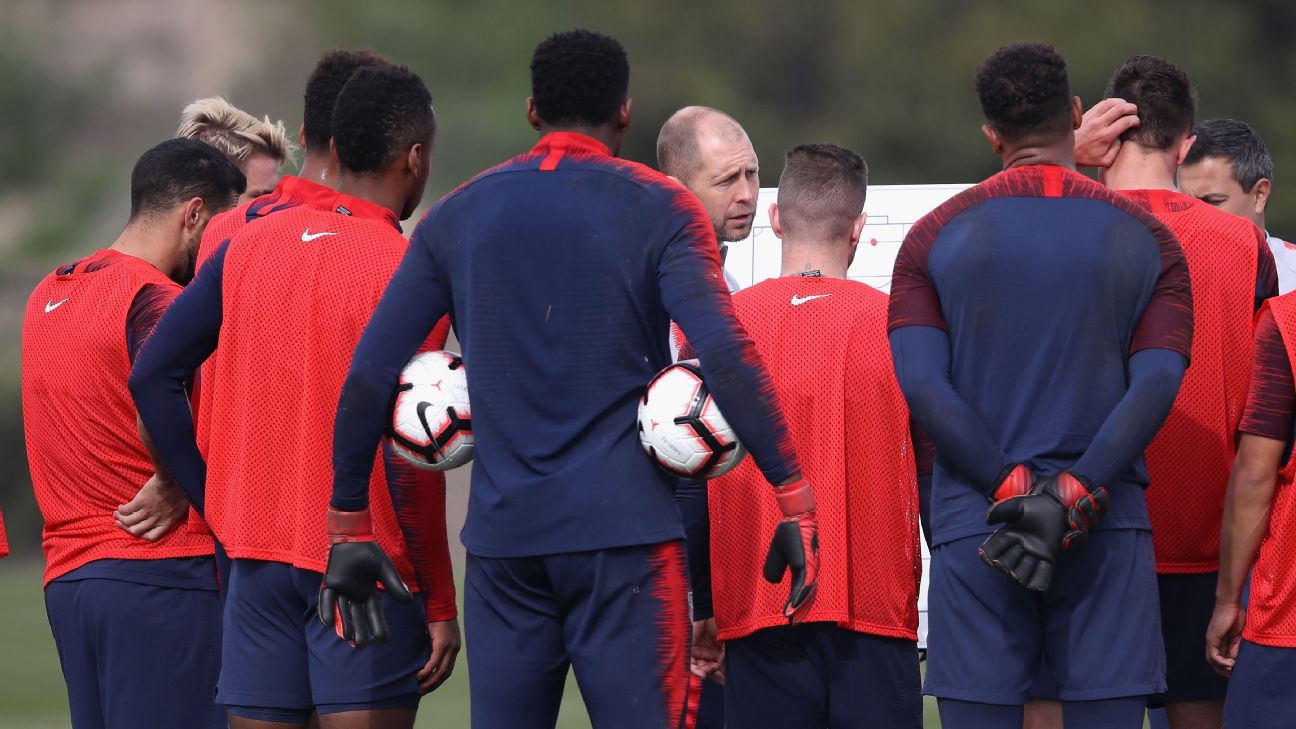 More than anything, Berhalter and his staff are attempting to get to know the players and vice versa. He is also trying to lay the foundation for what he expects will be an identifiable system of play. That is a tricky task, especially down the road when the camps will be shorter and the European-based players must be incorporated.
"The idea is to eventually get everyone on the same page," Berhalter said. "But you have to start somewhere, and for us, what we've noticed as a coaching staff, we're fine-tuning the exercises, the instruction, the content, the programming ... We're fine-tuning all of that in terms of how we can we most effectively teach in a short amount of time."
The competitive aspect extends to a system whereby points are awarded for "mini-games" during practice. It helps keep the players sharp for the duration of the session.
"It's a mini-competition within the team, and more than not, you'll see one guy winning for the day, and you'll see him climbing up the leaderboard. It makes other guys think, 'Man I've got to catch up,'" midfielder Cristian Roldan said.
"Just like this crossword puzzle, in practice it's the same thing. We're trying to compete against each other and beat each other."