Resurgent Jermaine Jones ready to help the United States tackle Brazil
BOSTON -- As the United States lurched through this summer's Gold Cup toward a fourth-place finish, it was clear there was something lacking. It wasn't immediately apparent what that was. Sure, the attack looked disjointed. Defensively, the U.S. seemed oddly vulnerable against opponents that it previously had success in containing.
While there were certainly multiple reasons for the Americans' disappointing play in the tournament, Friday's 2-1 victory over Peru offered a hint at what might have been one of the missing pieces: Jermaine Jones.
The U.S. midfielder has missed most of the calendar year for club and country thanks to a pair of sports hernia surgeries. But against Peru, there was Jones tackling, directing, urging the U.S. forward in 71 minutes of action. His contributions allowed the Americans to complete an inspired comeback, and garner a morale-boosting victory.

United States

Brazil
Game Details
"Just having [Jones'] presence around the group, having his experience and his drive [is important], because he has always been very, very driven and a hungry player throughout his entire career no matter where he played," U.S. manager Jurgen Klinsmann said.
Now Jones will be counted on to lead the U.S. in Tuesday's friendly against Brazil, as well as the playoff for a Confederations Cup spot against Mexico next month. He is not just wanted in midfield, he is needed in midfield.
The fact that the 33-year-old is pain free for the first time since leaving German side Schalke 04 back in January 2014 allows him to better provide the kind of box-to-box displays that have been his trademark with the U.S. side.
Perhaps that's why Jones -- who usually is a calm, relaxed figure away from the field -- seemed to have a bit more of a spring in his step than normal as he slid into a chair at the team hotel.
"I'm 33, but I don't feel it," he said in an exclusive interview with ESPN FC. How old did he feel?
"I would say 27, 28."
That return to health is why Jones can see his future laid out in front of him. He plans on playing for another three years or so. He then sees himself competing for the U.S. at another World Cup. After that, a career in coaching beckons. Jones said he will start the process of acquiring his coaching licenses in December.
Wait, what? The player once known as the Bad Boy of Bonames wants to be a coach? The same Jermaine Jones who once was suspended eight weeks for stomping on the foot of then-Borussia Monchengladbach forward Marco Reus?
"This is already a long time [to be] thinking about coaching," he said. "At first, I would say it trying to be a little bit funny. 'Oh, maybe when I stop playing I'll be a coach.'
"But since I've been here in America, I've wanted to come back here and help soccer grow in the States. With all my experience, one impact would be as a coach and help maybe an MLS team, or to help younger players come to that next level."
To be fair, Jones has long since shed his bad boy image. He now occupies something of an elder statesman role with U.S., doing his utmost to guide the younger players as they become accustomed to the international game. But that doesn't mean his legendary competitiveness has waned. He remains very much a player who leads by example.
"I hate it when I have people around me, and they say, 'Ah, it's only a friendly,' or, 'It's only training,'" he said.
"This is the same when I came to New England. When I came, I started to give the training another level. From the first day, I told them, 'After training we can go out and have the best day. We can eat. We can have fun. But if I see you don't do it in training, if I play against you, maybe I catch you and it's a foul. Then you know maybe you did something wrong. If you're on my team, I will kick your ass that you run.'
"In a game if you run for 90 minutes up and down, they will say still, 'Ah man, they worked their ass off.' But if you don't do that and you just try to play tiki-taka, they will say, 'Yeah you lose and you try to make this dumb bulls--- play.' That's the point, to go away from, 'It's only a game.' No, it's your work. You have to make the best for your work."
Jones honed that attitude on the streets of Frankfurt, where he routinely played against older kids who would give him a few Deutschmarks if he was on the winning side. And it's something he won't let go of, even at home with his children, showing no mercy when it comes to pitched battles of FIFA 15.
"My two oldest ones, no chance I let them win," he said.
"My wife sometimes gets mad at me: 'They're your kids, sometimes you have to help them.' I say, 'No.'
"You know what's funny, now when I play FIFA with my kids, it's tough to beat them! But I never let them win against me so now they're good at it.
"My daughter, some stuff she's already better than me. She'd play with me and lose, and some stuff I'd start to teach her a little bit. Then she starts to play with friends and now sometimes she beats me. This is what I like."
While Jones' attitude isn't in doubt, the bigger question is can he maintain his level of play until the 2018 World Cup kicks off in Russia. Klinsmann, after all, has shown no compunction about telling veteran players their international time was up, with Carlos Bocanegra and Landon Donovan two high-profile examples.
Klinsmann seemed to recognize the fact that he might have to make accommodations for Jones' advancing age. You don't find too many 36-year-old central midfielders at the World Cup, so earlier this year Klinsmann tried him at center-back. The experiment had mixed results. Jones said that when he plays center-back, opponents have an easier time closing him down, and that he has to play safer. Simply put, he finds himself fighting against his instincts.
"The type of player that I am, I'm too hungry [to play center-back]," he said.
"I want to be involved in the game, and want to touch the ball. In the midfield you can go free. If you stay with me, you have to run the whole time. I can go right, left or a little bit in front.
"So at center-back now, I'm still hungry to be involved in the game. I like also like when people have to run past me rather than I have to run all the time after the striker. It's not my game right now. I want to be involved, I want to have the ball, I want to have touches and be all over the place."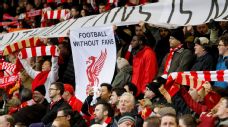 Jones' return to midfield means that when U.S. takes the field on Tuesday there is a possibility he will play centrally with Michael Bradley. The two have not always been completely in sync in terms of who carries the attacking burden and who stays home more. Jones admitted that he has played a part in this.
"Anyone who knows me, knows I prefer to have someone who covers me, so I can go all over the place," he said. "This is more my game, like in the World Cup when Kyle [Beckerman] was sitting there and then I can go."
Jones and Bradley have known each other a long time. It was Klinsmann's predecessor -- and Michael's father -- Bob Bradley, who first brought Jones into the team. The two players insist that there is a deep-rooted respect for what the other brings to the team, and any critiques that come from the outside won't change that dynamic in the slightest.
"We have a good relationship," Bradley said before Monday's practice session. "Whatever the game, whatever the coach asks, you get two guys who are going to step on the field and in that part of the field, in the center, give everything to help us gain an inch."
For now, Jones will continue to try to be impactful on the field, and impart his own brand of soccer wisdom.
"I can push a team. I can push them forward," he said. "I think it's my personality. I hate to lose, and it's not only in real games, or friendlies.
"It's every game that I start to play. If I have to go mad on my teammate, I will do it. If I have to go hard on an opponent, I will do it. This is how I learned to play over the years. This is me."
And the U.S. couldn't be happier.
Notes
- The semifinals of Olympic qualifying are set to take place on Oct. 10, at Rio Tinto Stadium in Sandy, Utah, with the two winners of those matches set to head to Brazil next summer. The same day, in Pasadena, California, the U.S. and Mexico will square off in the CONCACAF Cup with the winner heading to the 2017 Confederations Cup in Russia.
As such, Klinsmann has begun making some decisions as to which Olympic eligible players he will put on the roster against Mexico. He stated at Monday's news conference that defender John Brooks and midfielder DeAndre Yedlin would be called up for the Mexico match, while the status of Stanford University forward Jordan Morris was still to be determined.
- After missing almost all of Sunday's training session, Brooks was back on the pitch Monday, at least for the 15 minutes that reporters were permitted to witness. Still, Klinsmann sounded optimistic that Brooks would be available, saying that the defender "should be fine" to play on Tuesday.
- The U.S. holds an ominous 1-16-0 record all time against Brazil, having been outscored 35-11. This is their first meeting since May 30, 2012. Brazil won 4-1 in front of 67,619 at FedEx Field in Landover, Maryland.
The lone U.S. victory came in the 1998 Gold Cup semifinals, when the American prevailed 1-0 on a goal by Predrag Radosavljevic. The game also featured 10 saves from goalkeeper Kasey Keller -- who is working as the U.S. goalkeeper coach during this camp -- with most of them of the spectacular variety. His performance led Brazilian striker Romario to remark, "That was the greatest performance I have ever seen in a goalkeeper. It was an honor to be on the field with him. I take the blame. But that goalkeeper was incredible."
Jeff Carlisle covers MLS and the U.S. national team for ESPN FC. Follow him on Twitter @JeffreyCarlisle.