The bitter end to Landon Donovan's United States career
Editor's note: This story contains explicit language.
This story appears in ESPN The Magazine's Dec. 22 Interview Issue. Subscribe today!
FOUR HOURS BEFORE his final match as a member of the U.S. men's national team, Landon Donovan strolls down a soulless hotel hallway in search of closure. A maid asks if she can clean his room.
"Sure," he says. "I won't be back."
He has taken this walk to the pregame meal 156 times before. But this October evening feels different. It's more than just knowing he'll soon play with a U.S. crest stitched atop his heart for the last time. The tension also comes from realizing who will be waiting for him when he ends up in the team banquet room: U.S. head coach Jurgen Klinsmann.
The two haven't spoken since the afternoon of May 22, when Klinsmann told Donovan after training that he wouldn't be one of the 23 men representing the United States at the World Cup in June and Donovan told Klinsmann the decision was a mistake. The most decorated U.S. soccer player in history then walked to the dressing room, sat in the shower and cried.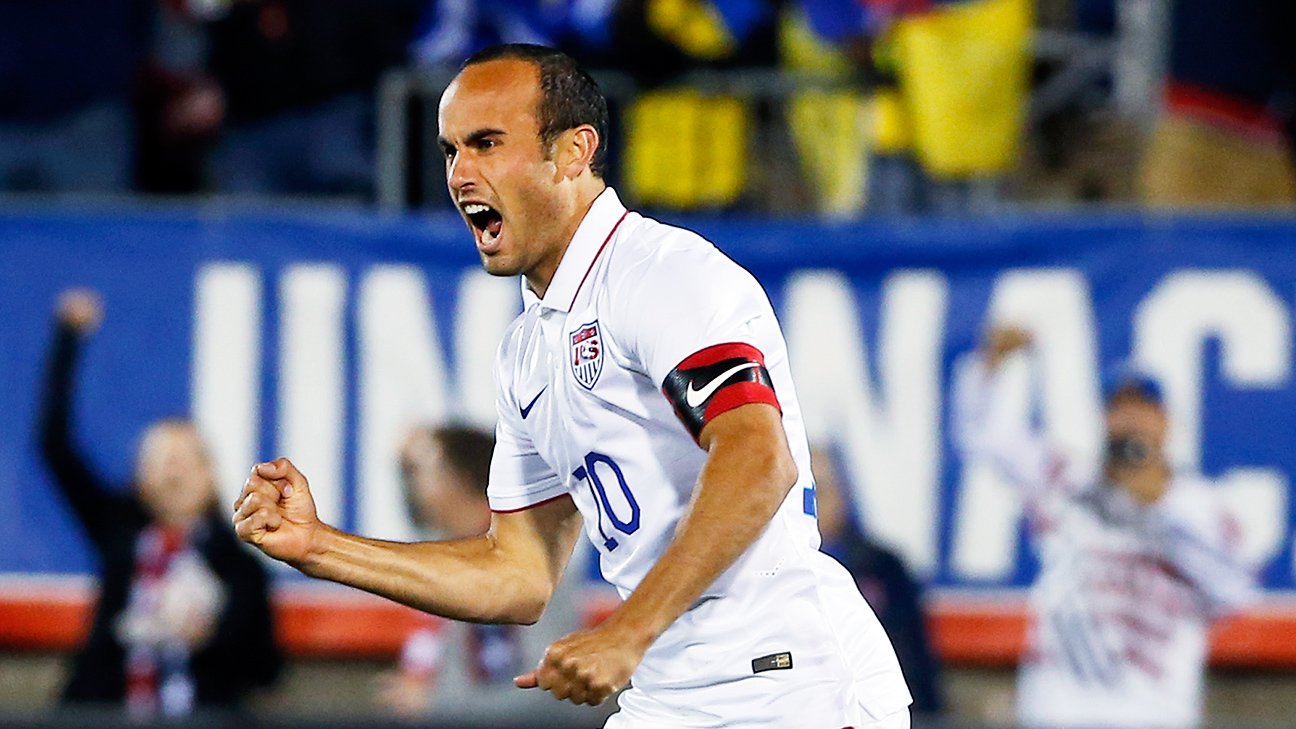 It was not the final chapter Donovan had planned. His mom had long told him that when soccer stopped being fun, he should quit. It hadn't been fun for a while. But Donovan had stuck it out and returned to his MLS club, the Los Angeles Galaxy, for one last season, with the ultimate goal of getting himself in the best position to represent his country in a fourth World Cup. His friends and family had bought plane tickets and booked rooms for Brazil, where Donovan imagined his 15-year international career ending on soccer's ultimate stage. But Klinsmann's decision erased all that. To him, Donovan hadn't done enough.
Now, on this October night, Donovan finds himself in Hartford, Connecticut, a misunderstood superstar transformed into a martyr. As he strolls toward the banquet room, he can hear the muted squeals of teenage girls lurking behind a set of lobby doors. He pays no attention, instead plodding on, thinking how, after all of these years, each of these hotels seems the same. The perfectly shaped artificial ferns. The garishly colored carpet. The soft instrumental music humming from speakers above.
When Donovan walks into the banquet room, most of the team is already there, preparing for the night's game against Ecuador. Donovan sets down his bag, walks up to Klinsmann and asks to talk. The coach seems unfazed. In an adjacent hallway, Donovan explains how important it is that the last night of his U.S. career be special. The two men don't agree on what happened this summer. They never will. But tonight it doesn't matter. "I just want to enjoy this," Donovan tells him. "I want my family to enjoy this."
Klinsmann listens. Then he tells Donovan he'll be needed in the team meeting room in a few minutes to go over Ecuador. The two shake hands. And they go their separate ways.
"That," Donovan would say later, "was my moment of clarity."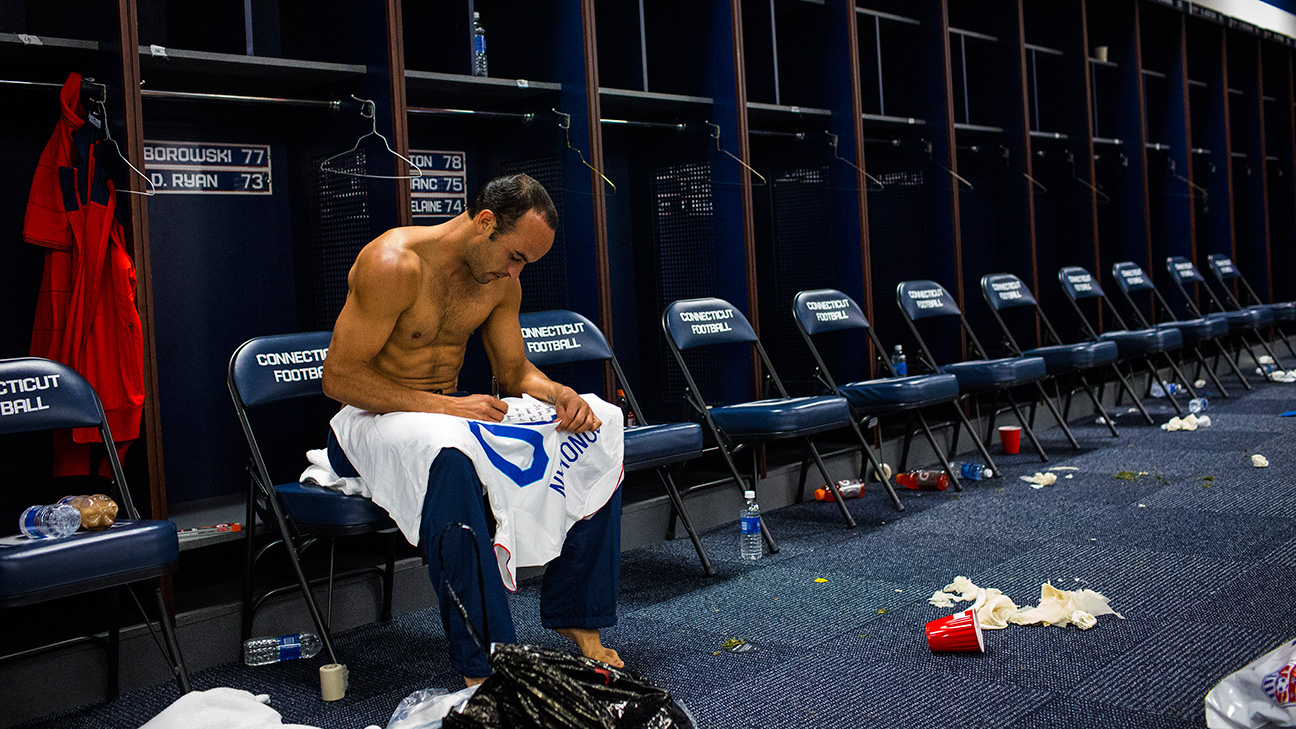 SIX HOURS EARLIER, in the backseat of a soccer-mom minivan, Donovan can't stop singing. For a well-read 32-year-old with an introspective soul and complex view of the world, his taste in music is relatively bubblegum. His favorite band is Boyz II Men. He's friends with the guys from Five for Fighting. And this morning, no matter what Top 40 song is on the radio (right now it's Brit pop band Rixton), he can't help but sing along. "Me and my broken heart..."
Even on game day, Donovan's schedule is filled with interviews and a news conference. It's yet another example of how this final game is unlike any other. The difference first became apparent the night before, when U.S. Soccer sent a private jet to California to pick up Donovan and 17 of his friends and family members. On the flight, Donovan and his girlfriend, Hannah Bartell, indulged in a glass of Johnnie Walker Black. "That would have never happened before," Donovan admits later. "Not before a match. But the theme of that match was to enjoy myself."
Early the next morning, he ate breakfast by himself in the hotel restaurant, his only companion a good-luck text from longtime U.S. teammate DaMarcus Beasley.
When U.S. Soccer president Sunil Gulati first approached Donovan about playing one last time, he wanted no part. He was still bitter about not going to the World Cup. His mother agreed, telling her son she wouldn't go if Klinsmann was the coach. But in time, Donovan changed his mind. "I didn't want my family's last memory of me on the national team to be something so shitty," he says. "I was hoping to change that."
He avoided Klinsmann in the lead-up to the match, instead planning details, including when and how long he would play, with Gulati. Still, when an intermediary informed him that Klinsmann wanted to shake hands when he left the field, Donovan was irritated. "Like we're fucking 6 years old," he'd say later. "You'd think we could just talk about this like men."
Throughout the day, any time Klinsmann's name comes up, Donovan refuses to let it pass, like a scab he can't stop picking. A fan asks Donovan on Twitter to name the coach who had the biggest impact on his career.
"Tell 'em Jurgen," Donovan says to the publicist typing his answers. "Oh wait, did they mean positive or negative impact?" He laughs.
---
ON THE MORNING of May 22, at training camp in Stanford, California, Donovan woke with little clue of how his life would change. The final World Cup roster wasn't due for 11 days. And with a friendly against Azerbaijan on the 27th, he and the other 29 players vying for 23 spots assumed they were safe at least until then. Donovan had entered camp unsure of how he fit in, but after a few sessions, he believed he belonged.
But those inside the team weren't as confident. They remembered Klinsmann's frustration when Donovan elected not to participate in 2011 friendlies against Belgium, France and Slovenia, shortly after Klinsmann took the U.S. job. And although Klinsmann ultimately accepted Donovan's decision to take a four-month sabbatical from the sport in 2012, it came at a critical point during World Cup qualifying. As the foundation of the next U.S. team was being built, Donovan had chosen not to be there.
"By making all those decisions he made for himself, he has to be accountable," Klinsmann says. "And maybe he paid the price."
In many ways, this is the story of Donovan's career. He had more goals and more assists than anyone else in U.S. history as well as with the MLS. He has played in three World Cups, and in 2010 against Algeria he scored arguably the most iconic goal in U.S. history. Throughout soccer's rise in America from a niche sport to one setting record World Cup TV ratings, the striker was its Madison Avenue poster boy. And on Sunday night against the New England Revolution he has a chance to become the first MLS player to hoist a sixth MLS Cup.
But with success has come struggle. In 2006, when fans turned on him after a poor showing in the World Cup, he felt the ugly side of being a star. He later fought depression and has been under the care of a therapist for years. He went through a divorce with his actress wife, Bianca Kajlich. With time he realized that being happy was more important than scoring goals, no matter what any coach or fan said.
"The reluctant superstar," he says. "That's what my therapist calls me. I was never the guy who was going to give up the rest of my life to do more in the soccer world. I've tried to keep what I think is a healthy balance. I understand some people don't want to see that, they want to see me kill myself to make myself better at soccer, but that's not healthy and that's not me."
Donovan often clashed with coaches who were paid to squeeze every ounce of talent out of every player. Bruce Arena, who spent a combined 14 years coaching Donovan with the U.S. and the Galaxy, considers Donovan the biggest challenge of his career. As Donovan retires, Arena is one of those wondering if he could have done something different to get more out of him.
"He's sensitive," Arena says. "He often tries to overanalyze things. He doesn't have Michael Jordan DNA or Kobe Bryant DNA. Those guys know their job and compete every day. If it's not the best day, it's not the best day. But they're there, 100 percent mentally and physically. He wasn't always that way. In the last eight years, it's been a coin flip with what to expect from him."
As Klinsmann was deciding his final roster, he contemplated all of this. Arena told Klinsmann he thought Donovan could help the U.S. In the past, he and former U.S. head coach Bob Bradley had given Donovan the benefit of the doubt, and in the Yanks' biggest moments, he would often deliver. But now, Donovan was admittedly a step slower, and Klinsmann was a different kind of coach. A fiercely competitive striker from Germany, the 50-year-old lacked understanding for a player he thought wasn't responding to the coach's challenges. And the two had history: Klinsmann had coached Donovan during a brief, unsuccessful loan to Bayern Munich in 2009. He also questioned an American soccer culture that deifies young talent too quickly, creating what he sees as a lack of accountability.
"What message do you send to players who are settled in their comfort zone?" Klinsmann asks. "Soccer [in the U.S.] is not there yet because these guys are not getting bothered the next day in the market or food shop. In other parts of the world, people come up to you and tell you that you had a bad game. But because Landon got away with it, there was no accountability."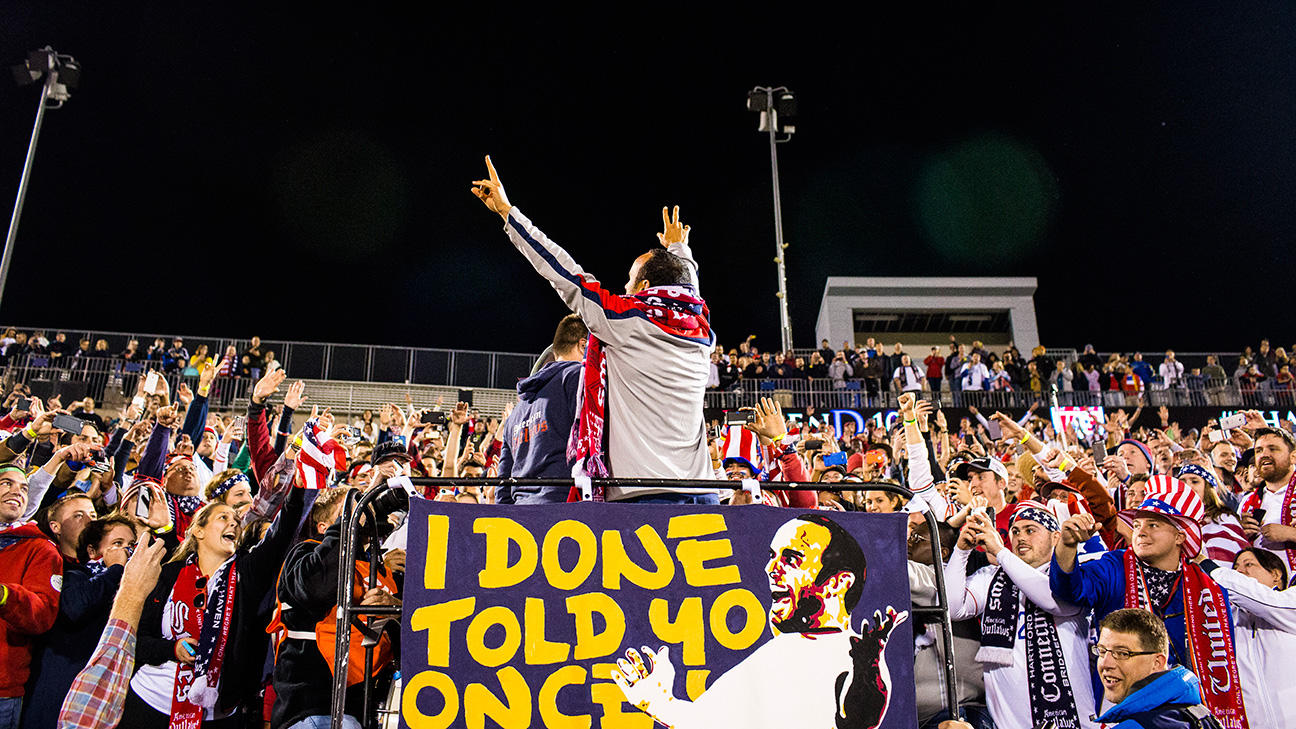 ON MAY 22, Donovan was the last player to walk off the training field when Klinsmann interrupted his path to the locker room.
"Can I talk to you for a minute?" he asked.
Klinsmann told him that he wasn't part of the group going to Brazil. If someone got hurt, he would be the first person he would call. Donovan told Klinsmann he was making a huge mistake. He added that there were guys on the team who did not always care about the outcome. "But I do," Donovan insisted then. In the locker room, most everyone figured out what was happening. When Donovan entered, he felt their stares. He walked into the shower, sat on the floor and cried. Beasley and Michael Bradley sat next to him.
"You just try to be a friend," Bradley says. "Did we need him? Would we have benefited greatly by having him there? Yes and yes. If it was just about quality or the best guys, there's no doubt he still has the ability to make a difference. But Jurgen didn't see it that way. And Landon didn't give him enough of a reason to change his mind."
Donovan gathered his belongings and left for the hour flight home to LA. He doesn't recall anything about the trip -- it's a blur. "I was just trying to make sense of what the hell just happened," he says. But he does remember the mocking tweet sent by Klinsmann's then-17-year-old son, Jonathan, that read in part, "HHAHAHAHA DONOVAN HAHAHAHAA" and sparked a media firestorm. Jonathan deleted the tweet and allegedly emailed an apology, which Donovan says he never received. Once Donovan arrived back at the Manhattan Beach home he shares with Bartell, he fell into her arms and sobbed. Two days later, Donovan returned to training with the Galaxy. A few weeks later, for the first time since high school, he watched the World Cup on television. "It was sad," he says. "Not only an ego hit but a hit to my identity. Everything you work for just gone."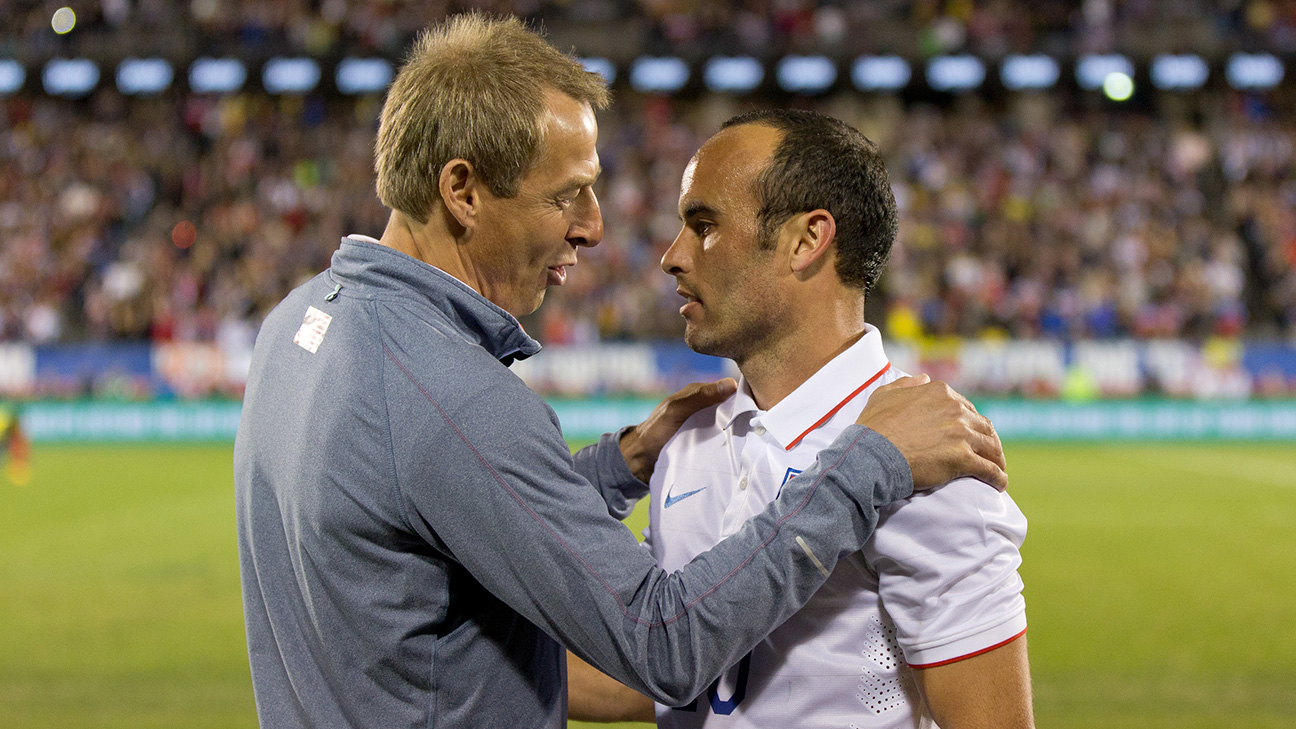 THE SECOND DONOVAN steps off the team bus in East Hartford and walks into Rentschler Field for his final match, the cheering and chanting begin. Above him is a massive blue banner that reads, "LegenD10." When the game kicks off, the nearly sold-out crowd roars with every Donovan touch. The fans desperately want a goal. Two weeks earlier, fans watched Derek Jeter's walk-off heroics in his final game at Yankee Stadium. Why couldn't Donovan produce some magic of his own?
In the 25th minute, a chance. Forward Jozy Altidore taps a back-heel pass to Donovan 12 yards from the goal. He shoots the ball past the keeper, but it clinks off the right post. He's unable to gather the rebound. He nearly scores on two more chances, but it isn't meant to be. The deafening, defining highlight never comes.
In the 41st minute, Donovan is subbed. With more than 36,000 fans serenading, "Thank you, Landon," he hugs his teammates, hands the captain's band to Altidore and walks off the field. Waiting in front of the U.S. bench is Klinsmann. The two shake hands and briefly embrace. Klinsmann tells Donovan he let him play a few extra minutes in hopes he would score a goal. It's the last time they will talk. At the postgame news conference, Donovan is asked what Klinsmann said during the brief exchange.
"That he should have taken me to Brazil," Donovan cracks.
---
WHEN THE MATCH is over, a 1-1 draw, Donovan stands at midfield watching a video recapping his career. He sees a clip of a 9-year-old Donovan picking up a first-place trophy with his head down. And that's when it all hits him. He remembers how challenging this path has sometimes been. He covers his face with his hands, and the tears fall. After his celebratory lap around the field, he finds his family and friends waiting for him in the tunnel. Donovan walks up to his mom, his twin sister and his girlfriend, and they hug. His body shakes. The more Donovan cries, the more these three women do the same. They too know what was sacrificed to get here. The twin sister who spent her childhood on the sideline, who would text her brother asking when it'd all finally be over. The mother, a teacher who still wishes she would have forced her son to finish high school before letting him chase his professional dreams in Germany. And the girlfriend who was waiting for him in May when he walked into their home broken, humbled and humiliated.
"It was a culmination of everything," says his mom, Donna Kenney-Cash. "It was relief. Pride. Sadness. You could hear him. You could feel him. It got to us."
Says Donovan: "I tried so hard to contain myself all night, waiting for that moment that I could get to the three of them so I could really let go. And when I did ... it's just a moment I'll never forget. Those are the three most important women in my life. To experience that with them, I mean, that's real life. That's awesome."
Some 45 minutes go by before Donovan returns to the dressing room. By then, most of his teammates are understandably gone. He sits in front of his locker and for a moment waits to take off his No. 10 jersey. "I feel like I was 16 putting this on for the first time just yesterday," he says to no one in particular. Then he lifts his arms and pulls the jersey off over his head. One by one, trainers and equipment people stop by and start asking for things. They want his tape. His socks. Something, anything to commemorate the night. Donovan gives nearly all of it away. "Everything was done," he says. "It was sad."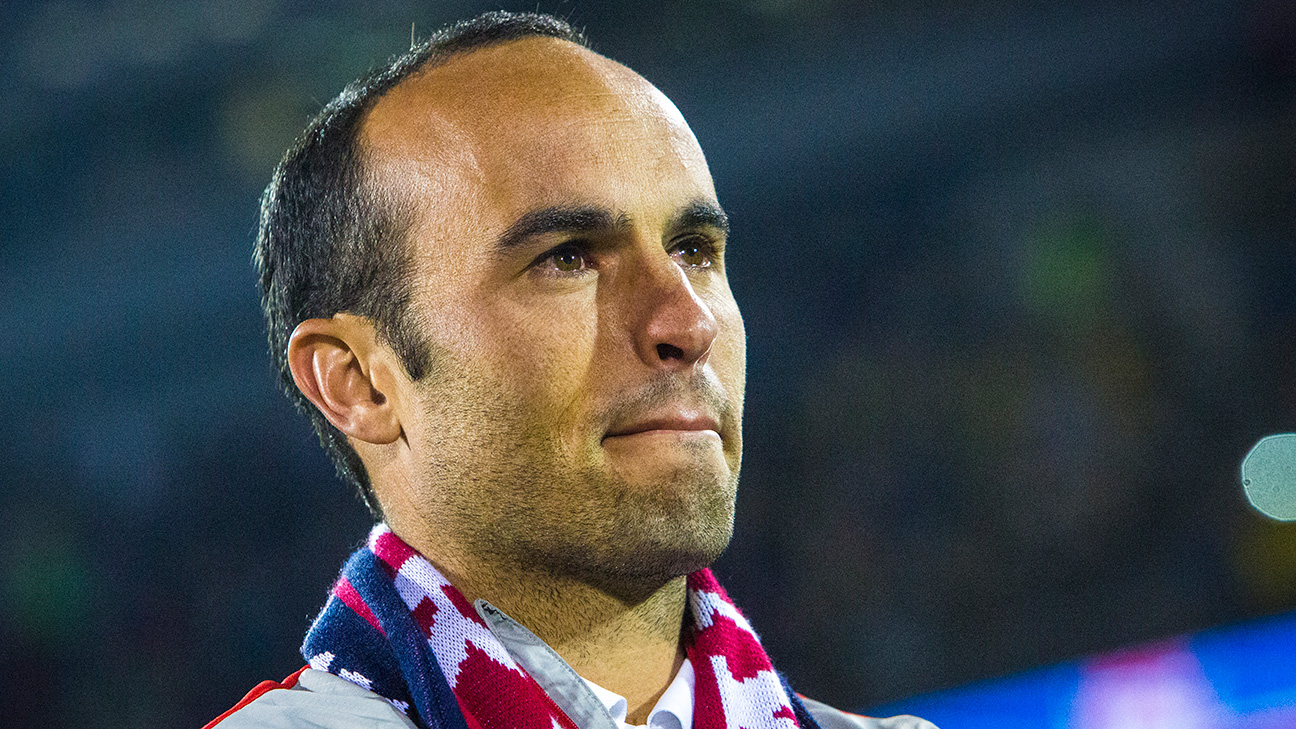 THREE DAYS LATER at a luncheon in Dallas, 800 people drop $75 each to scarf down chicken and pasta and listen to Donovan's stories for an hour.
"Get used to this," agent Richard Motzkin tells his client and friend. "This is your new life."
A post-meal Q&A is peppered with the typical "favorite goal" and "favorite match" questions. In between it all, Donovan reveals that his plans include traveling, spending time with family, pursuing a college degree and maybe coaching. "Youth soccer," he says. "The pros? I can't deal with the egos." On this day, there are no jabs at Klinsmann, just a wish to be remembered as more than a soccer player.
"It's not my identity," he says, contradicting his words from a few days earlier. "I'm a human being who happened to be very good at soccer."
The day before, his head covered by a gray hoodie, Donovan sat in a Dallas hotel bar and try to process everything that's happened since May. To him, it's important that it all makes sense and can be explained. And with each passing day, he gains a clearer understanding of his relationship with Klinsmann.
"I don't think he's malicious, I don't think he's a bad person," Donovan says. "I just think he's very much emotionless in this stuff. For him, he probably hasn't thought about any of this once. And I've agonized over it just about every day since. That's just the way it is.
"Was it personal? Yes. Did it hurt? Yes. It's not like I'm inviting him to dinner any time soon. But it's good to get all this out of the way. We're fine."
On Sunday, in the MLS Cup, Donovan will take the field for the final time in his professional career. There will be no calls of Landycakes or cries that he never became the overseas star so many had hoped. Instead, win or lose, the final chapter of his career will end with understanding and appreciation from the LA Galaxy fans. In many ways, it's Klinsmann's controversial decision that has ultimately given him his gift of closure.
"I know this is going to sound stupid to a lot of people," Donovan says, "but I'm glad I didn't go. It's good for me to see it's not always going to go your way. I grew a lot more by that happening than by me going to the World Cup. To me, life is about growing as a person. And that's how I've felt about soccer the past few years -- that there was nothing else I could grow from the game. But now I know this was the point all along. I came back so I could go through this. It's all happening the way it's supposed to."
Follow ESPN Reader on Twitter: @ESPN_Reader