U.S. World Cup player rankings
FORTALEZA, Brazil -- The U.S. national team's participation in the 2014 World Cup has come to an end. Without question, the Americans' play inspired countless fans across the country. Now comes the post-tournament reckoning, and as such, it's time for the final player rankings to come out.
There were some stellar individual performances and some that fell short. It should be noted that some rankings for players are related to expectations, so in addition to on-field performance that is taken into account.
Here are the rankings from No. 1 all the way down to No. 23.
1. G Tim Howard: Without question the U.S. MVP. About the only mistake he made in Brazil was when he fanned on a dipping shot against Portugal's Nani. He immediately made up for it by reacting to tip Eder's follow-up attempt over the bar. Otherwise, he was near flawless in the four U.S. games. A performance to remember.
2. D Matt Besler: For some, the enduring memory of the Belgium game will be Besler getting rag-dolled by Romelu Lukaku. But that would ignore all the other positive contributions he made, with his steady distribution and sharp decision-making helping the U.S. withstand some withering pressure in the final two matches.
3. D Fabian Johnson: He started out on fire but faded a bit toward the end, with his performance against Belgium cut short by injury. That said, he practically wore a groove down the right wing, such was the frequency with which he got forward. He just joined Borussia Moenchengladbach, and his star is clearly on the rise. The only question is which position he plays for the U.S. going forward.
4. M Jermaine Jones: He was arguably the MVP of the group stage, but starting with the Germany game, his passing became a bit ragged. By the time of the Belgium game, he seemed to be running on fumes. A broken nose sustained against Germany didn't help. He certainly covered plenty of ground throughout, and his fantastic strike against Portugal will be remembered for years to come.
5. D Omar Gonzalez: Entered the tournament facing questions about his form and health, but performed well once he entered the starting lineup for Geoff Cameron beginning with the Germany game. He made several critical clearances and interceptions, and his distribution was solid against Belgium.
6. F Clint Dempsey: Considering he was stranded for large swaths of time as a lone forward, Dempsey contributed what he could to the attack, even beyond his two goals early in the tournament. He will likely wish that he had controlled Chris Wondolowski's pass in extra time against Belgium a bit better, but credit Thibaut Courtois for coming up with a big save.
7. D DeAndre Yedlin: The surprise of the tournament. He has always shown an ability to get forward, but against Belgium he showed he could defend as well. Did he win all his battles? No, but he won more than a few against some of the world's best attackers.
8. M Kyle Beckerman: Why he was dropped for the Belgium game will remain one of the enduring mysteries of this World Cup. At the least he could have come on as a sub in that match to help stem the second-half onslaught. As it was, Beckerman filled his holding midfield role to near perfection, positioning himself astutely and breaking up countless plays. His passing was sharp as well.
9. D DaMarcus Beasley: The veteran defender got stronger defensively as the tournament went on and even found chances to get forward. It proved to be a fitting sendoff for one of the all-time great U.S. players.
10. D John Brooks: Made the most of his 45-minute stint against Ghana. He defended impeccably after an early miscue and then scored the game-winner, which proved to be the catalyst for much of what happened later for the Americans. He is definitely a player to watch for 2018, provided he can get consistent playing time with Hertha Berlin.
11. M Michael Bradley: Became Public Enemy No. 1, especially after his turnover led to Portugal's equalizer in the second match. It's an unfair label given that he was miscast by Jurgen Klinsmann as an attacking midfielder. While Bradley's defense remained excellent and his play in the attacking half gradually improved as the tournament went on, he never quite hit the heights that have been expected of him. When he's moved back into more of a holding role, his play will no doubt improve.
12. D/M Geoff Cameron: Started the World Cup brightly against Ghana but ended up having an uneven tournament, with a couple of critical mistakes against Portugal. His versatility seems more curse now than asset. Is he a defender or a midfielder? Defining a dedicated role for him going forward would likely help with his consistency.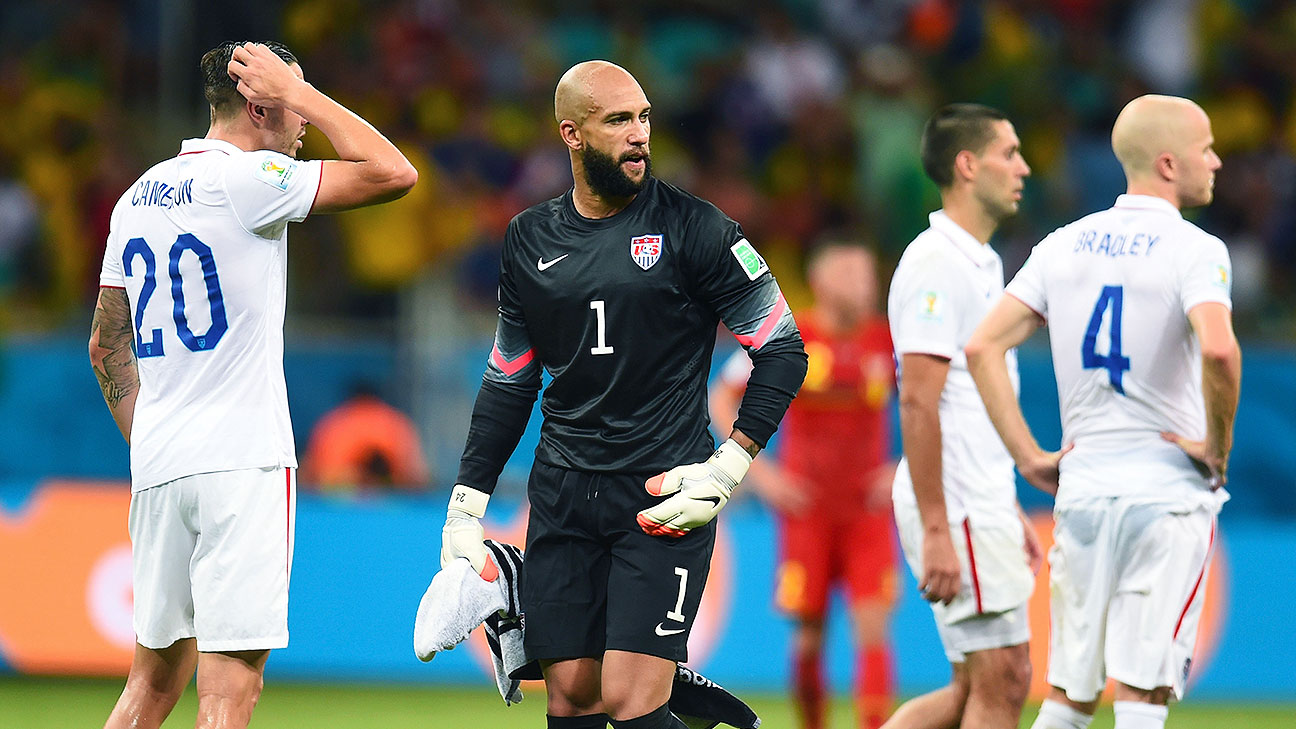 13. M Julian Green: Difficult to rank, given that he played only 15 minutes. But what a spell, as he scored the goal that sparked a U.S. revival against Belgium. Observers had been waiting for Green to show a sign that he belonged. Scoring in a World Cup certainly sent a signal. Now the key is for him to continue to grow at club level, be it with Bayern or on loan to another club. The kid has talent, no question.
14. M Alejandro Bedoya: Spent much of the tournament tracking back and helping out defensively, which was important. While Bedoya connected a high percentage of his passes in the games that he started, he never quite managed to impose himself in the attacking half, something the U.S. badly needed.
15. M Brad Davis: Was sharp with his passing in the one match he played against Germany, but for a creative player he needed to get on the ball more and have more of an impact.
16. M Graham Zusi: Had some bright moments, delivering an assist in each of the first two games, but his game seemed to wilt as the tournament went on, culminating in a rough outing against Belgium that saw him struggle with his touch and passing. With no more worlds left to conquer in MLS, Zusi needs to get to Europe to accelerate his growth.
17. F Aron Johannsson: Tried to fill the role of target man against Ghana but wasn't up to the task. Then he was never heard from again, leaving one to wonder if some injury flared up during his stay in Brazil. Given his effectiveness when facing the goal, not to mention his finishing ability, he's still a player who should get chances going forward.
18. F Chris Wondolowski: He made the team as the designated goal poacher, yet when presented with a clear chance in the dying seconds of normal time against Belgium, he didn't make it. That will be a tough memory for Wondolowski to live with as he heads home, especially given how well he did just to get on the roster.
19. F Jozy Altidore: He was limited to just 23 minutes against Ghana when he was felled by a hamstring injury. His absence was keenly felt, as the U.S. attack missed his holdup play and ability to link up with teammates. Just 24 years old, he will play a huge part in the next cycle, but this World Cup will feel like a missed opportunity. He needs to rectify his form at club level along the way.
20. M Mix Diskerud: It had to be a frustrating tournament for one of the better passers on the U.S. roster, especially given the Americans' struggles with keeping possession. Having three of Klinsmann's 11 substitutions being injury induced didn't help. Will be interesting to see what role he plays in the run-up to 2018.
21. D Timmy Chandler: It appears that a subpar performance in a sendoff game against Turkey cemented Beasley's status as the left back, not to mention that Chandler is more comfortable on the right. But with Johnson's talents perhaps being needed elsewhere on the field, there remains a chance for Chandler to play a bigger role next cycle.
22. G Brad Guzan: This ranking is in no way a reflection on Guzan. Rather, it's simply what comes with being a backup goalkeeper. It has been Guzan's bad luck to have so much of his career overlap with that of Howard's. But with Howard stating on the Dan Patrick Show that he expects Guzan to be the starter four years from now, it looks like Aston Villa goalkeeper's role is set to expand.
23. G Nick Rimando: He was always a long shot to see the field but still provided a veteran presence. His place on the team was a just reward for a long and rich career in MLS.