Hey, America, where are you going?
BRASILIA, Brazil -- The following is a transcript of an interview with an embittered American sports fan the day after Belgium knocked the United States out of the World Cup. Remarks may or may not have been lightly edited for length and clarity.
Q: Hey, where are you going?
A: Look, America lost. It's over. Now we've got NFL minicamps, or whatever they're called, and NBA free agency, and like a million baseball games. It's time to not care about soccer for another four years.
Q: But that's ... insane. USA-Belgium was the last game of the round of 16. This thing is just getting good! There are two entire weeks left with the best teams in the World Cup!
A: I hate to break this to you, but a lot of us were mostly invested because everyone else was. Kind of a patriotism thing, you know? Or at least a flashmob-y, 25,000-people-in-Soldier-Field-and-I-want-to-yell-inside-a-YouTube-video kind of thing. I'm not sure that a world where people have stopped vandalizing Tim Howard's Wikipedia page is a world that I want to keep living in.
Q: Firstly, the editing of a Wikipedia page is the worst meme of the 21st century. The very point of Wikipedia is that it's extremely easy for anyone, anywhere, to change anything they want to without any risk or effort. You might as well take a screenshot of a random TextEdit file on your computer where you compare Tim Howard to Jesus and post that.
A: But he's America's Secretary of Defense.
Q: Secondly, have you not been watching these games? This World Cup is on pace to obliterate the 1998 record for most goals scored -- and at the same time, there wasn't a game in the round of 16 decided by more than two goals, and all but two were decided by either one goal or penalty kicks. Pretty much none of the conventional criticisms of this sport has come to pass.
A: I get that. But I'm ultimately not this lifelong, die-hard fan. The rules still don't even make sense to me. The clock isn't even a clock! The referee just decides when the game ends when he feels like it. And what's a yellow card? What's not? It's weird.
Q: Please name a single sport in which the rules are not very weird.
A: Basketball.
Q: Basketball is my favorite sport. And it is also a sport where what constitutes a foul is utterly subjective. Even setting aside block-charge calls, which are obviously controversial, the basic definition of illegal contact depends on the judgment of the specific referee, the time of the game and the players involved, among other things.
A: Well, that doesn't bother me. I can understand football, too.
Q: Do you? Do you really understand football? Do you want to guess how many words are in the NFL rulebook?
A: Judging by your tone, a lot.
Q: True story: Ed Hochuli once emailed me PDFs of the manuals that all NFL refs study. Combined, they totaled 190,330 words. There are 10,000 words in the New Testament.
A: Lord.
Q: And as for baseball? Please summarize the infield fly rule. Or what a double switch is. Or why the designated hitter exists in only one league.
A: Fine! I know where you're going with all this. But if you want to get really real, it's not just the weird rules. It's the fact that for all the I-Believe-That-We-Will-Win-ning that we did, we won once. Once! We were one of the top 16 teams in this tournament and I saw one freaking win.
Q: The Houston Astros won 51 games last year. The Seattle Seahawks won 16. Which team was more impressive?
A: Those two teams play completely different sports with completely different objectives. The schedules can't be compared. That's a stupid question.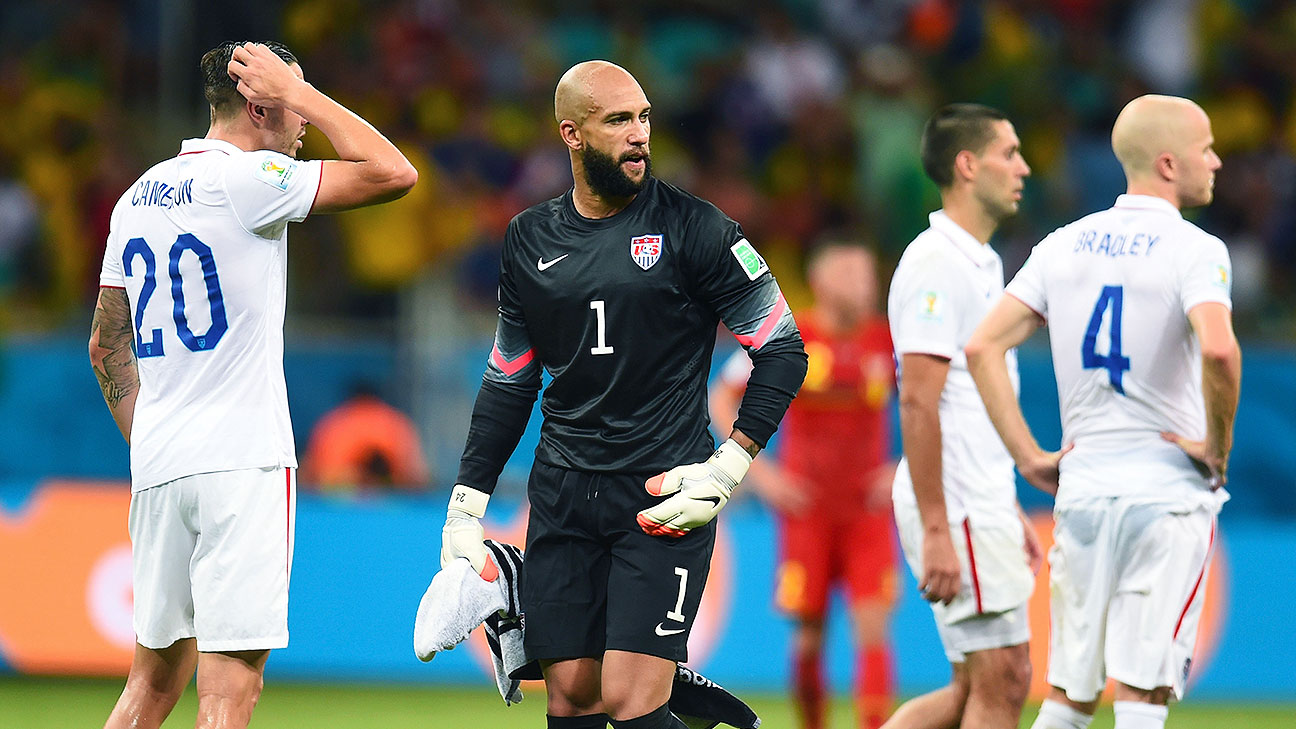 Q: It's almost as if the statistic of a "win" is an arbitrary vocabulary word and depends entirely on the context.
A: I ... see what you did there.
Q: And?
A: And here's what you're missing: the World Cup is more like the NCAA tournament. I can get into it for a few weeks, root for Cinderella, imagine what could have been in a painful loop of self-flagellation and then get out when Ali Farokhmanesh does.
Q: Let me ask you something: Has an athlete ever gotten a tattoo of himself to memorialize a game in the NCAA tournament 48 hours after playing in it?
A: Someone who's won a championship has definitely done that.
Q: Tuesday, a Chilean forward, Mauricio Pinilla, got a tattoo of a picture of himself hitting the crossbar and missing a game-winning shot in his equivalent of the Sweet 16. Chile lost.
A: That sounds like an alarming overreaction.
Q: But that, in a nutshell, is what this tournament does to humans. Ghana literally rationed electricity within its borders so fans could watch the country's games. Brazil is setting off fireworks outside my hotel window, right now. I love the NCAA tournament, but it's an annual event that (A) specifically lacks the best players in the world and (B) does not involve the all-consuming nationalism that you apparently enjoy so much. The fact that March Madness is your closest analogue to the World Cup seems to say something about how special the World Cup is.
A: Man. You're one of those soccer snobs, aren't you? Listen to yourself: Doesn't it sound like you're working out some of your own issues, at this point?
Q: The answers to your questions are no and yes, respectively. Because I have old friends who are die-hard soccer fans -- painted their chests, sat with the American Outlaws at Gold Cups, are engaged in absurdly long email chains about soccer as we speak -- and you know what? For years, I ignored them on this.
A: And then what happened?
Q: For one thing, I developed a troubling addiction to FIFA on Xbox, which is the greatest video game in existence. And then I got sent to Brazil for five weeks. And now I'm going to say something that may seem offensive, but I want you to stick with me here.
A: Definitely cannot promise that.
Q: The World Cup reminds me of war.
A: Yeah, I'm out.
Q: Hold on. It's not because these desperate players, draped in the flags of their republics, vaguely resemble soldiers or something. It's mostly because I'm a relative soccer neophyte from the United States -- I mean, I just called it "soccer" -- and, before arriving in Brazil, this whole tournament struck me as not only foreign but something even more desensitizing: far away.
Yes, as with virtually any international occurrence, I could generally acknowledge the importance of the event, and I could watch the news and note the statistics testifying to its scale. But if we're being honest, I never could feel its magnitude. At least not proportionally. For many American sports fans, I think, the abstracting effect of distance is what unites the legitimately global celebrity of a Leo Messi, and a war in Foreign Country X, and how compelling this whole tournament is. We are aware that all of these things are staggering and real. But we don't quite feel them because they're primarily felt by other people, very far away.
A: I still feel like I should be offended. But that wasn't as offensive as I thought.
Q: My point is this: The USMNT's actual legacy in Brazil was not a demonstration of stick-to-itiveness and never-give-uptitude and whatever virtues other countries also have but brag about less frequently. This team moved this enormous global event, and its culture, closer to you. The World Cup should now feel far less far away.
A: You know what? Fine. As much as that loss to Belgium hurt, I think I will try staying excited about this. One quick question for you, though.
Q: Sure.
A: Are you ever going to point out that you've been talking into a mirror?
Q: No.
A senior writer for ESPN The Magazine and ESPN.com based in New York. You can watch him every week on TV shows such as Around the Horn, The Sports Reporters and Olbermann. Follow him on Instagram (@pstorre) and Twitter (@PabloTorre).