U.S. defenders proving value of MLS
This story originally appeared in the ESPN FC World Cup Guide, which is on newsstands now.
United States national team defender Matt Besler stands in the visiting locker room of the Estadio Azteca in Mexico City, waiting to start the most important game of his life.
Outside, on a warm March 2013 night, 86,000 Mexican fans are on their feet, eager to watch their beloved national team take down their bitter rivals from the north. Besler had found out only that morning that he'd be replacing veteran Clarence Goodson, who'd injured his hamstring four days earlier.
That afternoon, Mexican fans had swarmed the U.S. team's bus, banging on its side as it pulled into the stadium. The bus 
 shook on its wheels, and fans pressed their red-and-white-and-green-painted faces against the windows, screaming from close range at the men they'd taunt from the stands a few hours later.
Rising to exit the bus, Besler took a deep breath. Tried to relax -- 
 tried to act like he'd been here before. Like this wasn't just his second game for the U.S. senior squad.
He gathered his composure, strode toward the front of the bus and felt a tap on his shoulder. It was Goodson, holding something in his hands. "Bees, you forgot your cleats on the bus, on your seat. You might want these for the game."
Now, standing by his locker, he is unsure of what to expect as he watches his coach, Jurgen Klinsmann, walk up to him. Since Klinsmann was named the United States coach in July 2011, he'd been outspoken about his feelings that the best American players should be playing for European clubs. In six World Cup qualifiers in 2012, he'd never started a Major League Soccer player at defense.
Besler and his partner at central defense this night, Omar Gonzalez, are the antithesis of Klinsmann's preferred model -- they are American-born and have played only in America. Klinsmann reaches out his hand. Besler shakes it.
"Matt, you know you're ready for this," Klinsmann says. "We all believe you're ready for this. Go out and play well."
The words give him confidence.
Before kickoff, Besler shakes hands with Gonzalez. "We can do this," they say.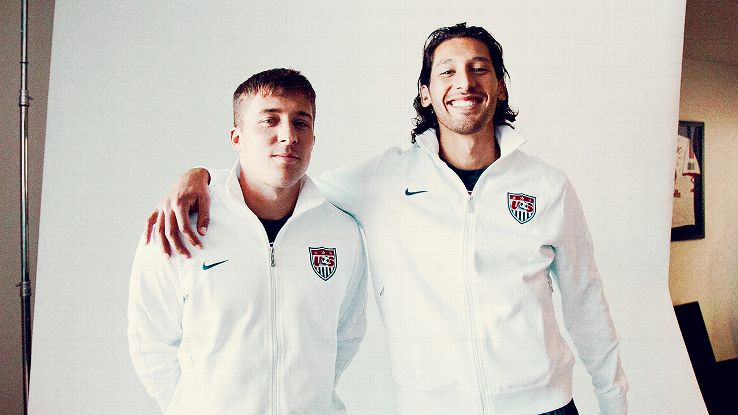 And they do. They close down their men, combining for eight clearances and six interceptions. They survive a barrage of crosses and chances in the last 15 minutes of the game. It isn't always pretty. They make mistakes.
Besler earns a yellow card in the 20th minute for a tactical foul. But after 90 minutes of play, Besler and Gonzalez have held Mexico scoreless. In the locker room after the game, Besler still feels the buzzing energy of the stadium. His head rings. Klinsmann approaches him. "Great game. But I knew you could do it."
The dilemma that Besler and Gonzalez still face is one of conflicting dreams. One is the American dream: Come here, improve your life. The other is the dream of the American soccer player: Leave here, improve your game. At the core of that conflict is a single question. Where can the best American soccer players reach their full potential, Europe or America?
Klinsmann has a simple answer: Europe. He has said it repeatedly since he began leading the U.S. team in 2011. And for about two years, his players listened; he had four prominent American players in England, one in Italy, one in Holland, one in Denmark. But there was -- and is -- an inherent problem with Klinsmann's decree: It contrasts with basic American ideals.
America is a land of opportunity, not a place that you leave. Except when it comes to soccer.
The fledgling MLS cannot compete with leagues whose teams have been competing for centuries. But MLS serves a purpose for U.S. soccer players and filled an important void when it was created in 1996. For Americans who are not identified as potentially great at a young age, the league is an ideal place to develop.
Besler, 27, and Gonzalez, 25, have spent their entire careers doing just that since entering the league in 2009 as top-10 picks in the MLS SuperDraft. They both studied under former USMNT defenders: for Besler, Kansas City coach Peter Vermes; for Gonzalez, then-Galaxy defender Gregg Berhalter. Each started more than three-quarters of his team's games as a rookie, and each has since amassed more than 125 appearances for the club that drafted him.
MLS got them to that night in Mexico City, enabled them to succeed then and in the months ahead. The two would start at central defense in four of the next five U.S. games after Mexico, all wins. In those four games with Besler and Gonzalez together, the team gave up only four goals and posted two shutouts.
No longer just an injury replacement, Besler had become Klinsmann's starter at left center-back. And with Gonzalez beside him, it didn't escape anyone's notice that they were representing the domestic league on the field. Back in Kansas City, after every practice, reporters asked Besler: "What's it like representing MLS with the U.S. national team?" Or: "You and Omar are both MLS players, and you're forming a great partnership; how has that been so far?"
It was fun, he says. It was exciting. "I feel more pride representing the MLS," he says, "than I feel pressure from the MLS to do well." You have to go back more than a decade to find a time when 
 the domestic league has had such a positive impact on the U.S. national team -- and the last time the league reaped such a benefit from the play of the U.S. as well.
Bruce Arena fielded an American team in the 2002 World Cup that featured six MLS starters, two of them -- Eddie Pope and Jeff Agoos -- at central defense. That squad beat an immensely talented Portugal team in its opener, knocked off bitter rival Mexico in the round of 16 and then lost a heartbreaker to Germany in the quarters 1-0.
Four months after the World Cup, the MLS Cup final drew 61,316 fans, still the highest-ever Cup attendance. Since that 2002 team, no two players have been able to provide stability at central defense for the U.S., and, not coincidentally, neither the 2006 nor the 2010 team made it back to the quarters. Errors at the position were at the heart of both teams' losses.
"I want to become the backbone of this team," Besler says, fully aware of his position's reputation.
But now, these two defenders are facing teams and players the likes of which they have not previously crossed in a competitive match. Not at a youth World Cup, not in college, not in Major League Soccer, not in World Cup qualifying.
Arena, an advocate for MLS players on the national team 
 and now Gonzalez's coach with the Galaxy, doesn't disagree with Klinsmann when he says the quality of play at the World Cup is a big step up. "[In MLS] you don't go against Cristiano Ronaldo, some of the players with Germany," Arena says.
"They're different. They're big, strong, athletic. If you don't come from one of the big club teams in the world, you're not playing in those kinds of games during the season. So it's certainly gonna be an awesome challenge."
Pope, the first three-World Cup veteran to spend his entire career in MLS, understands even more fully what these players are up against. "Once you're in the World Cup," he says, "the quality of forwards that you're gonna be marking is massive. As a center-back, you have to try to be mistake-free. And it's so hard to do. You can play well for 89 minutes, but you make that one mistake and you've had a bad game. But that's the life of a center-back. That's the pressure that comes along with the position."
Central defense hasn't been a glamorous position for decades, 
 not since Franz Beckenbauer and his like had the run of the field 
 as sweepers. It takes an incredibly special performance just to win a Player of the Month honor, let alone the Ballon d'Or, as Fabio Cannavaro did in 2006. For most, worth is measured in caps, not goals. So when Besler admits, "The World Cup is going to be at a different level, so we have to find a way to push each other," perhaps it's not a surprise that Klinsmann wants his players getting experience in the best leagues possible. Will they be able to reach that World Cup level playing in MLS, where the competition can't stack up to the best in Europe?
In a CenturyLink Field suite at a Sounders game the night before a qualifier in June 2013, Gonzalez pulled Klinsmann aside to ask for a bit of career advice. He was in the last year of his contract with the Galaxy, and he had options on the table. Ever since he'd entered MLS, he'd been the most promising defender in America. Now clubs in Germany, England and Mexico were interested in the 6-foot-5 center-back, and the Galaxy were ready to counter those offers by making him a designated player. He told Klinsmann he wanted to stay in Los Angeles. He asked his coach what he thought.
"He told me he thinks it's fine that I stay here in MLS, and hearing him say that put my mind at ease," Gonzalez says. "Come the year of the World Cup, you want to be playing games. He wants his players playing games. He respects the league, and he respected my decision to stay." But his coach soon added a postscript: Even if not now, eventually Gonzalez would have to go to Europe. That is, unless a new arrival to the Pacific Northwest has managed to change the script.
Last summer, on Aug. 2, news broke that Clint Dempsey 
 was transferring from Tottenham to Seattle. Five months after Klinsmann called Dempsey's move "a challenge" to overcome, Michael Bradley went and did the same thing -- a move from AS Roma to Toronto FC was announced in January. Over the next month, the argument continued to play out in the media. Those who supported the moves argued that taking the field, even for a less talented side, is better than sitting the bench on a European club. Klinsmann had his doubts: On Feb. 7, he told ESPN he questioned American players' confidence in their abilities.
"They have the qualities," he said, "but do they have the belief?"
Thirteen days after Dempsey's introduction in Seattle, Gonzalez sat at a table lined with microphones in front of a Galaxy backdrop in the StubHub Center in Carson, Calif., being unveiled as the team's new designated player.
Arena, sitting to Gonzalez's right, took the opportunity to make a strong statement, perhaps even pointed at Klinsmann himself. "Omar is what we're about in the United States and Major League Soccer," Arena said. "He came through our collegiate system, the club system in Dallas, and I think this signing today is significant for all American players."
Gonzalez hadn't just become the first American defender to become a designated player. He had become the first American player to work his way up the ranks of American soccer, never playing in Europe, and be paid seven figures annually to play soccer in his native country. He and Besler both hope he's not the last. "In the future, MLS should try to have as many national team players as possible playing in America," Besler says. "You see that with Italy. You have almost nine out of 10 guys on the national team playing in Italy."
He's right. On the top European national teams -- Spain, Germany, Italy, Netherlands -- the majority of the national team players compete in the domestic league.
The success of Spain on 
 the international level has been a direct outgrowth of the work Barcelona has done to develop players. That type of model -- an American club developing enough players to field a U.S. national team to win a World Cup -- is a lofty one. But perhaps not impossible.
And if it happens, two men will look back and remember how it used to be: Besler, a kid from Kansas City playing for his hometown club, and Gonzalez, a child of Mexican immigrants who made history by deciding to play soccer in America. Two athletes trying to resolve the conflict of how to live both the American dream and the dream of the American soccer player.