Carlos Salcedo and Miguel Layun settle back in with their European clubs
MEXICO CITY -- After a week packed with El Tri games, Mexico's europeos returned to action in their respective clubs. Perhaps the main positive takeaway was to see Carlos Salcedo play his first full game with Eintracht Frankfurt, but Miguel Layun also went the full 90 in FC Porto's 3-0 win over Chaves. Over in the Netherlands, Hirving "Chucky" Lozano was red-carded in the 37th minute, and PSV Eindhoven lost 2-0 to SC Heerenveen.
Here's a look back at the heroes and villains from the Mexicans in Europe:
Heroes
After suffering a shoulder injury in the Confederations Cup, it was important to see Carlos Salcedo once again get playing time. Salcedo has been, for the most part, Juan Carlos Osorio's go-to guy as the national team's right-back, and in his debut with Eintracht, he played as right-center-back in a backline of five. Eintracht went on to defeat Borussia Mönchengladbach 1-0, in the club's first win of the season. Compatriot Marco Fabian is out with a back injury and is not expected to return to the fields until next year. What's positive to see, though, is that El Titan Salcedo won't take long to adapt to the German league.
To a certain extent, it was a surprising not to see Miguel Layun in Mexico's last call-up. Over here in Mexico, there were rumors that perhaps he wasn't included because he was on the brink of switching clubs in the last hours of the transfer window, but that wasn't the case. Layun remained in Porto, and the fact that he stayed over during the international break allowed him to get his first start of the season. It's great to see that he will get looks from Sergio Conceicao, and it will be up to Layun to convince Conceicao that he can once again be the full-back that finished the 2015-16 season with 19 assists across all competitions.
Although the Belgium's Jupiler Pro League doesn't have the popularity that some of the other top European leagues have, Omar Govea is making sure that Mexico starts giving it more attention. Of course, the arrival of Guillermo Ochoa to Standard Liege might have caused more repercussions, but it's Govea who is putting up impressive numbers, leading Royal Excel Mouscron to the league's top places. This weekend, Mouscron defeated Club Brugge 2-0, a win that might catapult the club to become the surprise of the season.
The story of Carlos "Gullit" Pena can be categorized as one of the most frustrating in Mexican football. Pena never seemed to understand that he possessed a certain skill to his game that could have made him one of Mexico's most important players in the 2014 World Cup. His physique, which is robust, made him look like a bulldozer each time he appeared inside the box. Rangers manager Pedro Caixinha believes that he can get the best out of Pena, and the results of the hard work are starting to show, especially after "Gullit" scored his first goal in a 4-1 win over Dundee.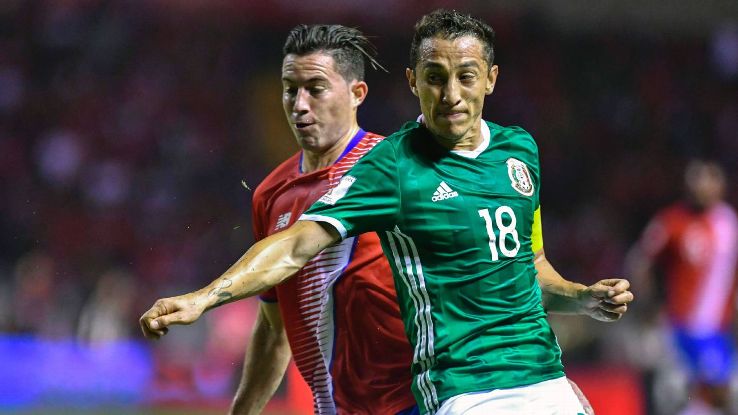 Villains
Real Betis lost their second game of the season in its visit to Villarreal. Los Verdiblancos led 1-0 after a Sergio Leon goal in the 11th minute. However, Betis lost control of the match after goalkeeper Adan gave the ball away, which led to Carlos Bacca's goal. Andres Guardado came off the bench late in the game, and it's clear that manager Quique Setien saw Guardado unprepared to take on the challenge against Villarreal; he didn't want to risk the possibility of an injury, provoked from all the travelling Guardado has completed in recent days. It was a risky decision, and Setien paid the consequences, but luckily there's still time to improve.
Even though Hirving "Chucky" Lozano was red-carded early in the match against Heerenveen, manager Phillip Cocu came out to defend him after the match by saying that he didn't feel his foul deserved a red card. Lozano's last month has been memorable, and there will be high and low moments. It looks like Sunday will be one of the more forgettable moments from his first year in Europe.
Nayib Moran covers Liga MX and the Mexican national team for ESPN FC. Twitter: @nayibmoran.