Elias Hernandez, Orbelin Pineda spark win in Mexico's Gold Cup opener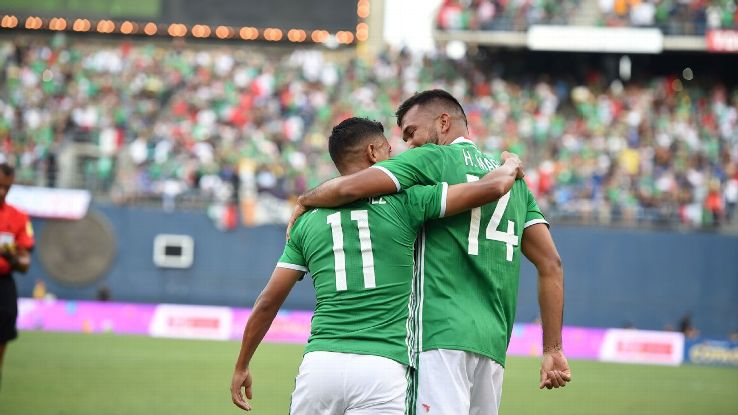 On Sunday night, Mexico started its 2017 Gold Cup journey with a 3-1 victory over El Salvador.
Thanks to a dominant evening from Elias Hernandez, which included two assists and one goal from the winger, El Tri cruised to a straightforward win in San Diego's Qualcomm Stadium. With three points in hand, Mexico will now travel to Denver in order to prepare for the next group stage match against Jamaica.
Positives
Without suspended manager Juan Carlos Osorio, El Tri still had a strong start to the tournament.
In attack, there are plenty of promising signs for Mexico with names like Orbelin Pineda, Rodolfo Pizarro and Hernandez helping take charge. On the bench, El Tri has also yet to utilize the in-form Erick "Cubo" Torres as the lead striker.
Negatives
Unfortunately, the infamous goalkeeper chant is still loud and clear. Whether CONCACAF decides to deal with the issue remains to be seen.
In the defense, there are also still some question marks about the back-line. Were it not for some saves from Jose de Jesus Corona, Mexico could have easily allowed another goal during the first half.
Manager rating (out of 10)
8 -- No Osorio, no problem. Assistant manager Luis Pompilio Paez helped close out the win with smart and effective substitutions. There are some kinks to iron out with the team, but in general, Mexico fans should be able to rest easy with Paez in charge.

Mexico
El Salvador
Game Details
Player ratings (1-10, with 10 the best. Players introduced after 70 minutes get no rating)
GK Jose de Jesus Corona, 7 -- Despite a bad throw in the first half that nearly gave away a goal, Corona was a strong presence in net. The veteran made three big saves that helped secure the win for El Tri.
DF Edson Alvarez, 7 -- A hard-working evening for the right-back that is more accustomed to a central role. That said, Mexico might experiment with a more attack-minded option like Luis Rodriguez in the future.
DF Hugo Ayala, 6 -- Unfortunately for the captain and El Tri, Ayala was at fault for the opposition's lone goal. The central defender nearly compensated for his blunder with some crucial clearances and tackles.
DF Hedgardo Marin, 7.5 -- Need to give credit where credit is due for Marin. The inexperienced 24-year-old stepped up with the first goal of the game and a consistent performance defensively.
DF Luis Reyes, 5.5 -- Reyes was more quiet than expected for Mexico. Although he was average at best defensively, the left-back wasn't as proactive as needed going forward.
MF Jesus Duenas, 5 -- An erratic match from the midfielder. Reyes was clumsy with his tackles and decision-making, but also provided a number of accurate passes.
MF Jorge Hernandez, 4.5 -- A disappointing game for the defensive midfielder. Hernandez made crucial mistakes which later earned him a substitution out during halftime.
MF Rodolfo Pizarro, 7.5 -- After a dull start, Pizarro later proved to be a playmaker for El Tri with his creative and exciting passes in the attack. Keep an eye on the player who had a few beautiful moments with possession.
FW Elias Hernandez, 8.5 -- Hernandez was by far the best player of the game. The red-hot winger finished the night with one goal and two assists. The player was undoubtedly the standout in the attack.
FW Angel Sepulveda, 6.5 -- Sepulveda occasionally did well to hold onto the ball but also wasn't much of a threat to El Salvador. It will be interesting to see if Torres will be given the start against Jamaica.
FW Jesus Gallardo, 7 -- The winger provided the assist for the second goal and later took charge as a left-back during the second half. A solid game from the versatile 22-year-old.
Substitutes
FW Orbelin Pineda, 7.5 -- Replaced Reyes during halftime. Pineda had an immediate impact with his dangerous runs on the left wing that constantly cut into the middle. The 21-year-old closed out the game with Mexico's third goal of the win.
MF Jesus Molina, 7 -- Replaced Hernandez during halftime. Molina was a much-needed rock in the center of the pitch. The defensive midfielder is worthy of a starting role in the next match.
MF Erick Gutierrez, 6.5 -- Replaced Sepulveda during the 70th minute. Not much to say about the midfielder who was only given a short cameo in the second half but Gutierrez did provide a handful of accurate passes during his quick appearance.
Cesar Hernandez covers Liga MX and the Mexican national team for ESPN FC. Twitter: @cesarhfutbol.