Mexico give attacking masterclass in romp over Canada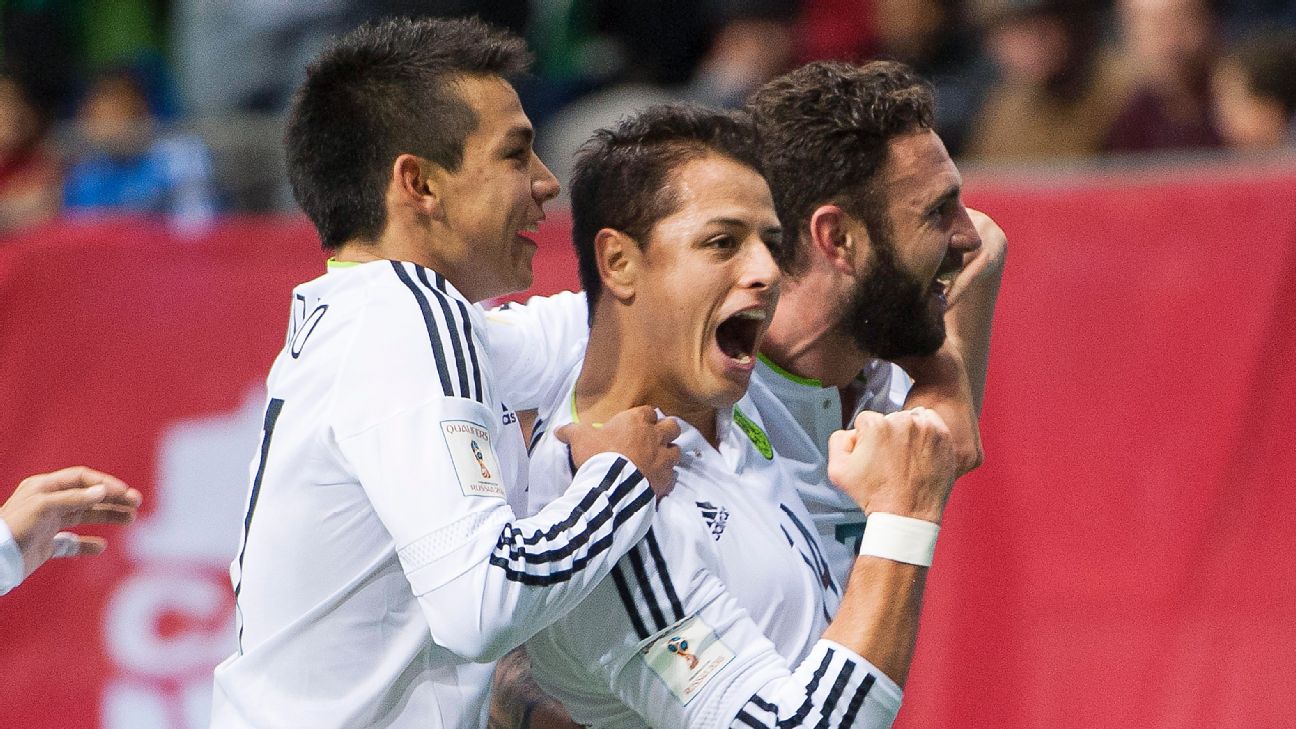 VANCOUVER, British Columbia -- Mexico defeated Canada 3-0 on Friday at BC Place to move onto the verge of qualification to the Hexagonal stage of 2018 CONCACAF World Cup qualifying.
Javier Hernandez and Hirving Lozano struck for Mexico in the first half, with Jesus Corona adding the third after the break.
Here are three takes:
1. Mexico provide attacking masterclass
El Tri coach Juan Carlos Osorio has a down-to-earth demeanor, but surely inside he'll be bubbling with excitement after his team's display Friday. In the last World Cup qualifier of 2015, Mexico defeated Honduras for the first time on the road in 22 years, and now El Tri have won in Canada for the first time since 1993. It is now four wins from four games for Osorio, as his reign has started positively.
There were times Friday when Mexico's offensive play bordered on the sublime. The balance and movement provided upfront by Lozano on the right, "Tecatito" Corona on the left and "Chicharito" Hernandez cut a brave Canada team to shreds. The home side struggled to cope with the waves and depth of Mexico's attacks and all three of El Tri's forwards scored.
Mexico's players had options on the ball, lots of them. Midfield trio Hector Herrera, Andres Guardado and Rafa Marquez -- the latter going off at halftime because of an apparent injury -- conducted the play and utilized the movement ahead of them.
Canada

Mexico
Game Details
This was Mexico at its best, at least in attack. The high pressing of the front three stifled Canada's attempts to play the ball on the ground and led to mistakes.
By halftime, Mexico was 2-0 up, had hit the post on two other occasions and had seen two other attempts draw fine saves from Canada keeper Milan Borjan.
Hernandez rose in the 31st minute to steer in a header from a Miguel Layun cross. The goal brought him to within three of Jared Borgetti's record for the Mexican national team.
Lozano added the second with a burst of pace and cool finish, after a Hernandez pass eight minutes later.
The third came from a deflected shot from Corona in the 72nd.
Questions about how Canadians David Hoilett and Cyle Lain were given relatively simple chances with the score at 0-0 will be asked, but they were by far overshadowed by an attacking display from Mexico that bodes well for the future.
2. Lozano shines on official debut
There were one or two signs of early nerves from Lozano, but once he got some touches on the ball and got into the game, the 20-year-old posed a constant problem for Canadian left back Marcel De Jong and was Mexico's main threat in the first half.
The Pachuca winger was direct, kept things straightforward in possession and, in simple terms, showed why he is a major talent. His goal for El Tri came off the back of three goals for Pachuca last Saturday against Veracruz in Liga MX. Lozano is a player on the rise.
Lozano's pace is frightening and now that he is improving his goals-per-game ratio, European clubs will be watching very closely. Potentially, Lozano could leave Mexico for a fee that surpasses Herrera's transfer fee to Porto (€8 million). Certainly, Pachuca would be within their rights to demand a substantial amount for one of Mexico's brightest youngsters.
The game in Vancouver was a night Lozano will never forget. It was his coming-out event on the international stage and he passed the test with flying colors.
The question now is how Osorio and Pachuca will manage Lozano this summer, with Mexico playing both in the Copa America in June and the Olympics in August. It would be a shame if Lozano didn't get the experience of going up against a team like Uruguay in the Copa America, considering just how good their defense is.
The repercussions for Carlos Vela and Giovani dos Santos of Lozano's performance and continued improvement are significant. It looks as if they will struggle to pass him in Mexico's depth chart as things stand.
3. Vancouver provides atmosphere; team can't deliver
It was difficult not to feel a little sorry for Canada, considering how big an event this was for the country's soccer program. The Canadians were simply outplayed all over the field by a superior team with confidence flowing through it.
Missing crucial chances on the rare occasion that the team moved over the halfway line didn't help. If Canada was to have pulled off an upset, it needed to be sharp in the finishing department.
Off the field, however, this was a huge success for Canada and the men's national team. There were 54,798 in attendance, which is the highest for any Canadian national team match in Canada in any sport.
There was a genuinely vibrant atmosphere beforehand. Mexico fans made up about 30 percent of those in attendance and played their part. Outside BC Place before the game, fans mingled, partied and exchanged friendly chants.
One fan held up a placard reading "Viva Mexico, Eh!" and seemed to sum up the positivity of the night. Unfortunately for those Canadians who came to see the team for the first time, the product on the field simply wasn't as good as the atmosphere off it.
Tom Marshall covers Liga MX and the Mexican national team for ESPN FC. Twitter: @MexicoWorldCup.