Lopez propels Mexico past Honduras in CONCACAF Olympic qualifying
After playing with an extra player for much of the game, Mexico's under-23 national team achieved a minimalist 2-1 win vs. a Honduras team that fought until the very end. With three wins in the bag, El Tri flies to Sandy, Utah, to win a place in next year's Olympics, but first it will have to defeat Canada's U-23 team, commanded by Spanish head coach Benito Floro.
Here are three takeaways from Mexico's 2-1 win over Los Catrachos:
1. El Tri yet to give a convincing performance
After going nine for nine in Group B, Mexico heads into Saturday's semifinal match vs. Canada as the favorite to win a ticket to Rio de Janeiro. However, that favorite tag comes with high expectations, and Mexico has failed to live up to them during the group stage.
Head coach Raul "Potro" Gutierrez used three different lineups in El Tri's matches in Carson, Calif., and Denver. The only three outfield players who played all of the group-stage minutes were midfielder-turned-full-back Rodolfo Pizarro, midfielder Victor Guzman and forward Marco Bueno.
Even though the starting XIs vs. Costa Rica, Haiti and Honduras were different, they followed a similar pattern: the team created lots of shots on target but scored very few goals.
In the 1-0 win over Haiti, which came via a penalty, Mexico had 14 shots on target but wasn't able to convert a single one. Against Los Catrachos, the accuracy improved, but Potro's boys were only able to score one goal from six shots on target.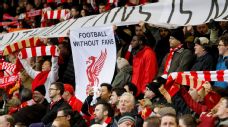 On Wednesday night, Hirving "Chucky" Lozano was the only player who attempted to surprise the opponent. The Pachuca attacker made frequent runs down the left flank, often cutting to the center to find teammates or shoot himself.
After missing a series of scoring opportunities in the first half, a 10-man Honduras team equalized after executing a great counter-attack in the 60th minute. Four minutes later, Mexico reacted and took a one-goal lead.
It's possible that Gutierrez has made all of these switches in order to keep his players from tiring. After Saturday's match vs. Canada, El Tri will have played four matches in nine days. But also, the multiple changes in the lineup could mean that Gutierrez is having trouble defining the best Mexico starting XI.
2. "Deditos" Lopez stands out
Raul "Deditos" Lopez was Mexico's best player in a game with quarrels seemingly taking place every other minute. Lopez's free-kick goal gave El Tri a 1-0 lead that served as a cushion as his teammates tired of missing scoring chances early on in the match.
In the last weeks, Lopez has been one of Chivas' best players in Liga MX, and he has supported that statement with game-changing assists and goals for Mexico's U-23s. His manners on and off the field are noble to the point that Chivas' followers are already considering him an idol at 22.
With Mexico, he plays on the right wing in Gutierrez's 4-4-2 system, while with Chivas, he plays as right-back. The right flank is his home for both club and country, only that in the U-22 team he's only asked to further contribute to the attack and take every free kick granted to El Tri.
The brilliance in this new generation, which hopes to repeat what happened in London three years ago when Mexico took home the gold medal, is the class of each of its midfielders, especially Lopez and Pachuca's Erick Gutierrez. Every pass they make opens up the field for the team.
From the midfield, the team is able to win every bout. Once the team reaches the final third, though, it seems that the goal shrinks, making them miss the unmissable. Unsurprisingly, Deditos is tied with Erick "Cubo" Torres and Marco Bueno as Mexico's leading goal scorers in the tournament with two.
3. Cubo-Bueno partnership doesn't guarantee goals
In the London Olympics, one of Mexico's key players was Oribe Peralta, a forward who served as one of the three overage players in the team. The other two were Carlos Salcido and Jose de Jesus Corona.
Considering that there's not a U-23 forward who's getting consistent playing time and how inconsistent both Cubo and Bueno have looked in the competition, Gutierrez might already be thinking about which forward above the age of 23 he will integrate to the team.
In league and cup competition with Club Leon, Bueno has only participated in seven matches and scored one goal, while Torres has featured in 10 games for the Houston Dynamo and has yet to score for his new club. Right now, this Mexico U-23 team lacks of a striker who's feasting on goals.
Gutierrez's team is an excellent example of how few young Mexican forwards are getting regular minutes in Liga MX. Of the top 10 strikers in the league, 35-year-old Omar Bravo and 27-year-old Eduardo Herrera are the only Mexicans in the mix.
In the first three matches of this CONCACAF Olympic Qualifying Championship, Cubo and Bueno have taken 17 shots on goal but converted just four times between them.
Nayib Moran covers Liga MX and the Mexican national team for ESPN FC. Twitter: @nayibmoran.