Why Greece's European Championship campaign has been an utter disaster
The tickets were distributed for free, but less than 10,000 spectators bothered to come to the wonderfully modern Karaiskakis stadium in Piraeus to watch Greece playing Hungary on Sunday evening. Even that number was considered too high by some, who wanted the fans to boycott the fixture completely in order to send the strongest possible message to the Greek Football Federation (EPO).
A couple days before the last Greece game in Euro 2016 qualifiers, popular journalist Vangelis Braoudakis published a column headlined: "Whoever goes to Karaiskakis is an enemy of the national team."
According to him, that was the only logical way to answer those who had ruined the campaign.
In the end, those who dared to be branded "enemies" witnessed Greece prevailing 4-3 in an entertaining thriller, scoring more goals against the hapless Hungarians than they did in the previous nine games combined. Even more remarkably, those were the first goals the Greeks netted at home during the entire tournament.
Greece
Hungary
Game Details
The hosts showed character to come back from behind twice, but even such a positive performance couldn't change the incredible -- almost surreal -- fiasco that was the full campaign.
When the draw was made, all the Greek fans were absolutely certain of qualification for the tournament. After all, how can you possibly fail in an easy group with Romania, Hungary, Finland, Northern Ireland and Faroe Islands?
Greece has become accustomed to playing at major tournaments on a regular basis. They were there at the previous three European Championships, sensationally winning the tournament in 2004 and reaching the quarterfinals in 2012.
They were also present at the last two World Cups, and only a penalty shootout defeat to Costa Rica prevented them from reaching the last eight in Brazil last summer. This time, with the Euros expanded to 24 teams, the task seemed to be even more straightforward than ever.
The outcome was sensational in the extreme. Greece became the first top-seeded team in history to finish bottom of their group. The belated win over Hungary was their first success in the entire campaign, to go with three draws and six defeats -- two of them, quite incredibly, to the Faroes who failed to win any points against other opponents. The downfall from one of the hardest teams to beat, to minnows who are unable to win themselves has been unbelievably quick.
Why did it go so wrong for Greece, then? The answer can basically be summed up in just one sentence. If it ain't broke, don't fix it.
When Greece lifted the trophy in 2004, the whole world called their style boring, but they didn't care. Otto Rehhagel, the German who revolutionalised Greek football and made them believe that success is possible, kept his job until 2010 and never changed the attitude. Fernando Santos, the Portuguese coach who replaced him after the World Cup in South Africa, was specifically chosen because he promised to build on the stability -- and fully delivered the goods.
Greece followed a very clear long term plan, while both Rehhagel and Santos managed to keep the spirited atmosphere in the dressing room, and keep politics and politicians out of it.
And yet, as time went by, many Greek fans started to get bored with their national team themselves. They might have achieved good results, but where was the flair? Did they really have to be so defensive minded? Why were veterans like Giorgos Karagounis and Kostas Katsouranis kept in the squad regardless of their club form?
Such questions were being constantly asked, and eventually the Football Federation succumbed to the pressure. As Yiannis Fileris, chief journalist at Sport24.gr, put it: "Greece have always been a defensive team, but suddenly they wanted to play like Netherlands or Germany. That was our biggest mistake."
The timing of the change couldn't have been worse. With Santos gone after the World Cup, due to a controversial decision by EPO president Giorgos Sarris, Claudio Ranieri replaced him. Just when continuity was crucial, in a transition period with Karagounis retiring from football and younger players waiting to get more responsibility, the whole system was transformed beyond recognition.
Ranieri, who had never managed a national team in his life, didn't have a clue about the Greek mentality either. An experienced and respected specialist, he clearly was in the wrong place at the wrong time, and tried to please everyone around him.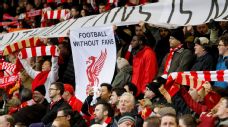 The team began the new era with a 1-0 home defeat to 10-man Romania, and never really recovered. They failed to defend the lead in a 1-1 draw in Finland, then lost 2-0 to Northern Ireland at home when playing in a bizarre 4-2-4 formation, and were humiliated 1-0 by the Faroes. With just one point from four games, that was the end of the road for Ranieri, who is certainly much happier at Leicester City nowadays.
The Italian has to share some of the blame, but it would be wrong to make him a scapegoat. With no strict discipline in the squad, players simply lost their way. Gone was the unity in the dressing room, and as defender Vangelis Moras said last week ahead of the game against Northern Ireland in Belfast: "We didn't respect each other."
In the absence of veterans, younger players like Panagiotis Kone and Andreas Samaris were supposed to become the new leaders, but proved unable to do so.
Karagounis, who was named the technical director shortly after his retirement, became hugely influential but was not necessarily helpful. He wasn't on the same wave with Ranieri, and then proved unable to work with the next coach, Sergio Markarian, even though the 71-year-old Uruguayan was appointed at his personal request. Markarian started with a poor goalless draw in Hungary and then deservedly lost 2-1 at the Faroes himself. Naturally, that cooked his goose as well.
The authorities panicked. Sarris resigned in December, but his replacement, Giorgos Girtzikis, arguably made the matters even worse. He was unable to make peace between Markarian and Karagounis in a row regarding the assistant coaches, and eventually both were relieved of their duties. The players, suffering from humiliating criticism in the press, became even more divided.
"They used to be a team, but in this campaign we just had 11 disjointed players on the pitch," Costas Bratsos of Contra.gr told ESPN FC.
With Markarian gone, under-21 coach Kostas Tsanas took the reins on temporary basis, while the federation desperately tried to find a big-name coach who will be ready to rescue the team. Unfortunately, there was no clear vision at all and such different personalities as Bernd Schuster and Juande Ramos were considered. Eventually, none of them could agree terms.
With Tsanas on the bench, Greece continued to be a laughing stock, losing at home to Finland, drawing 0-0 at Romania and finally losing 3-1 in Belfast as well. The four goals scored against Hungary on Sunday helped to avoid a winless campaign, and youngsters like Kostas Fortounis and Dimitris Pelkas showed some spirit that has been so sorely missed before, but that doesn't really make the pill easier to swallow for extremely disappointed and angry fans.
"Winning is a habit, and Greece knew that for more than 10 years. But then a new team was assembled, and they simply didn't know how to win. The sudden change of style made the team vulnerable at the back, and yet still unable to create anything up front. In short, other teams beat us in exactly the same way we used to beat them," Themis Kessaris, chief editor of Contra.gr, told ESPN FC.
Those words sum up the situation perfectly. It is much easier to destroy a system than to maintain it. Bored with the plan that brought them so much success and recognition, Greece tried to go against their own mentality. The result is a Greek tragedy which should be a warning sign for others.
Michael Yokhin is ESPN FC's European football writer. Follow him on Twitter: @Yokhin