Looking ahead for the World Champs
RIO DE JANEIRO -- So what's next?
Nobody from the corps of embedded national team reporters dared to ask Joachim Low that question after the final whistle in the Maracana on Sunday night. It would have been impertinent. Too soon. Too inopportune.
The German journalists in Rio de Janeiro were all reluctant to probe further. You can't ask a manager who's just won the biggest possible accolade if he intends to go on the job, can you? It couldn't be asked. But then again, it had to be asked.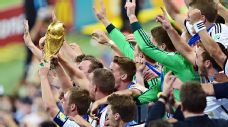 Print journalists have been taught that the only way they can compete with the immediacy of television is to spin the story forward, to look ahead to the day after the triumph. That's the reason why you'll read plenty of musings about the possibility of German domination in Europe over the next few days. (If they had lost -- and they very nearly did lose -- you would have read about this generation not being quite cut out to win a trophy or similar misgivings.)
Even more importantly, Low's immediate future had been shrouded in mystery throughout the tournament. Many people were adamant that they knew what would happen but the sheer amount of various theories put forward -- he will resign if they won the World Cup, he will resign if they didn't win the World Cup, he won't resign in any case, Thomas Tuchel (the former Mainz 05 coach) will be his new assistant, Thomas Schneider (the former VFB Stuttgart coach) will be his new assistant -- all really meant that no one had any firm idea. Maybe Low himself hadn't quite thought it through himself.
Eventually, a few journalists decided that one colleague who hadn't been with the Germany team over the last seven weeks should make the inquiry. To soften the blow, as it were.
Unfortunately, however, the reporter never got his questions in. The FIFA press officer on the podium exhausted the available time by taking queries from all media representatives from all over the world, all of whom were keen to congratulate; none of whom showed the least amount of interest in the 54-year-old's career plans.
Pressed on the issue, the chairman of the German FA, Wolfgang Niersbach, was adamant that Low would be in charge for the Euros qualification and beyond. General manager Oliver Bierhoff, too, vowed to stay on. "I still have a contract for two more years," said the 46-year-old. "I will continue. And judging by the way I have seen Low (work) in the last days and weeks, I assume that will be the case for him as well."
It could be argued that there can be not better time for Low to call it a day then after guiding Germany to their fourth World Cup, in Brazil, after two years of almost constant criticism in the wake of a disappointing Euro 2012.
What's more, Low has built this team, first alongside Jurgen Klinsmann, then by himself over the course of a decade. You could easily argue that his work is done.
But there's another view. If he continues, Low will have almost two years in which to fine-tune his squad for the next tournament in France. There'll be minimal pressure -- the new 24-team-format make it almost impossible not to make the final cut -- and the chance to add a second trophy will be tempting.
The current team can still play in two years time, hopefully with added quality in the shape of Marco Reus, Ilkay Gundogan (both Dortmund) and maybe Timo Werner (18, VfB Stuttgart) as well. Low should get a pay rise, too, which will make the job even more enjoyable.
Lukas Podolski, of all players, actually looked forward to the European championship in France 2016 ("we hope to win it") and claimed that everybody had "to keep their feet on the ground."
That view wasn't shared by his colleagues, however. Many of them walked through the mixed zone with a few magnum bottles of special World Cup edition champagne in their hands. A few of them sang "Germany's Number One!"
Keeping their feet on the ground was the least of their concerns, quite the opposite. "We won't sleep for a single second, celebrate until we fly back (on Monday afternoon), then have a big party with the supporters in Berlin," said Chelsea's Andre Schurrle, who had provided the assist for the winning goal from Mario Gotze.
Words for their emotions were hard to come by. "I don't think we realise at this moment how big our achievement is," said Thomas Muller, "it doesn't feel real at all. Very strange. But very positive, I'd say. And we deserve it, because we have worked hard for it as a team."
Christoph Kramer, a late inclusion after Sami Khedira pulled out with a calf injury, had even less idea what had happened. "I don't remember much, but it doesn't matter," said the 23-year-old Gladbach midfielder; he had to be substituted after 31 minutes with concussion following a collision with Ezequiel Garay.
Germany
Argentina
Game Details
When you're not quite sure where you are, the only way to find out is to trace back your steps, like Hansel and Gretel, through time. Germany didn't quite know what they had done in Rio but they knew how they got to there.
Podolski, as is his wont, put it in very philosophical terms. "We had to wait 10 years for this s---" he said, and remembered his first trips with the German Under 21's alongside Bastian Schweinsteiger.
From 2006, he, Schweinsteiger, Mertesacker, Miroslav Klose and Lahm had all tried to win a trophy in vain. All the time, the team got a little better, thanks to new, technically proficient additions and the older players having more experience.
"It was ten years of hard labour," said Low, "we improved continually".
Germany, it must be mentioned, came close to losing this game against a street-smart Argentina but they prevailed, through skill (Gotze's goal), effort (Schweinsteiger) and focus (Boateng).
Those three epitomised the team's collective strength on the night. There's a huge supporting cast, from the rest of squad, to the coaching staff to those people in the German FA who were smart enough to implement the necessary changes. "Their triumph leaves you with the good feeling that you can earn good fortune," wrote Der Spiegel.
So what's next? It doesn't matter. Because it's done.
Raphael Honigstein is ESPN FC's German football expert and a regular guest on ESPN FC TV. He also writes for the Guardian. Twitter: @honigstein.