Germany rewarded for set-piece focus
Germany's loss to Brazil in the 2002 World Cup final has been referenced a lot before the semifinal in Belo Horizonte, but there's another, more recent game whose outcome has had a far greater and much more direct effect on what will happen at the Estadio Mineirao: the 2012 Champions League final.
Seven players who will feature on Tuesday (Manuel Neuer, Jerome Boateng, Philipp Lahm, Toni Kroos, Thomas Muller, Bastian Schweinsteiger and David Luiz) were on the pitch that night at the Allianz Arena. Bayern Munich were leading 1-0 through a Muller goal on 83 minutes. Chelsea won their first corner of the match 120 seconds before the final whistle.
On the way to the Bayern box, David Luiz came past Schweinsteiger and told him, "And now, goal." The prediction instantly came true. Didier Drogba scored the equaliser. David Luiz, Schweinsteiger said months later, went past the Bayern midfielder shrugging his shoulders, "almost feeling sorry." Chelsea had been outplayed, and they would continue to get outplayed in extra time, but they would win on penalties.
Bayern Munich ended up with 20 unsuccessful corners that night, Chelsea only had one. That one. Boateng had been outmuscled by the Ivorian striker and Neuer hadn't quite reacted quickly enough to the powerful header. For Joachim Low, watching from the stands, and for the German internationals involved in that traumatic defeat, this was an important lesson. Even if it didn't register straightaway.
Low's side had been punished in similar circumstances in the semifinal of the 2010 World Cup, as Carles Puyol won the game 1-0 for Spain after a corner. Low had openly dismissed the importance of practicing corners and free kicks, citing a lack of time. He wanted to use the training sessions to work on the big things, Germany's passing game and their shape; he didn't see the need to attend to the more mundane tasks.
"Most goals are being scored from open play," the manager said during Euro 2012, "dead balls are not top of of my list." Ironically, the German FA's own web page disagreed. "The World Cup in South Africa has shown once again that the possibilities of dead balls are not being maximised," it read that summer. "Free kicks and corners are too rarely put into the box dangerously, goals are too rare."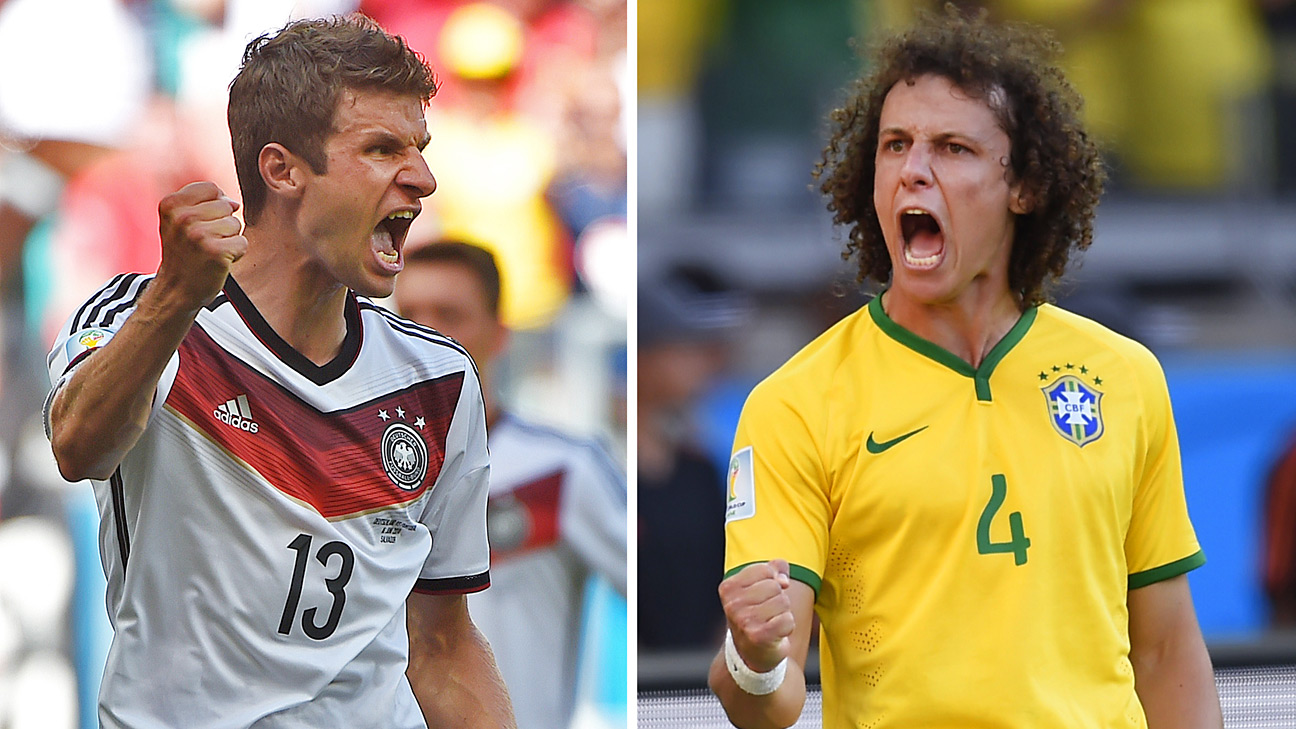 Asked about Pep Guardiola's training methods last fall, Schweinsteiger said he was most surprised about the amount of practice for dead balls -- "standards," as they call them in German. Practice doesn't always make perfect -- Bayern were knocked out of the Champions League semifinal against Real Madrid by a pair of Sergio Ramos headers coming off set pieces this spring -- but Low, who's always been influenced by what's going on at the Bundesliga's biggest club, has belatedly adjusted his priorities.
If another incentive was needed, it came courtesy of chief scout Urs Siegenthaler, who came back from his trip to the Confederations Cup having noticed that many teams were concentrating their whole game on exploiting dead balls. Germany have not gone back to the dark ages when their priority was to make the game as tight as possible and snatch a goal by any means necessary, but their increased attention towards corners and free kicks has borne fruit. They have scored three goals from 27 corners, one from a free kick, as well as one penalty.
"It's not a coincidence," Siegenthaler told German newspaper Sueddeutsche Zeitung on Monday. "At on one point, the day had come where we said that the playing style has to take a back seat, that we have to concentrate on other matters."
Low's assistant Hansi Flick had been banging on for years, in vain, about putting dead balls on the agenda. He was allowed to build a task force of players who have come up with ideas in special sessions at Campo Bahia. They didn't care that the whole world was laughing about Thomas Muller's stumble in the Algeria game -- on the contrary. "It nearly worked," Muller maintains.
It helps if you have the right players, of course. "Toni Kroos hits these balls beautifully." Michael Ballack told ESPN FC. "You know exactly where the ball will go to." To put Germany's one-in-nine success rate from corners into context, the expected average would be somewhere at one in 30. You'd expect their rate to regress over time, but they'll only play two more matches.
Germany concentrating on dead balls has been widely read as a sign that they are not willing to leave any stone unturned at this tournament. It's also a concession to the difficult conditions at this World Cup. If you can't play your usual fluid game because the players are too tired to make those little sprints, letting the ball do the work for you is not a bad idea.
Brazil have embarked on the same route, incidentally. They have scored three goals from dead balls in addition to a penalty. (Their goal-to-corner ratio is 1 in 15.5.) The absence of Neymar and Thiago Silva could be more keenly felt than widely anticipated in that respect. The injured striker is Luiz Felipe Scolari's best dead-ball taker, and the suspended defender had been identified by Siegenthaler as the "target player."
Luiz will be even more important in both boxes as a result. Keep an eye out for him and Schweinsteiger having a little chat if it comes to a corner late in the game. The Germany midfielder has not held a grudge against 27-year-old for his premonition. "He's a nice guy," Schweinsteiger said. But a little payback wouldn't go amiss.
Raphael Honigstein is ESPN FC's German football expert and a regular guest on ESPN FC TV. He also writes for the Guardian. Twitter: @honigstein.