Under-fire Ozil and Gotze must deliver
Thirty years ago, when Joachim Löw's deep black mop came with an equally deep black mustache, the striker was on target so often that he turned out to be SC Freiburg's all-time record goal-scorer, with 81 goals in the second division.
The Germany manager has always remained a striker at heart. But in the last couple of days, he's been doing an awful lot of defending.
The inept performance of his team against Algeria in Porto Alegre, especially in the first half, have put the 54-year-old on the back-foot, having to plead the case for his tactics (why four center backs?), his deployment of Phillip Lahm (why in central midfield?) and his persistence with Mesut Özil.
"Why is (he) still a regular starter, Herr Löw," Hamburger Abendblatt asked on Wednesday. Löw shot back in an interview with the Die Zeit newspaper with a rhetorical question of his own.
"Do you want me to be disappointed that we've advanced [to the quarterfinal]," he asked. "You can't always play fantastically well at a World Cup."
That might be true but many of his fellow countrymen couldn't help but to be in a genuine state of shock due to the extent of his side's problems on Monday night.
Some coaches have had less explaining to do after World Cup elimination than Löw after the 2-1 win in the second round. But that goes with the territory. Expectations have built up after four tournaments with near misses.
- Cox: Fatigue played a role in round of 16
- Low defends Lahm and Ozil
- Germany vs. France, Friday, 7/4, Noon ET, ESPN 2 and WatchESPN
Özil, the Arsenal playmaker, was by no means the worst performer in a team that had played without balance and confidence. That unwanted accolade went to Mario Götze (Bayern Munich).
The 22-year-old was so poor before his substitution at the end of the first half that none of the waiting reporters in the Estadio Beira-Porto mixed zone felt moved to ask him any questions. They effectively treated him like an unused sub, and why not? His impact had been comparable. Özil, by contrast, was on the pitch for 120 minutes and he had at least one telling moment, scoring Germany's second goal from an acute angle in the dying seconds. His stats (60 passes completed, top speed of 30 km/h, 11 km distance covered) were all perfectly adequate as well.
Non-Germans might find the extent of the criticism that has been directed at the 25-year-old puzzling but it's worth remembering that he, like his team, are judged not solely on their actual performances but on their potential. Both have fallen rather short in that respect, and the reaction hasn't really been anger as much as concern: Germany and Özil - Özil's Germany - will have to do a lot better if they want to win the World Cup.
Munich-based newspaper Süddeutsche Zeitung described Özil and Götze as the "invisible duo" of this tournament.
"A Götze who isn't there and a Özil, who is there at the beginning and then goes missing for while -- presumably to run some errands -- and then comes back only at the end. That won't be enough," the publication added.
Die Welt, too, sarcastically called them "virtual stars", in reference to their millions of followers on social media and the increasing gap between world wide recognition and actual world class showings on the pitch.
Gotze, tellingly, didn't receive any backing from Löw. He has likely lost his place for the France tie to goal-scorer André Schürrle. The Chelsea forward isn't as gifted but injects some much needed pace and willingness to attack the goal.
Özil, however, still has the manager's trust. "I find the criticism of him incomprehensible," said Löw. He conceded that Özil "could play better after a difficult season (with Arsenal)" and was "not in top form," but insisted that the former Werder Bremen player could "influence and decide matches with one single move."
Özil had been "the outstanding player of the tournament in 2010 and 2012," Löw added. "I can't simply forget that! I have great confidence in my players, even when things don't go according to plan."
The Germany manager hasn't got much choice but to stick with him. Götze has been a disappointment but Julian Draxler (Schalke) is deemed not quite ready at this level and Borussia Dortmund's Marco Reus -- the player who would have put the most pressure of Özil's position in the starting lineup -- never made it to Brazil due to injury.
There's also a mitigating factor. The Gunners' playmaker doesn't naturally fit into Löw's 4-3-3 with three interchangeable forwards. Özil often finds himself on the right, in front of a full-back (Shkodran Mustafi or Jérome Boateng) who doesn't offer any meaningful support by way of overlaps.
Löw sympathizes with that predicament -- it's the coach's doing, after all -- but the wider German public are less forgiving.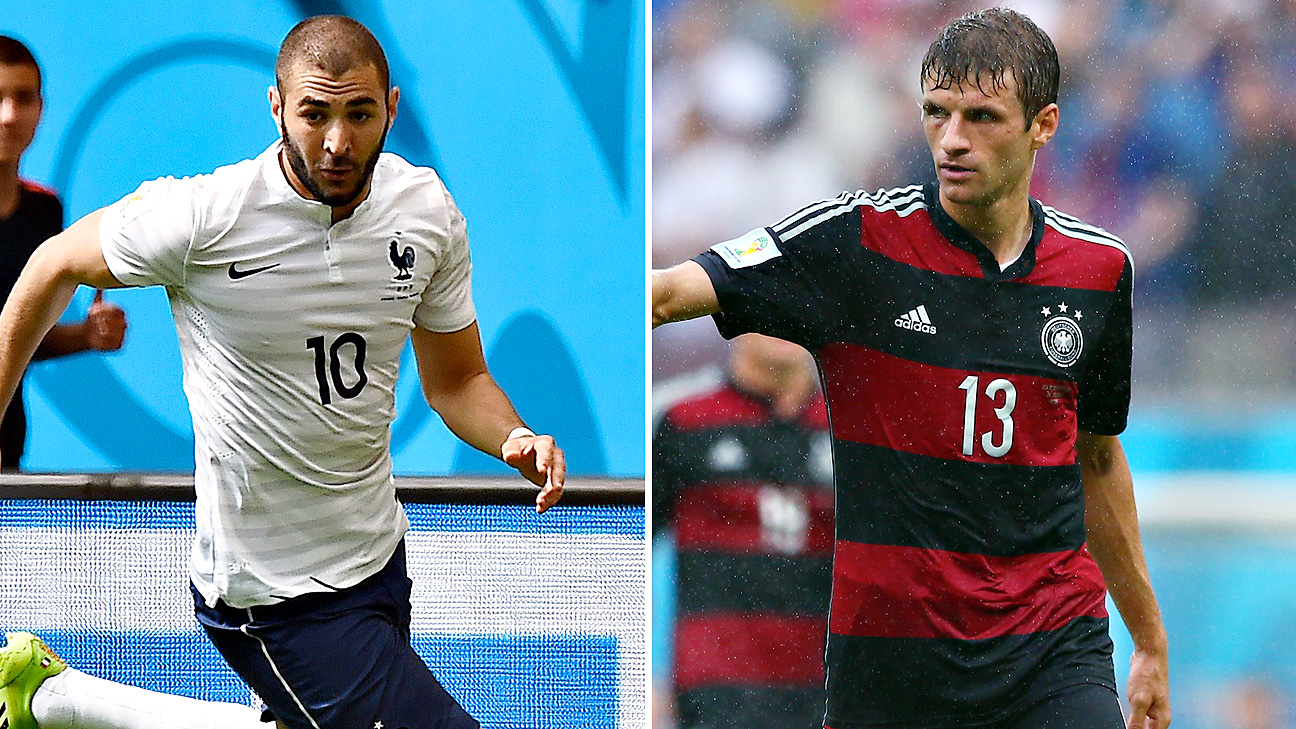 They're unnerved by Özil's lax body language and recall that technical players have often been asked to play in unfamiliar roles in trophy-winning Germany teams.
"I know I can't be annoyed when I lose the ball," the midfielder acknowledged in an interview before the Algeria game. "I can't stand still and get angry, I have to get back and show: I'm here."
That sort of presence on the pitch, an intangible quality that cannot be measured in numbers and doesn't always translate well to the TV screen, is urgently needed.
Germany, the opening game against Portugal apart, haven't fully been there in the matches in Brazil so far, and their opponents have been allowed to thrive as a consequence. France, unlike Ghana and Algeria, will punish Löw's team if they don't manage to exert themselves more forcefully, and more consistently.
For that, they need Özil to take control. It's also in the player's personal interest to fulfill his considerable potential. Löw is unlikely to be around to defend him if Germany crash out after another game if he remains a technically tidy but uninvolved also-ran "star."
Raphael Honigstein is ESPN FC's German football expert and a regular guest on ESPN FC TV. He also writes for the Guardian. Twitter: @honigstein.