Pogba and Griezmann are best friends who bond over video games and NBA. Their rapport is huge for France
"I have missed you so much, bro," one said.
"I have missed you so much, too," the other answered.
On Monday, the first thing Paul Pogba did when he arrived at Clairefontaine, the France training base a 45-minute drive south of Paris, just before noon was knock on Antoine Griezmann's bedroom door to say hello to his best mate. It wasn't that far for the Man United midfielder to walk, really. His best friend's room is right opposite his. It used to be Patrice Evra's room, but Griezmann claimed it when "Uncle Pat" left the national team.
When they are together with France, Griezmann and Pogba are inseparable. They play video games for hours, usually in Griezmann's bedroom. They watch NBA games, usually in Pogba's room. Together, they drove the whole NBA-style world champions rings initiative and put together a lovely, little ceremony for their teammates on Tuesday.
The pair sit next to each other at lunch and dinner around the big, rectangular table in the dining room. Pogba was also right by his mate when he turned 28 on Thursday, and a cake was given to him while everybody sang "Joyeux Anniversaire."
- The inside story of France's NBA-style World Cup rings
On the pitch, they are two of the main leaders in this current France squad. The Atletico Madrid forward is the technical driving force, often at the heart of every attacking move, and the Manchester United midfielder is the engine, the heart and the character -- but also the voice of the dressing room, as we saw during the World Cup last summer. Both had such an important role in Russia, maybe the two biggest roles, in every aspect in France's becoming world champion.
Griezmann was the team's top scorer alongside Kylian Mbappe, with four goals, including one in the final, and three assists. Pogba, in the meantime, scored the crucial winning goal against Australia in the opening game of the tournament and another in the final against Croatia. He was also the midfielder who won the most 50-50 challenges in the competition, with 58.
On Friday at the Zimbru Stadium in Chisinau, they sat next to each other in the dressing room, as usual. To open the scoring against Moldova that night, they combined for the first goal with a wonderful one-two with a chipped ball from "la Pioche" for a superb volley by "Grizi" after just 24 minutes.
Later, it was a free kick from the latter and a header from the former, though it didn't go in. Griezmann also delivered an assist for Raphael Varane on France's second goal, and Pogba, who touched the ball 142 times in 90 minutes, the highest tally for a France player since 2011, was everywhere and could have easily scored or assisted too.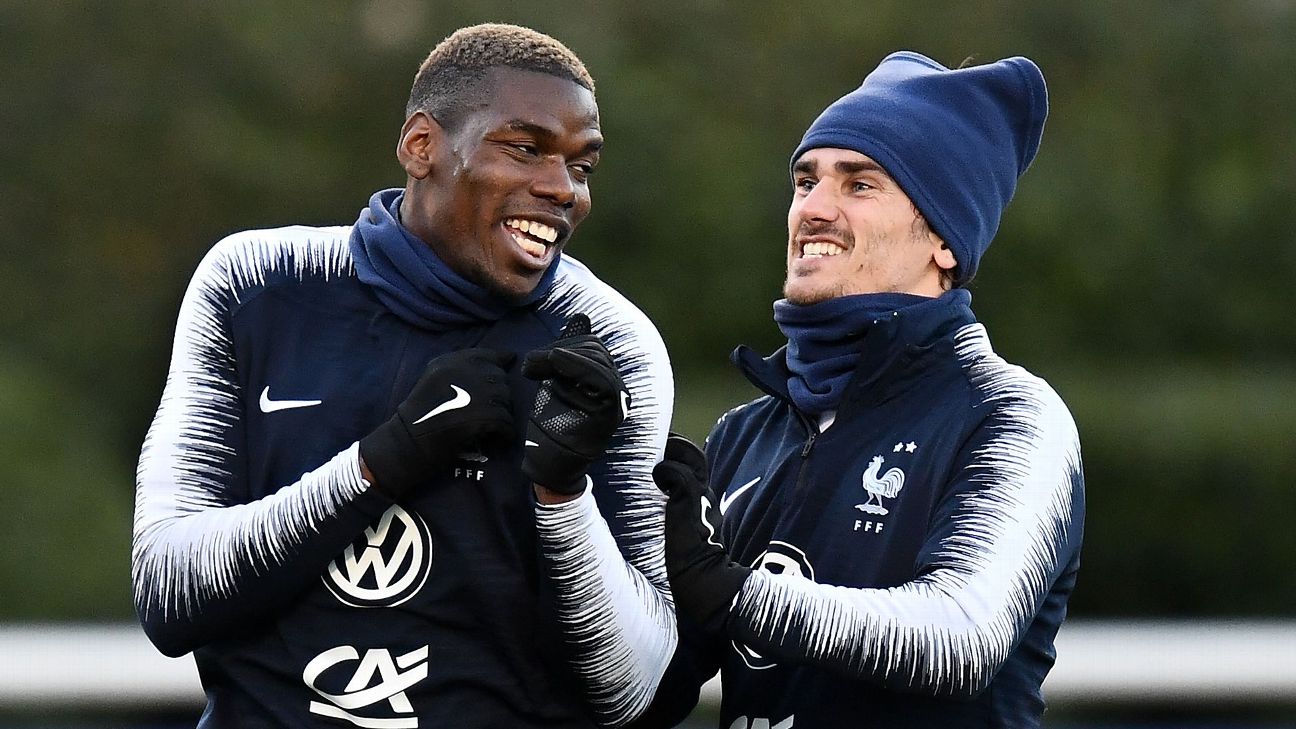 When Pogba and Griezmann are in this kind of form and in this kind of mood and they find each other so easily, they carry Les Bleus easily. Their bond off the field has helped forge a very strong understanding on it. As they reminded everyone in Moldova, they can find each other with their eyes closed.
Didier Deschamps encourages them to be close. He knows what a strength it is for his team to have such a strong partnership at its core. Once the head coach settled on his current -- and preferred -- 4-4-2 formation, he knew that having Pogba, as one of the two central midfielders, and Griezmann, up front alongside Olivier Giroud, so close to each other on the pitch in terms of positioning could only benefit the team and their performances.
Both have a more central role than they might in a 4-3-3 formation, and often Griezmann will drop deep to get the ball, getting even closer to Pogba, who will naturally use his friend as a first option for a forward pass. Griezmann's intelligent movement is also perfect for Pogba, who looks to find him between the lines.
"They find each other so well during matches. They combine well and lead by example," Giroud said. "They are great friends outside of football as well, which helps them on the pitch. They are always together, always in a good mood and full of energy. It's a great asset for our team to have two players like them."
Although Griezmann is two years older than his friend, almost to the day -- he was born on March 21 and Pogba on March 15 -- they should have made their debuts for France at the same time. But when Pogba honoured his first cap, against Georgia in March 2013, "Grizi" was suspended from the national team after going to a night club two days before a France U-21 game in 2012. His one-year ban for that infraction ended in December 2013, and Deschamps gave him his first game as soon as he could after that, in March 2014 against the Netherlands.
Today, Pogba counts 65 caps and Griezmann 68. Without them, France would not have won the World Cup last summer or reached the European Championship final two years earlier, as much because of their individual talent as their chemistry while playing.
On Monday evening at the Stade de France against Iceland for their second Euro 2020 qualifier and the first France home game of 2019, Deschamps and Les Bleus will once again rely on their two superstars. The force is so strong between those two, and they will relish the challenge once again.