Remembering Ribery for les Bleus
So this is it. At 31, Franck Ribéry has announced his retirement from international football two months after France shone at the World Cup and reached the quarterfinals without him. The timing is surely not the best as Samir Nasri got there first, a few days ago. But also because in two years time, France hosts the 2016 Euro and Ribéry could certainly have played some part in it. Deschamps, for sure, still counted on him and so did the other players for whom today's news has come as a shock.
It's interesting as well to see that Ribéry announced his decision in Kicker, the German magazine and not in L'Equipe, France Football or even on French TV. It's probably not a surprise though. His life is now in Germany. It has been for a few years now to be fair. When France rejected him after his antics at the disastrous 2010 World Cup, Munich showed him more love than ever.
Even when things got better with the French supporters, his heart was always in Germany where he is the Kaiser. Whereas some back home will always reproach him 2010 where he was one of the leaders, if not the leader, of the aforementioned World Cup debacle, of for his linguistic mistakes, or for his background. I have never seen a stadium in France cheering him on like I have seen the Allianz Arena do, even in Lens, close to his Boulogne hometown.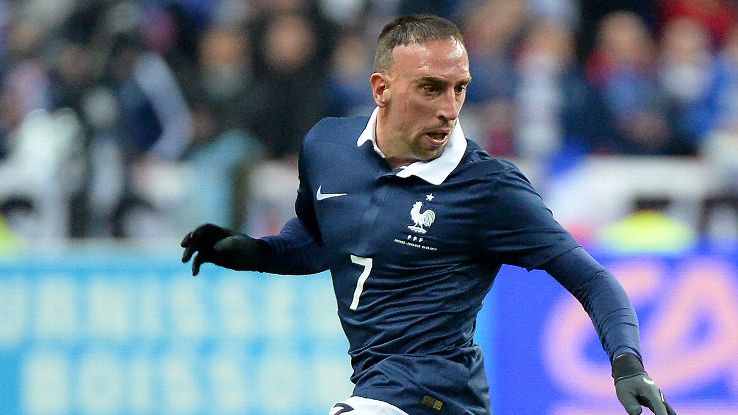 Today is the end of a very eventful, complicated and controversial love story between Ribéry and the French national team. I was there when it all started. His first cap was on May 27, 2006, at the Stade de France against Mexico, the day Zidane celebrated his 100th cap. France won 1-0 and Ribéry came on for the last 17 minutes. He was only 23, but his tricks on the ball, his quick runs and his instinctive play won the fans over. Four days later, at Lens, against Denmark (2-0), he played 24 minutes and earned his place at the World Cup.
In Germany, his future adoptive country, Ribéry revealed himself to the world. The whole of Spain can probably still remember his goal in their last-16 game with France that sent the French on to victory. It looked like it was the start of something great then. But it never was. Instead, it was the start of a torturous journey with more lows than highs, a lot of misunderstanding and let downs. First a poor 2008 Euro, which he finished with a bad injury against Italy; then an even worse 2010 World Cup; finally a mediocre 2012 Euro. In between, there have been some good games and some key goals in the qualifiers, but not enough.
And then came what would be his last cap, on March 5, at the Stade de France, where it all started, against the Netherlands (2-0). History will remember that his last game for France was as a sub. He came on for the last 30 minutes. Les Bleus were already 2-0 up and all the damage had been done without him. It was a sign of things to come. That night, Griezmann, Benzema and Valbuena started up front. We didn't know it at the time but a nasty back injury would rule Ribéry out of the World Cup two months later.
The question is not really if Ribéry will miss playing for France. Of course, he will. Representing your country is the pinnacle of a footballer's career. He always had that dream of wearing the blue shirt. It was not always easy and not always successful but he loved it. He would have loved leading this young team at the Euro on home soil but he decided not to. It's his choice and we have to respect it. But the real question is will France miss him?
The answer is not as straight forward as the previous question.
Off the pitch, he was a key player for Deschamps, a world-class player with loads of experience and a relaxed attitude. On the pitch, even not at his best, he could still have helped. But some talented youngsters like Antoine Griezmann or Rémy Cabella are arriving. They represent the future more than Ribéry himself. The pressure was on for him to keep delivering and maybe, at his age, he didn't fancy the challenge anymore.
- ESPN FC TV: Holden recalls Ribery's international career
- Uersfeld: Ribery returns to training with Bayern Munich
He will leave with 81 caps between 2006 and 2014. He has scored only 16 goals, which is clearly not enough. And apart from the 2006 World Cup final, he has failed in every other attempt to reach the second round of a big tournament (2008, 2010 and 2012).
On August 28th, Didier Deschamps will announce his squad for the friendly against Spain in Paris on September 4, and the Euro 2016 qualifier friendly (I know it sounds weird but that's what they are) against Serbia in Belgrade on September 7. Ribéry would probably not have featured anyway as he is injured at the moment. But the whole press conference will surely be about him.
Julien Laurens is a London-based French journalist who writes for ESPN FC and Le Parisien. Follow him on Twitter: @LaurensJulien.