Unified France hope to prove destiny
After France's 2-0 win over Nigeria on Monday, Didier Deschamps decided to share his feelings on Les Bleus' progress so far.
"I wanted to tell you that I'm very happy to be your manager," Deschamps said. "Thanks for what you have achieved, France is now amongst the eight best teams in the world. It's significant, but the journey doesn't stop here."
Deschamps could have picked other words, could have made it more succinct or more verbose. The 45-year-old could have rallied and shouted a bit more, but instead he chose his words carefully. He is proud and he wanted to thank his men.
Deschamps is a very good coach but ultimately, it's not he who is on the pitch. His World Cup would have been a success even with a loss to the 2013 African champions. He had brought pride, joy and hope back to the country. However, Deschamps' players ultimately did the job and are now sitting in the World Cup quarterfinals. The aura and charisma that the former France captain has had over his dressing room -- that relationship has brought the team to an elite level.
Interestingly, Deschamps didn't mention Germany in his little speech.
You might think that the rivalry is so intense between the neighbouring countries that he could have drawn the battle lines then and there. He chose not to.
The next day at his news conference, he added: "I haven't mentioned 1982 and 1986 to the players. Why should I? They were not born at the time. When you're not born, you're not born . . . "
He is right. The vengeance, the retaliation, the "we hate you because of what Harald Schumacher did to Patrick Battiston in 1982" part is not needed. It's good for the media and for the older generations, but it doesn't serve a purpose for these players.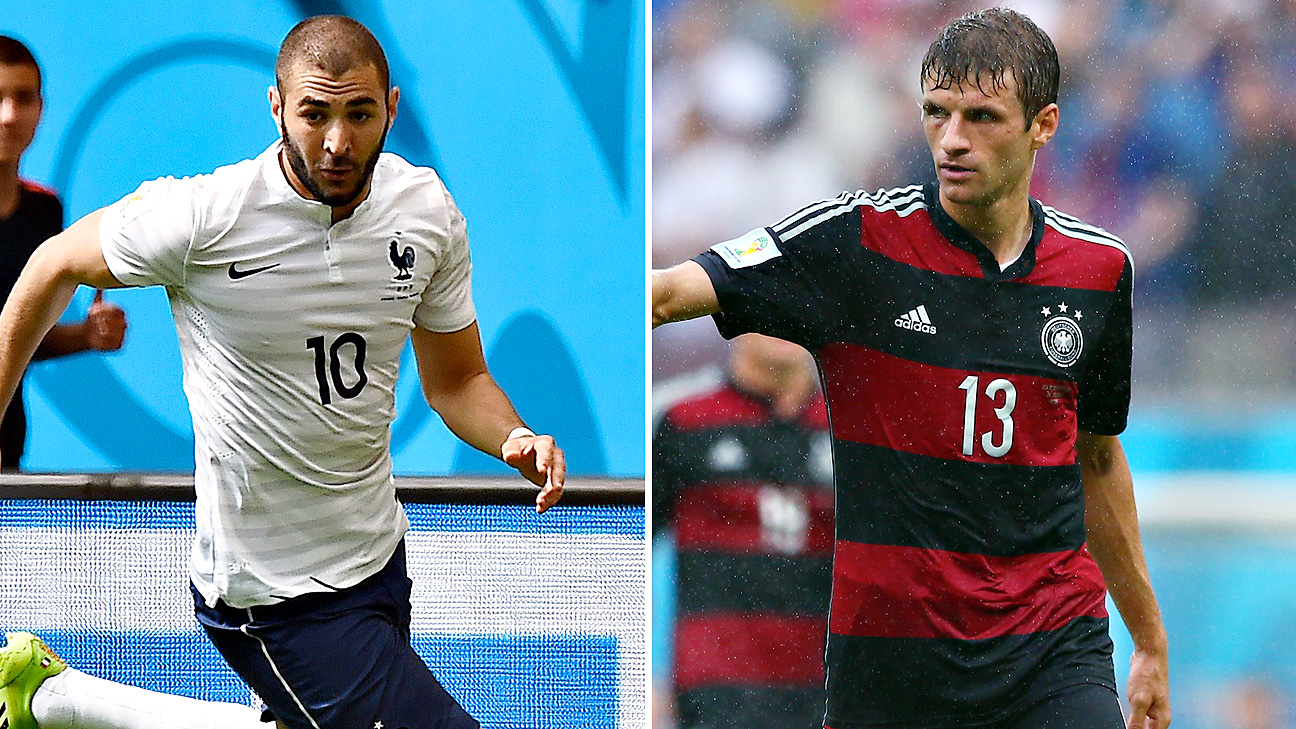 First of all, they are aware anyway. Secondly, it was 32 years ago, in another era when only Patrice Evra was alive (and was just 1 year old). And finally, you don't need extra motivation before featuring in such a massive game.
But Deschamps' key point: The journey doesn't stop here.
This team arrived in Brazil with no bigger objective than to simply do better than 2010, which was not going to be difficult. The sentence the whole French camp used was: "We will do the best we can." It's all the fans wanted. Do your best.
The French were not among the dark horses of the competition, nor even the underdogs, but just another team, far from its glorious past and orphaned from its best player (Franck Ribéry). The players didn't know what to expect, but their ambition, like their confidence, has been growing quickly with their results and performances.
The one thing they knew from the outset was that the atmosphere inside the camp was great. And when it's great, it's a good sign.
Back in May, at the Clairefontaine base, Laurent Koscielny made that point: "The thing that can make us go far in the tournament is our team spirit."
He was right. After the hard-fought victory against Nigeria on Monday, Mathieu Valbuena also said: "We are 23 brothers."
It does sound a bit cliché, but it's not. They live it.
When Deschamps first arrived in 2012, most of the players went back to their individual rooms after dinner. This time, they all stayed in the game room at the hotel with Playstation, a pool table, cards and dice, and table tennis. They could have stayed there all night, talking, playing and laughing.
On the pitch, they fight for each other, run for each other. They have become so mentally strong since they turned around that famous World Cup playoff game against Ukraine in November that they don't fear anything or anyone anymore.
Of course, France could lose on Friday. But a defeat would be no disaster. Germany are favourites in this tie after all, and the French are where they should be, considering they "only" beat Honduras, Switzerland and Nigeria.
Don't forget that France is still in the process of rebuilding after 2010 and 2012, and that in two years' time, France is host of the European Championship. The objective really is to win the tournament then, not now. Everything that has happened in this tournament will be precious and useful for the competition in 2016.
But beating Germany obviously would be special.
For the older generation, it would be closure on 1982 and 1986. It would also mean that the hard work done by Deschamps and the players is paying off and that France are back where they belong, right up there with the best.
It would mean that the golden generation (Paul Pogba, Raphael Varane, Antoine Griezmann) is as talented as we thought, and that the next few years look bright. It would mean that we could keep dreaming of winning this World Cup. We are not there yet. First, the French have a date with both history and their destiny.
Julien Laurens is a London-based French journalist who writes for ESPN FC and Le Parisien. Follow him on Twitter: @LaurensJulien.