Deschamps tames French front duo
Sometimes, I am sure, Olivier Giroud must think about that interview he gave France Football almost a year ago, back in September 2013. It came at the heart of Karim Benzema's horrendous goal drought with Les Bleus that would end only after 1,222 minutes without finding the net.
- Johnson: Blaise Matuidi central to French hopes
- Laurens: France must cope with knockout pressure
- Lloris: We have the will to succeed
- Torre: Nigeria plays through country's pain
Although Benzema was not scoring at the time, he was still the No. 1 choice at centre-forward. French coach Didier Deschamps was sticking with the Real Madrid No. 9 and Giroud, on top form at the time with Arsenal, had to settle for a place on the bench. He was not happy.
The competition between the two strikers was at its best back then. Soon after, Deschamps dropped Benzema and started Giroud for four international games in a row.
Nine months later, on Monday, Giroud and Benzema will lead France up front. They are still not best friends, but it's not one or the other now, it's both together.
This is not a surprise though. Unlike what Giroud said to France Football, Deschamps always had the idea to play them together.
In his first game in charge, in August 2012, Deschamps managed a good old fashioned 0-0 draw against Uruguay in a friendly in Le Havre -- starting with a 4-4-2 formation with the two men in question up front.
Deschamps persisted with this formation many times, but it never worked that well to be fair. Until three weeks ago.
First, against Jamaica (8-0) just before flying out to Brazil and then against Switzerland (5-2) in what is the best performance Les Bleus have given since the 2006 World Cup, the two played well together.
In those two games, Benzema and Giroud were involved in 10 of the 13 goals scored. Three goals and four assists for the Merengue and two goals and one assist for the Gunner.
Their partnership in itself was not exceptional. They exchanged only six passes against the Swiss for example, none of them being decisive. They linked up well. They were never miles away from each other. They never went for the same ball or got under each other's feet.
However, their influence on the pitch is not just about passing the ball to each other. It's more about the movement they create.
In the absence of Franck Ribery, Benzema often starts on the left-hand side with Giroud in the centre.
Their runs and profiles are different and complement each other. Giroud can hold the ball well and is used as the target man. He also can run in the space as he did so well against the Swiss.
Benzema likes the ball in his feet. He is more skillful technically than Giroud, more mobile on the ball. He can start from the left and come back on his right foot. He can shoot, dribble, assist, create danger or cross the ball. Starting wide makes him more dangerous than when he is in the centre -- Giroud is a big threat in the air on set pieces while Benzema can score from everywhere and anywhere on the pitch.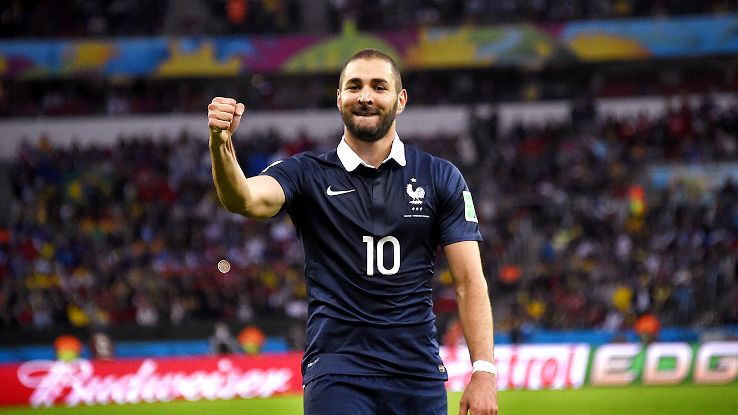 The Switzerland defence never coped with their movement and the threats they both represented. Each striker registered a goal and assist in that game and could have had more.
"They play well together," explains Deschamps. "It can be even better but they form a good partnership. It is the perfect image of a front two: a tall, strong, target player with, next to him, a quick, skilful, clinical one."

France
Nigeria
Game Details
But in the Giroud-Benzema marriage, there are actually three. There is a third person in Mathieu Valbuena. He is the one who enables them to play well together.
When Les Bleus have the ball, they almost switch from their traditional 4-3-3 to a 4-3-1-2 with Valbuena as a playmaker just behind Giroud and Benzema, who then have the whole width of the pitch to make their runs. And the "little bicycle" finds them in the space or at their feet.
It was no surprise that, without Giroud and Valbuena against Ecuador, Benzema was very quiet. He was not the same at all as in the previous game.
Giroud was not happy to be on the bench, both against the South Americans and also in the opening match against Honduras. He wants to play because he knows it's a great time to be alongside Benzema. If Ribery had been fit, things would have been so different. But credit to the manager and the players, they managed to find the right balance and solution very quickly.
On that point, it's interesting to see how Benzema has reinvented himself a little bit with the national team in this World Cup. On Monday, Giroud and Benzema will be reunited, with Valbuena just behind them. Nigeria should be very worried. Didier Deschamps has clearly found the perfect front three to lead France in this World Cup.