England's comeback vs. Germany leaves Hodgson with a dilemma
BERLIN, Germany -- Deciding what to glean from an international friendly is a tricky business. These are, after all, essentially meaningless games, where no points are won nor competitions advanced in. They are well-attended training exercises that either justify a national manager's existence or provide him with valuable preparation time, depending on your point of view.
Still, Roy Hodgson was beaming after England's hugely impressive victory in Berlin, where goals from three of the players who have excelled in the Premier League this season completed a stirring comeback and a 3-2 win over the best international team in the world.
Germany
England
Game Details
The caveats are obvious: It was just a friendly; Germany made a number of substitutions (four) that seemed to disrupt rather than help them; after scoring their two goals they didn't so much as take their foot off the gas as put their boots on the dashboard and turn the radio to something light and soothing. Again, it was just a friendly.
Even the winning manager sounded a note of some caution. "One must always be careful in trying to attach too much importance [to these games]," Hodgson said after the match. "Had we lost 3-2 and it was Germany who had scored late on I wouldn't have been sitting here bitterly disappointed. I'd have still been pleased with how the team played the game and approached the game."
And with good reason. Despite the basic irrelevance of the game, this does not mean things cannot be learned, optimism boosted or indeed previous suspicions confirmed, not least with regards to some of the personnel. Unlike previous years, this England side is one with only a few players who the manager will almost certainly pick if fit, and they were all absent on Saturday. Joe Hart probably won't have much to concern himself with, but Wayne Rooney and Jack Wilshere might have watched with mixed emotions to say the least, given how well their "replacements" performed.
Two formations were used by England, and in both it's difficult to make a case that Rooney should automatically return, based on the evidence of Saturday night and indeed the season as a whole. With a single forward, Kane is the only choice. Top scorer in the Premier League and the man who started the comeback with a fantastic strike, while with two Jamie Vardy, Daniel Sturridge and possibly even Danny Welbeck would provide different, arguably superior options to the Manchester United man.
England looked more vital and more purposeful without their captain, and given the way shoehorning players into the team because of their status and reputation has hampered England at previous tournaments, Hodgson must at least pause before reintegrating him. In reality, any talk that Rooney might be eased out is probably fanciful, given the glowing manner in which Hodgson has talked and still talks about his captain. However, the manager has done plenty to dismiss his conservative reputation in the past couple of years. It would undoubtedly be quite the statement if he was left out against Russia on June 11, but a justified one the way things stand now.
Another reason to perhaps ignore the last of England's old gold-plated generation is the way this young team approached the comeback, completely and surprisingly unfazed at the prospect of going 2-0 down to the world champions. "Fearlessness is a good word," Hodgson said when asked about that attitude. "It's one we bandy about quite a lot when we're talking with the team. We're always encouraging them to show positivity, to be able to show that composure and be comfortable on the ball."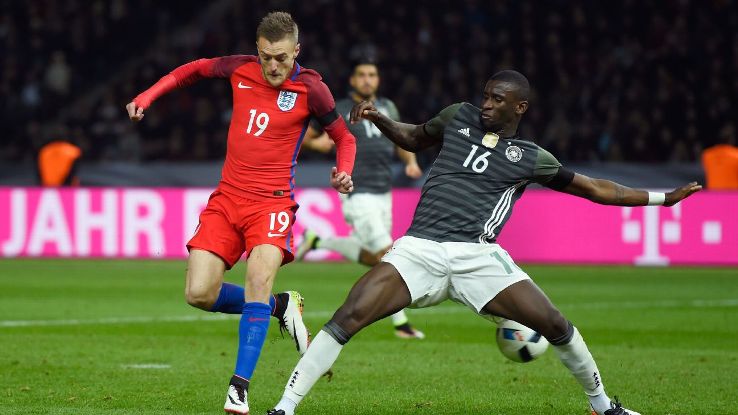 At 29, he doesn't quite qualify as a youngster, but the way Vardy back-heeled home the equaliser summed up that youthful free spirit perfectly. This game also went some way to answering the question of how these players who have dominated a Premier League high on excitement but arguably low on quality would cope against world class opponents. Before the game Hodgson spoke of his team's inexperience, but the flip side of that is the youthful confidence that we saw in Berlin.
The man who scored the late winner was another of those youngsters. Eric Dier has been one of the less-heralded but perhaps most important members of the Tottenham side that have been doing so well this season. He showed he could perform the same role for England, providing another piece of evidence that Wilshere's apparent status as the incumbent at the base of the midfield is misguided. Hodgson has been at pains to point out that the Arsenal man played well in that role in previous friendlies, which he did, but he hasn't appeared at all this season and even if he was 100 percent fit he doesn't offer what Dier does.
Dier perhaps allowed Toni Kroos too much room for Germany's opener, but other than that he was superb, showing the importance of having a proper defensive midfielder. At least one attack in the first-half stemmed from Dier winning possession, while his natural tendency to drop between the centre-backs is hugely valuable: that allows the full-backs to get forward with more confidence, which Nathaniel Clyne did to great effect in crossing for Vardy's goal. England can't precisely recreate Tottenham's style, but they can imitate the best elements of it well enough.
The result wasn't 100 percent positive, though. It isn't a new or original observation, but England's defence still looks far too brittle to be considered favourites to succeed in France. On too many occasions the German forwards were afforded as much space as they pleased, taking advantage three times, and it was England's extreme good fortune that one of those was erroneously chalked off.
Germany's second in particular should cause concern. Mario Gomez was allowed to wander into a gap between two defenders and head home at his leisure. The troubling thing is there aren't too many other options that inspire confidence: John Stones should get a chance against the Netherlands on Tuesday, but his defending has been exposed this season. The next in line is Phil Jagielka, a competent option but little better.
For the moment, though, cautious optimism seems to be the prevailing English feeling after a terrific night in the Olympiastadion. Hodgson (a little reluctantly) said it was the best night of his tenure with England, but also explained that he was "worried" that any previous criticisms of his team would be forgotten. "I think it's important to remain humble in these moments," Hodgson said. "We've got an awfully long way to go before we can be like the Germans, with what they've achieved. But we should take not only pride but encouragement from this performance."
Nick Miller is a writer for ESPN FC, covering Premier League and European football. Follow him on Twitter @NickMiller79.