Los Ticos ready for another surprise
SALVADOR, Brazil -- Anyone expecting the Netherlands to crush Costa Rica on Saturday afternoon is probably going to be disappointed.
It seems like an audacious statement on its face. The Dutch are arguably the best team never to be crowned world champion, while the upstart Ticos come into the match already breathing rarified air, already having delivered the best performance in their tiny nation's history.
Nonetheless, the new reality of the international game is there's no such thing as a mismatch anymore, especially when it comes down to the final five teams standing at a World Cup. Forget history and ignore the FIFA rankings, if you don't already; all that matters now is the next 90 (or quite possibly 120) minutes, something Oranje coach Louis van Gaal is none too aware of heading into the match.
"I never said Costa Rica was a weaker team," Van Gaal said at Friday's prematch press conference, scolding journalists from his home country who had suggested otherwise. "The high number of games going to extra time shows that there are almost no differences between the teams. This is, undoubtedly, the best World Cup I've seen in the last 30 years."
Besides, it's not like his counterpart is just happy to be there. Sure, Ticos boss Jorge Luis Pinto is playing with house money now, having led his team a round of 16 victory over Greece after wins against Italy and Uruguay (plus a scoreless tie against England) in the only group in World Cup history to feature three former champions.
But he's not about to fold now.
"It's not easy to beat three great powers when nobody believes in us," Pinto said Friday. "But we believe in our work, in the team's preparation, in each player's dedication on the pitch. We have analyzed everything, and I know that we'll keep on going. "
Why shouldn't they? It's not like the Netherlands have been totally convincing in Brazil, despite four wins from four games. Mexico was minutes away from eliminating the Dutch in the round of 16 before imploding, and Costa Rica beat and tied El Tri during qualifying this past year.
Van Gaal himself conceded that the 2014 version of his national squad isn't the "Clockwork Orange" side of lore, the one that went to two finals in the 1970s or even the one that did the same in South Africa four years ago.
"I've always said we're not a fantastic team," the Dutch manager admitted on the eve of the match. "But it's very difficult to defeat us."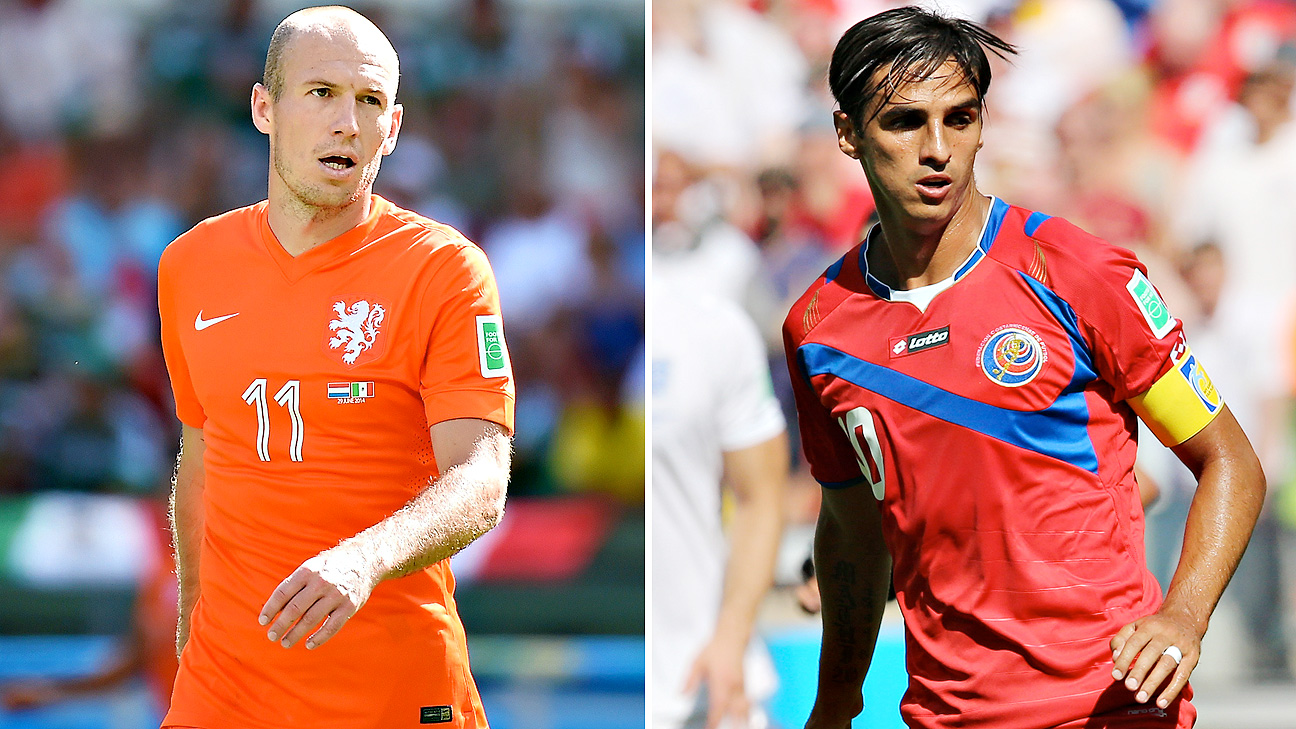 That, of course, is Pinto's challenge. The Colombian has been as shrewd a manager as any in the competition to this point. None have gotten more out of less, and he knows full well the opportunity of a lifetime is staring him in the face now, no matter how many think another upset is impossible.
"It is possible," he said.
It could take outwitting Van Gaal, which won't be easy, but Pinto believes he has an ace up his sleeve. As a young man, one of his mentors was legendary Dutch coach Rinus Michels, the architect of those '70s-era "Total Football" teams and someone whom Pinto befriended in the early 1980s while a student in Cologne, Germany, where Michels was running the local Bundesliga club.
"I've been looking at Dutch football since then," Pinto said.
Star striker Bryan Ruiz also knows Saturday's opponent well, having spent two seasons in the Netherlands before moving to the Premier League in 2011 (he returned to the Eredivisie on loan with PSV Eindhoven in the second half of the 2013-14 season).
All that doesn't change the fact that the Dutch remain the heavy favorite. "Our goal continues to be winning the World Cup," Van Gaal said.
Costa Rica's is merely to live to fight another day. "My team is a team for challenges," Pinto said. "We've always believed."
Believe this: Although the odds say the Netherlands will prevail in the end, it won't end with the rout many are predicting.
Doug McIntyre is a staff writer for ESPN The Magazine and ESPN FC. Follow him on Twitter @DougMacESPN.