Costa Rica confound their critics
After Costa Rica upset Italy 1-0 on Friday, the Ticos' coach, Jorge Luis Pinto, made a special dedication to his hero, legendary manager Jose Mourinho. "Thanks for doubting us," he told him.
"Mourinho, one of my idols, said that we were not going to surprise a second time," Pinto said.
Mourinho became the latest critic to receive his just deserts (for the record, so did I after going against La Sele in both matches). The Ticos have not only been treated as the minnows of Group D -- a fair statement when you're the only team in the group to have never won a World Cup -- but have also been derided by disbelievers.
While some of the comments like Mourinho's were rather mild, some quotes provided headline material. Italy's Mario Balotelli brazenly wrote on Twitter that if Italy saved England from elimination by defeating the Ticos, he would request a kiss from the queen.
Costa Rica dared Balotelli to beat them, yet he squandered good chances and was caught offside too often. He spent long portions of the match frustrated by La Sele's back line and received a yellow card after throwing a defender to the ground.
- Carlisle: Ticos put the world on notice
- Horncastle: Italy's worst fears realised
- Three Points: Costa Rica shock the Azzurri
Bryan Ruiz and Joel Campbell both felt they hadn't been given a fair chance to make it with their Premier League clubs, Fulham and Arsenal, and hoped to use the World Cup as a springboard to future opportunities. Campbell, who signed for Arsenal in 2011, has been on loan ever since due to visa issues. When those issues were finally resolved last year, the Gunners loaned him out for another season. Campbell should look irresistible to Arsenal now with his dominant performances at the World Cup.
Ruiz's future remains unclear, and that's why his success on Friday seemed even sweeter. After some difficult seasons with Fulham, the English club loaned Ruiz to PSV Eindhoven, and La Sele's captain is not sure he'll return to his parent team. Ruiz faced frequent criticism for his disappointing displays at Fulham, though he believed the club didn't know how to use him correctly.
Against the Azzurri, his header in the 44th minute gave Costa Rica a lead they fought to keep, and they eliminated England by holding on to reach the round of 16 for only the second time in their history.
For fans of Costa Rica, the most cutting insult was a putdown that upset the whole country. After they lost 3-1 to Japan in a friendly in early June, a Uruguayan newspaper called the team "Costa Pobre" (which translates as "Poor Coast," as opposed to Costa Rica, which means "Rich Coast"), and declared them unready for the World Cup. The newspapers have had to backtrack in the wake of events in Group D, however. When the Ticos stunned Uruguay 3-1, a front page christened them "Costa Riquisima" ("Very Rich Coast"). That's more like it.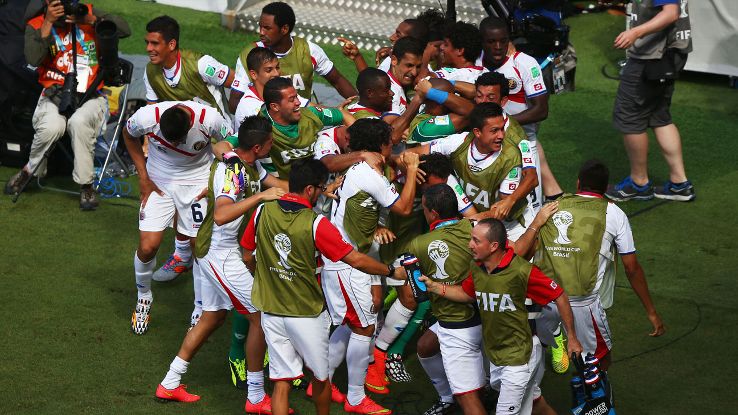 The greatest beneficiary of Costa Rica's retribution tour (well, besides CONCACAF) is perhaps the coach, Pinto. The 61-year-old Colombian had failed in his first two attempts to reach the World Cup (once with Costa Rica and once with Colombia). He was criticised by some fans and media in the country for changing Costa Rica's style to one that focused on defence and his beloved 5-4-1 scheme, but he has had the last laugh.
Pinto is a man who loves to fight back. After one Costa Rican told a radio show the team lacked consistency, the temperamental coach phoned into the station and chided the fan as disrespectful. After the Ticos' two tactically robust World Cup victories, Pinto has silenced even the staunchest of sceptics.
At Costa Rica's Fuente de la Hispanidad -- a large fountain in San Jose where Ticos celebrate their biggest victories -- the parties continue. Supporters, clad in their La Sele jerseys, turned the streets around the landmark into a sea of red moments after the Italy match ended. Luis Guillermo Solis, the recently elected president, even made an appearance among the thousands of Costa Ricans taking part in the revelry.
For the rest of Group D and the three former champions, they can only look on and wonder what went wrong.