Cuadrado's beautiful art of deception
On the beach of Necocli, Colombia, by the Caribbean Sea, a boy kicks and chases after a football on the sand. He runs up and down, dribbling in and out of the driftwood that has washed ashore. Although he is Colombian, he wants to be like a Brazilian and one in particular: the original Ronaldo. He likes the speed, the skill, the stepovers and feints, how the toothy No. 9 doesn't limit himself to playing in the penalty area but goes from one end of the pitch to the other, beating one opponent after the other. The boy from Necocli goes by the name of Juan Guillermo Cuadrado.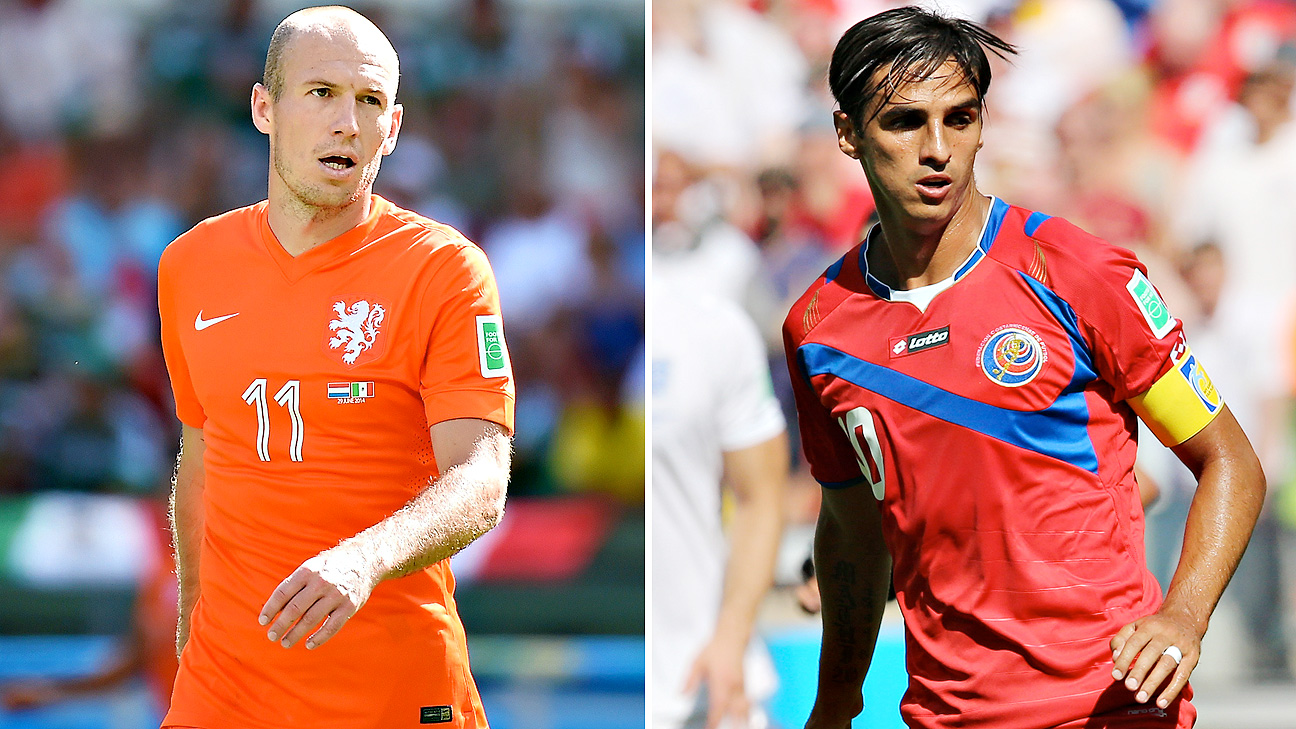 "My idol was O Fenomeno," he explained to La Gazzetta dello Sport. "Unfortunately I have never met him, but if I did I wouldn't hesitate to ask him for a photo and an autograph." Cuadrado might finally get his chance in Fortaleza, Brazil, on Friday when Brazil play Colombia for a place among the last four of the World Cup. One suspects Ronaldo will be in attendance at the Castelao as part of his role on the organising committee.
For now, however, Cuadrado's focus is entirely on the game. Colombia have never gone this far in the competition before. They hadn't even qualified since France '98, the tournament at which Brazil reached the final only for Ronaldo to suffer a mysterious fit on its eve, play out of sorts and lose to the hosts, France. "A quarterfinal would be a triumph," Cuadrado said during the group stages.

Brazil
Colombia
Game Details
As the only team to have convinced throughout, Colombia are now many people's favourites. Their coach, Jose Pekerman, a former taxi driver and (legend has it) a distant relative of Gregory Peck, is yet to suffer a defeat in 90 minutes at a World Cup, a streak stretching to nine games (remember his Argentina team were knocked out on penalties by Germany in 2006). Colombia also have the tournament's outstanding player and leading goal scorer in James Rodriguez.
If James' star is in the ascendancy in Brazil, Cuadrado has contributed greatly to it shining so brightly. No one at the World Cup has more than the four assists he has laid on for his teammates this summer, and all but one has been for James. When you watch Cuadrado, rather than Ronaldo, it's the great Brazilian wingers of old who come to mind. I'm not comparing him to Mane Garrincha. But what opponents said of him is also true of Cuadrado.
"I recommend that you never look into Garrincha's eyes," wrote the Colombian journalist Daniel Samper. "They are the eyes of a liar, a swindler. Eyes that never tell the truth." Eyes and hips (Colombia's Shakira won't let us forget the hips) that send you one way, the wrong way, and betray you as the dribbler then goes the other every time and leaves you looking foolish. The dribbler is a con artist. He can sell you anything. He is a dancer too. Just look at Cuadrado's part in Colombia's goal celebrations.
Musing on this subject, Jorge Valdano, a member of Argentina's 1986 World Cup-winning team and former coach and technical director at Real Madrid, once said: "The specialist in dribbling is a poker player who bluffs with his entire body."
You can't teach that ability. You can pass on the principles: fake inside, step outside or vice versa. But then comes the practice: do you have the speed of thought and fleetness of foot to execute it? How do you make a defender buy that dummy? And what are the tells he gives that make you decide now is the time to go? It's instinct. You've either got it or you don't. Cuadrado can't explain why he is so good at it, and this is someone who completed more dribbles than any other player in Serie A last season, and by some distance too (118). "I worked on this a lot as a kid in Colombia with my first coach, Nelson Gallego," he told Guerin Sportivo. "It's thanks to him that I learned this technique, but don't ask me how."
James covers the Italian Serie A and European football for ESPN FC Follow him on Twitter @JamesHorncastle.