Alphonso Davies' upbringing, character mean he can handle the spotlight
The rapidity of Alphonso Davies' ascension is not lost on the 16-year-old.
It was barely more than a year ago that he convinced his tearful mother to let him leave Edmonton for Vancouver, that he'd stay dedicated to his studies, that his soccer dreams were worth risking what his family had sacrificed.
Davies is still in touch enough with his roots to remember exactly where he came from: The Buduburam refugee camp in Ghana, where he spent the first five years of his life as his parents sought refuge from the Liberian civil war.
So don't expect the breakout star of this Gold Cup -- three goals and counting ahead of Canada's quarterfinal date with Jamaica on Thursday night -- to lose his head now. That level-headedness, coupled with his rare talent, is what has allowed Davies to rise so quickly in the first place.
Jamaica
Canada
Game Details
"Just looking back at what my family did for me," Davies told ESPN FC in a phone interview. "And where I came from, from nothing in Ghana ... and my mom allowing me to come play soccer, keeping myself motivated is a little bit easier than usual."
Ask anybody within the Whitecaps organization and they'll rave about the teenager's poise and humility as much as they will about his ability.
Vancouver coach Carl Robinson recalls Davies' reaction when told that Manchester United was coming to town to scout him ahead of last October's match against Seattle. The youngster didn't pester Robinson with follow-up questions, or confess his nervousness. Davies just broke into one of his endearing smiles. And the next day, against grown men some of whom were more than twice his age, the kid tore up the rival Sounders.
And while some might have expected Davies to take time to adjust to the international level after gaining his Canadian citizenship in June, his performance in this Gold Cup has only confirmed what Robinson has known since that October afternoon with United's scout up in the BC Place stands.
Where even seasoned veterans might have buckled under the weight of expectation, Davies gets better as the spotlight burns brighter.
"I actually think he thrives on knowing that the biggest teams in the world are watching him," Robinson said. "He has the mindset that he wants to be one of the top, top players in one of the biggest leagues."
United is not the only powerhouse keeping tabs on the teenager. Robinson ticked them off one-by-one: Manchester City, Liverpool, Chelsea, Arsenal, Juventus. At the moment, their interest is moot: FIFA's Article 19 prevents players under 18 from moving to another country barring three exceptions that Davies does not qualify for.
"There has never been anything formal," says Vancouver club president Bob Lenarduzzi. "All we've been aware of is that there's been interest. No club has ever reached out saying, 'We like him. We want him.' That hasn't happened."
For now, then, forget the future feeding frenzy and appreciate Davies for what he already is: An absolutely electrifying presence on the wing, Canada's best prospect in ages and as grounded as a prodigy can possibly be.
There is a tendency, especially in nations whose soccer history is as barren as that of Canada, to protect young, exceptional talents such as Davies like fragile eggs. The only player to make his MLS debut at a younger age than Davies did last year at 15 was Freddy Adu, who is held up as the ultimate cautionary tale.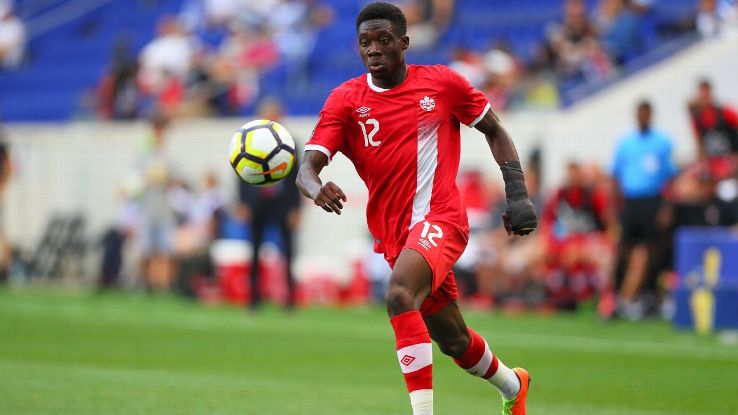 Part of that impulse is both healthy and necessary. Davies started three of Vancouver's first four league games this season, plus CONCACAF Champions League action in which he scored the goal that helped the Whitecaps reach the semifinal. By April, it was clear the workload was taking its toll and Vancouver started using him off the bench instead.
"I sat him down and told him: Everyone wants to see Alphonso Davies play every minute of every game," Robinson said. "I want to see Alphonso Davies play every minute of every game. But right now, he just can't, physically or mentally. We have to be very, very careful with the boy. I've seen plenty of players not reach their potential when they get too much, too soon."
But as for the hype machine that has chewed up plenty of prospects before him, few close to Davies are worried that all of this will go to his head.
"He keeps his feet on the floor," Robinson said.
Adds Lenarduzzi: "I've seen countless kids with a lot of potential from a technical aspect, and unfortunately I've seen a lot of them that thought it would get them by. They were entitled. He's never had that."
Some of that is temperament and some of it is due to Davies' upbringing. The Whitecaps' biggest competition in trying to sign Davies to their youth academy wasn't another club -- it was his mother, who was concerned about her son's education first and foremost and reluctant to let him leave the city in which they'd settled when he was just a toddler.
"If you hear his parents speak, you'll understand why he is the way that he is," Lenarduzzi said. "He's facing a lot of attention right now. Based on what he's done so far, he's going to come through that unscathed."
Lenarduzzi remembers last year's Sounders game vividly. Sitting in his box before kickoff, he tried to put himself in young Alphonso's shoes. As a player, Lenarduzzi represented Canada at its only-ever World Cup appearance in 1986. Still, if he was honest with himself, anxiety might have overcome him if faced with what has been asked of Davies.
"He went out and played just like he always has," Lenarduzzi said. "That's a pretty good testament to his ability to handle that type of pressure."
Before the game, Robinson told Davies that he'd better get used to it. If he's as good as the coach thinks he can be, and as performances since have lent credence to, United wasn't going to be the last big club sending scouts to British Columbia.
Robinson's final bit of advice is even more resonant now than it was last October, with Canada on the brink of the Gold Cup semifinals and Davies being lavished with more attention than ever before.
"Just play like you train every day," the coach told the teenager. "Your job is to perform -- and not for them. Perform for yourself, and perform for your future."
Davies just smiled and he's played as though he's taken those words to heart ever since.
Matt Pentz is a Seattle-based soccer reporter covering primarily the Sounders, Timbers and Whitecaps. Follow him on Twitter @mattpentz.