Brazil start slow but finally show signs of progress in comeback win over Czech Republic
Before Brazil's visit to the Czech Republic, it seemed that they could hardly win, that whatever happened in Prague, there could be no rapid redemption for the disappointment of Saturday's 1-1 draw with Panama. How could they win back some pride against an opponent that had just been taken apart and beaten 5-0 by England?
But every game is a different story -- and in what became difficult circumstances, Brazil were forced to find their balance against the Czechs.
At half-time they were 1-0 down and deservedly so. There was an element of fortune about the way that ball ended up at the feet of David Pavlenka, who beat Alisson with a fierce left- footed shot. A diagonal pass from Lukas Masopust took a number of deflections before reaching him but there was nothing lucky about the lead. The Czechs, wounded and wanting to put on a show in front of their home crowd, had taken control -- and it forced Brazil into a half-time rethink.
With a centre-forward, a pair of strikers operating from wide and a midfield trio, it is possible to see Brazil's side as a 4-3-3. Coach Tite, though, prefers to view it as a 4-1-4-1, which emphasizes the idea of a compact block all across the pitch behind the central striker. But the problem in the first half was that the first "1", holding midfielder Casemiro, was over-run. The Czechs waited for the passing error as Brazil sought to play the ball out from the back, won possession and broke in numbers. Casemiro, not the quickest and not in the greatest form, was unable to cope. He was easily beaten in the build-up to the Czech goal and, on a yellow card, at that point there were legitimate fears that a red might follow.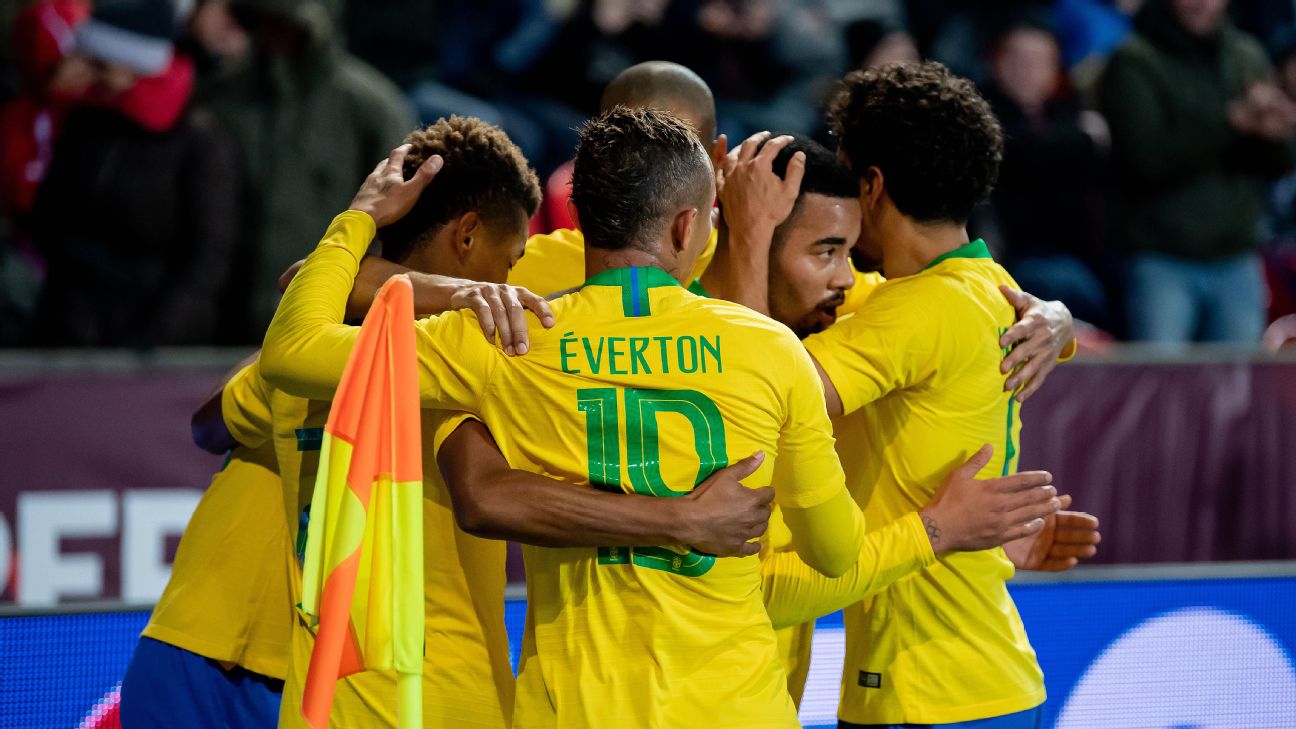 At the interval, then, Tite tweaked his team. Midfielder Allan dropped to play alongside Casemiro. The space was now better protected, and Brazil appeared to find more comfortable lines through which to pass the ball out of defence, get the ball up the other end and apply some pressure. The introduction of the speedy Everton opened up the pitch to the right -- crucially, giving Brazil a player who prefers to have the ball played into space rather than to his feet and Philippe Coutinho moved into a central attacking midfield position, giving him more proximity to, and more capacity to combine with Roberto Firmino.
The equaliser came quickly and came from an error; Theodor Gebre Selassie, just on, played a foolish ball back inside his penalty area, and Firmino reacted quickly to get there first and slide a shot past goalkeeper Jiri Pavlenka.
From a tactical and psychological point of view, it may have been more interesting had Brazil been forced to wait longer to get on level terms. The test would have been more exacting. From that point, though, just three minutes into the second half, the initiative was theirs, and Tite could make further changes from a position of strength.6
On came Gabriel Jesus for Coutinho. Instead of the recent dilemma of Gabriel or Firmino, the new 4-2-3-1 offered up the possibility of Gabriel and Firmino together. With David Neres of Ajax coming on for an electrifying debut, Brazil were now buzzing at pace -- and in the last 10 minutes Gabriel Jesus struck twice, both times rounding off swift collective moves, to confirm Brazil's 3-1 win.
Before the Panama game, Brazil had clocked up six consecutive wins without conceding a goal -- but without playing well. Tite has been making a point of stressing that winning without playing well is an illusion. The second half of the game in Prague offered something more solid and will serve as a major morale boost as Brazil's coach sits down to work out his squad for the quickly approaching Copa America.