Alejandro Sabella - Artist or artisan?
For years, Argentine football was defined by a battle for its soul between two rival schools of thought.
There was that of Cesar Luis Menotti, a left-leaning intellectual, coach of the team who won the World Cup in 1978, who saw football as art.
In the other corner was the camp of Carlos Bilardo, a World Cup-winning coach in 1986, for whom football is war and winning is the only objective.
Netherlands
Argentina
Game Details
Curiously, Alejandro Sabella's 2014 team might be seen as straddling both sides, with an identity that incorporates bits of both, lurching back and forth between the two.
Sabella was thrown in the deep end in 2011, appointed just before the start of the World Cup qualifiers and given an obvious mission -- get the best out of Lionel Messi, the little genius who had consistently failed to show his club form for his country.
The new coach got off to a sticky start. Argentina had been beaten by Venezuela and held at home by Bolivia. They were then losing away to Colombia until Sergio Aguero was introduced at the interval and, together with Messi, turned the game around. Sabella found himself inching toward a 4-3-3 formation, with Messi operating behind two strikers, Aguero and Gonzalo Higuain.
Behind Messi, there was a midfield trio, made up of three players with very different functions. Javier Mascherano protected the fort, Fernando Gago passed the ball (usually to Messi) and Angel Di Maria provided left-footed attacking thrust.
There was an obvious similarity here with Menotti's 1978 side. True, then there was no Messi, and the attacking trio was totally different -- a centre-forward and two wingers rather than a pair of genuine strikers and a false nine/playmaker. But there was a striking similarity about the midfield three; 36 years ago Americo Gallego was the tough little tackler who rarely crossed the halfway line, Osvaldo Ardiles knitted the team together with his high-tempo passing, and Mario Kempes was the left-footed "matador," a constant threat with his attacking runs from deep.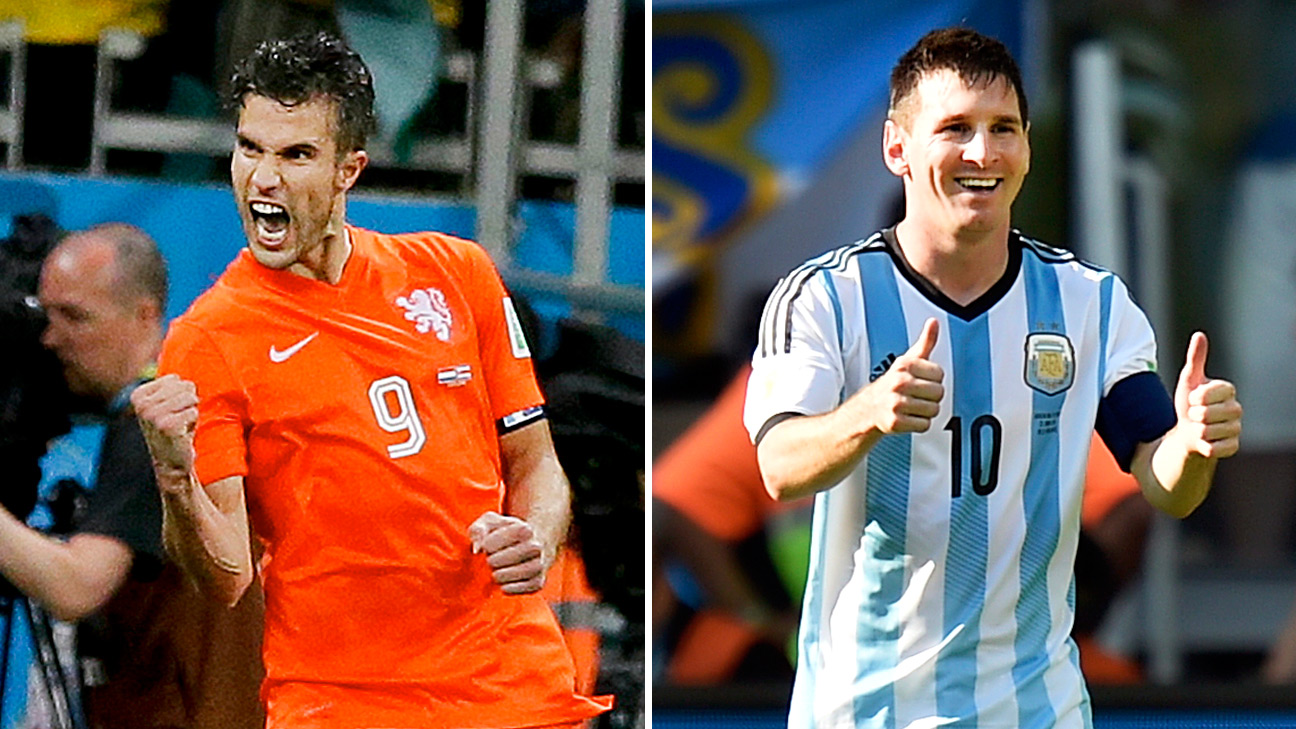 There was always a feeling that Sabella was concerned that the 4-3-3 formation left his team too open. "There are times when the opposition are attacking," he commented last year, "when all I can do is shut my eyes and pray."
Argentina's coach seemed to lose his nerve when he arrived in Brazil. For the opening game against Bosnia he went with an ultra-cautious system with three centre-backs. It was a disaster, and after a dismal first 45 minutes he was obliged to revert to 4-3-3 at halftime. After the match Messi made it clear that this was his preferred way of playing, and that seemed to have settled the matter.
But never underestimate the importance of what former British Prime Minister Harold MacMillan once referred to as "events, dear boy."
In this case, the events were injuries to a couple of key members of the team. Aguero, who had never looked 100 percent, limped off in the third game against Nigeria and has yet to return -- though he could come off the bench in the semifinal against the Dutch. And then, in the quarterfinal against Belgium, Di Maria was a casualty. He will certainly miss the match against Holland.
Aguero was replaced by Ezequiel Lavezzi. This may have appeared a like-for-like switch, one striker for another. In reality, it was a big change.
Aguero is a penalty-box predator, Lavezzi a winger. The new man patrolled the flank, and was happy to track back into midfield. In effect, Argentina were now playing 4-4-2, with Messi and Higuain up front and Lavezzi and Di Maria on the flanks, frequently swapping wings.
The loss of Di Maria tends to emphasise this change further. The most likely scenario is one in which Enzo Perez starts the match against Holland -- he did well after coming on for Di Maria on Saturday. Perez is a player of considerable dynamism, but there is no doubt that his inclusion further tilts the balance of the midfield toward defence.
Suddenly, we are a long way from the open 4-3-3, which Messi enjoys so much.
In fact, we are moving closer to the Bilardo formula of 1986. This is not an exact comparison; Bilardo was a pioneer of the three-centre-back system, while Sabella's team still look more likely to take the field in Sao Paulo with a back four. But there is a similarity in the basic idea: keep compact, have numbers behind the ball and trust in the flashes of inspiration from a genius at No. 10, Diego Maradona in 1986, and Lionel Messi 26 years later.
Tim Vickery covers South American football for ESPN FC. Follow him on Twitter @Tim_Vickery.