Man City boss Pep Guardiola tight-lipped over Aymeric Laporte, Fred
Pep Guardiola has refused to comment about the possible signings of Aymeric Laporte and Fred, insisting that tying down current players to new deals was the best news of the transfer window.
Sources have told ESPN FC that Manchester City are hoping to complete deals for defender Laporte, from Athletic Bilbao, and Shakhtar Donetsk's Brazilian midfielder Fred during the transfer window.
But Guardiola refused to be drawn on the possibility of signing either player as he prepares for City's FA Cup clash with Cardiff City on Sunday.
"[Laporte] is a player for Bilbao. It's the same as other players in the clubs, I didn't speak about previous players. If it happens, it happens, if not then it doesn't," he told a news conference.
"There are players in the past who are interesting, in the present there will be and in the future, always we try to do our best for the squad, knowing the players we have."
Asked about Fred, he added: "I know you are curious about [transfers] but here is not the place to talk about it. They are playing for other clubs. Making deals is so difficult. It is not the right place to talk about names.
"I said in the past we are trying to do the best for the squad for now, six months, years. If we are going to do something interesting we'll do it now or in the summer and if not in the summer we'll stick with the guys who've done amazingly."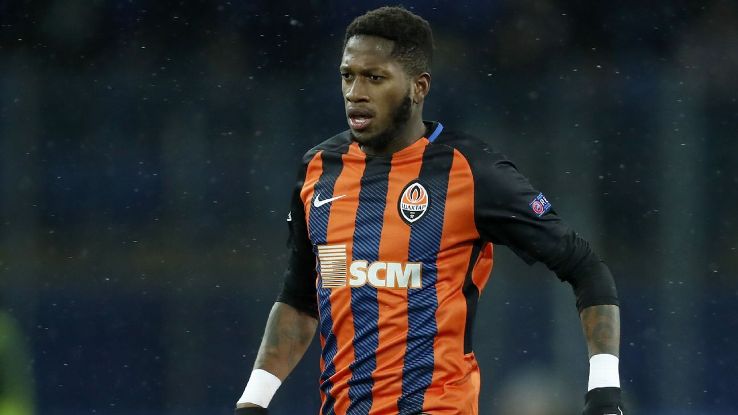 Guardiola was more focused on the club awarding new contracts to David Silva, Nicolas Otamendi, Fernandinho and Kevin De Bruyne in the past fortnight.
"Nico, Kevin, David and Ferna have all extended their contracts and we are so so happy that they are with us for the future. It is the best news of the past weeks," he added.
City will have Vincent Kompany back in the squad for the trip to Cardiff along with Kyle Walker, who has recovered from a facial injury suffered late in the midweek win over Bristol City.
Guardiola admits he is concerned about a fixture pile-up with a Premier League clash at Arsenal already rearranged because the two sides will meet in the Carabao Cup final.
Two years ago, former manager Manuel Pellegrini decided to play an under-strength team for a fifth-round FA Cup clash with Chelsea but Guardiola says they must adapt to their situation with City still competing in all four competitions.
"In that situation [in 2016] it was different to now, the club tried to speak to ask for the fixture to move to have one more day to go to [Kiev]," he said,
"I understood what the club did, but here the TV decide the fixtures and we'll adjust. We are going to play the final at Wembley on Feb. 25 and on Thursday against Arsenal in the Premier League, Sunday it's Chelsea, then the Champions League after that.
"We'd prefer more time but we are in four competitions and we have to adapt. That's not going to change -- the fixtures, the rules.
"I give my opinion but nothing will change and we have to adapt, sometimes you have one more day, sometims less days because the TV decides."
Jonathan is ESPN FC's Manchester City correspondent. Follow him on Twitter: @jonnysmiffy.