'There was no opportunity' for Alexis Sanchez to join Bayern - Ancelotti
SHANGHAI -- Bayern Munich manager Carlo Ancelotti says "there was no opportunity" to buy Alexis Sanchez from Arsenal this summer, which forced the club to focus on other targets.
Bayern cooled their interest in Sanchez because of what club president Uli Hoeness called "crazy money," and Ancelotti confirmed on Tuesday that the club had moved on after signing James Rodriguez on a two-year loan from Real Madrid.
"We talked about Sanchez in the past. In the last two months, the club spoke about this," Ancelotti said at a news conference in Shanghai ahead of a friendly against Arsenal on Wednesday. "But there was no opportunity for a transfer, and so we thought about other players. That's it."
James is on the preseason tour of China, giving Ancelotti another attacking option to add to the team that beat Arsenal 5-1 twice in the Champions League last season. Some have seen James as a replacement for Thomas Muller although the Germany international laughed off that notion and said both he and James are keen to "break those rumours."
"Personally I think James is a very good player who will improve our team quality and help us reach more goals," Muller said. "With James joining the team we have more options to choose from. He's an excellent midfielder and he will bring supplementary support to the team."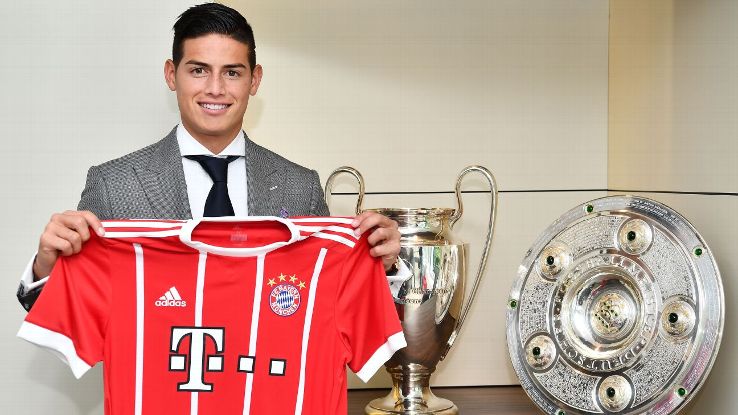 Ancelotti said James' versatility means he can provide competition for a number of Bayern's stars -- not just Muller.
"Of course we didn't buy James to replace Thomas Muller. This is clear," Ancelotti said. "Because if you think that you can also think James can replace Thiago, because he has played a lot of times as an offensive midfielder. And since he can play also on the right you can think we bought James to replace [Arjen] Robben, or to replace [Franck] Ribery because he can play also on the left ...
"We didn't buy James to replace anyone, we bought him to have a better team. And also, James knows that if he doesn't deserve to play he doesn't play, he goes on the bench. As a lot of players go, because we have a lot of competition in the team. He has no place guaranteed for me. If he deserves to play, he will play."
Robben and goalkeeper Manuel Neuer were left out of the tour squad to recover from injury, but Ancelotti said both will be ready for the start of the season.
Mattias is ESPN FC's Arsenal correspondent. Follow him on Twitter: @MattiasKaren.