Julian Draxler would welcome Arsenal's Mesut Ozil at Paris Saint-Germain
Julian Draxler has said that he "would love to play with" Germany international teammate Mesut Ozil at Paris Saint-Germain.
Draxler, 23, has spoken before about how he has tried to convince Ozil to leave Arsenal in order to link up with him in France, but also that he does not know what the future holds for him beyond this season.
"Yeah, I would like to see my friend here, Mesut Ozil, because his Arsenal contract is nearly over," Draxler told SFR Sport. "I think he has one more year. I think he is a great player and I enjoy playing with him in the national team and I would love to play with him at PSG.
"Yeah, we speak in a way like friends are talking and I say to him 'come to PSG.' He is laughing and he said to me last summer 'come to Arsenal.' It is just like this.
"I do not know what he is planning, what his plans are but as I said, I would love to see him here because he is a great player and an even greater guy."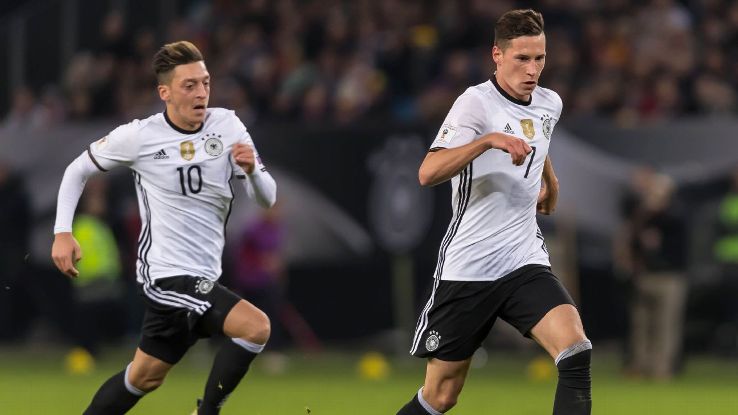 Not everything has been rosy for Draxler since joining PSG from Wolfsburg in January. He was part of the starting XI that capitulated 6-1 to Barcelona in the Champions League last month, a defeat that still haunts him and is perhaps his lowest professional moment.
"Yeah, I think so. You don't forget it like this because we played a great match here at Parc des Princes against Barcelona," he said. "Yeah, nobody expected that we would concede six goals in Barcelona.
"So, it was a terrible night for us, I think we will not forget it too fast but we have to be professional and we have to continue because we want to win two more titles this season, we already have the Coupe de la Ligue. We are trying to forget the Barcelona game but it is not easy.
"Yeah, maybe, because it was a great opportunity for us. As I said, our first leg against Barcelona was really good, so we were really confident to go to the next round. Yeah, maybe you can say it was the worst match of my life."
Draxler will miss PSG's Ligue 1 clash with Angers on Friday night after picking up an injury in last Sunday's 4-0 thrashing of Guingamp.
Jonathan Johnson covers PSG and the French national team for ESPN FC. Twitter: @Jon_LeGossip.