Robert Lewandowski to Real Madrid reports 'just speculation' - agent
Robert Lewandowski's agent has backtracked on comments which seemed to indicate firm interest from Real Madrid, insisting it is "speculation."
The impending exit of Bayern Munich coach Pep Guardiola for Manchester City at the end of the season has led to question marks over the future of the Poland international, who has already scored 19 Bundesliga goals this season.
Reports in the Polish media have linked Lewandowski with a move to Real Madrid and his agent, Cezary Kucharski, said that there "is something" to the stories when picking up the Polish Player of the Year award on behalf of his player on Saturday.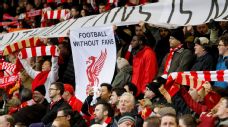 But when speaking to Polsat later, Kucharski distanced himself from the reports linking the 27-year-old with a move away from the Allianz Arena.
"Real have not conducted talks over a transfer, it's just speculation," Kucharski said in quotes published by several media outlets across Europe.
"Rumours around Robert show what a player he is. He's known not only in Poland or Germany, but throughout Europe."
Kucharski added: "Lewandowski is at a team that suits him, and there is no need to change anything."
The player's representative also confirmed contract negotiations with Bayern have begun. "Yes, we've started talking," he said. "I won't talk about specifics, because it's confidential."
Lewandowski's Germany-based agent, Maik Barthel, also assured fans he was content in Munich.
"Robert is happy at Bayern, we are happy too," Barthel said. "He's been playing on a world-class level for the past two years, that's why he can look forward to his new contract."