Atletico Madrid may target Diego Costa, Radamel Falcao - Cerezo
Atletico Madrid was not in last-minute talks to bring Radamel Falcao nor Diego Costa back from Chelsea, although there could be movement in the summer transfer window, Enrique Cerezo told Cadena SER's El Larguero show.
Cerezo denied rumours out of London that Falcao was in Madrid having a physical last week when a potential deal fell through. He also denied that a missed Falcao opportunity contributed to the abrupt exit of Jackson Martinez from the Vicente Calderon on Wednesday, picked up by China side Guangzhou Evergrande.
Regarding future transfers, Cerezo said he has not yet entered into any negotiation with Chelsea to bring Falcao back nor has he had any talks with the Premier League about a Costa return but added that "we will have to see what happens" in the summer.
"If he was in Madrid, Falcao, I didn't know about it. I haven't talked to him in a long time but I think he is recovering from injury. But as for with us, I know nothing about that," Cerezo said.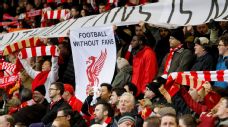 "I speak regularly with Diego Costa but I haven't discussed whether he would come here because he has a rather long contract [with Chelsea]," Cerezo said. "Players will always say -- as a way of being kind -- that they want to come, but we have not discussed anything with Chelsea. He is under contract and in addition, right now, he is scoring goals for the club."
Cerezo however, didn't rule out a move in the future, saying that in the summer "we will see what happens."
He added that the club's "technical secretary has been working 24 hours a day" to look into the transfer of players now that the club has seen its FIFA transfer ban temporarily suspended.
"We must be prepared because two windows without being able to sign players is a long time for a club such as ours and we want to be on top, to win and to be in Europe," Cerezo said.
Chelsea were willing to let Falcao end his loan spell from Monaco as he has struggled for form and fitness since joining the Blues last summer.
Falcao has made just one Premier League start for Chelsea and scored one goal in 11 appearances for the club.
The Colombia international has not featured since the end of October with a thigh problem and it appears he does not figure in Guus Hiddink's plans with Alexandre Pato's arrival pushing him further down the pecking order.