Jackson Martinez was not at Atletico Madrid's level - Enrique Cerezo
Atletico Madrid president Enrique Cerezo said forward Jackson Martinez, who has joined Chinese side Guangzhou Evergrande, "was not at the level of these circumstances" and that the transfer "was the best for everyone."
The Colombia international, 29, joined the Chinese club on Wednesday for €42 million, signing a four-year contract. Spanish newspaper AS called it the biggest transfer fee ever paid by a team from Asia for a player in La Liga.
"Guangzhou is a great club, the change will be good for him and it will be phenomenal for the club. They will be in the running for the Chinese league title. Here, the truth is that poor Jackson was not at the level of these circumstances," Cerezo said on Cadena SER's El Larguero show.
Cerezo recognised that the 29-year-old "struggled to adapt" at the club. Martinez cleaned out his locker at the Vicente Calderon on Thursday but did not speak to the media.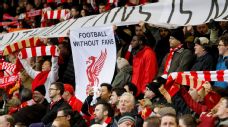 "He is a good player but here he didn't have good luck and without a doubt, the best option for everyone, for both the buyer and the seller, was for him to leave and that is the option we exercised," the 67-year-old said.
Cerezo also said that if the Chinese side paid €42m for the underperforming Martinez "it was because he was worth it" and added that he had "great appeal in the transfer market" so that it was difficult to say no when faced with solid economic offers.
Atletico paid €35m six months ago to sign Martinez from Porto, but he struggled in La Liga, scoring just twice in 15 appearances.
"The careers of football players are not very long, they are years that can be very decisive and maybe he thought that this was the right moment to put a good end to his career," Cerezo said. "No one can take away the great value he has. Even though he played little for us, he is a player highly regarded and no one can argue that he isn't."
Regarding possible transfers, Cerezo said he has not entered into any negotiation with Chelsea to bring Radamel Falcao back nor has he had any talks with the Premier League about a Diego Costa return.
"I speak regularly with Diego Costa but I haven't discussed whether he would come here because he has a rather long contract [with Chelsea]," Cerezo said. "Players will always say -- as a way of being kind -- that they want to come, but we have not discussed anything with Chelsea. He is under contract and in addition, right now, he is scoring goals for the club."
Cerezo however, didn't rule out a move in the future, saying that in the summer "we will see what happens."
He added that the club's "technical secretary has been working 24 hours a day" to look into the transfer of players now that the club has seen its FIFA transfer ban lifted temporarily.
"We must be prepared because two windows without being able to sign players is a long time for a club such as ours and we want to be on top, to win and to be in Europe," Cerezo said.
Finally, Cerezo said he did not understand the three-match ban dealt to Filipe Luis for the altercation with Lionel Messi in last week's 2-1 loss to Barcelona and compared it to a studs-up challenge from Athletic Bilbao defender Xabier Etxeita against Barcelona's Luis Suarez.
"In my opinion, the same infractions in other matches are not given similar sanctions. The other day I saw a clash much more complicated and the sanction was for just one match," he said.
"We have to be conscious of the fact that Filipe is not the type of player to do this every day. He plays fair and he has great fitness so it is not necessary for him to make those kind of challenges during a match. In Atletico our players are very sportsmanlike in the way they must be to play in this league. What we saw was the type of intensity that happens during a football game."