Liverpool's Alex Teixeira transfer miss doesn't worry Jurgen Klopp
Liverpool manager Jurgen Klopp has urged the club's fans to "trust" the decision not to sign Alex Teixeira from Shakhtar Donetsk in the winter transfer window.
Alex Teixeira said last week that Shakhtar turned down a €32 million offer from Liverpool for his services, while executive Sergei Palkin said the forward has a release clause in his contract of €70m (£53m).
Ultimately, the Reds did not bring in the Brazilian before Monday's deadline, with Klopp explaining his side were reluctant to pay over the odds.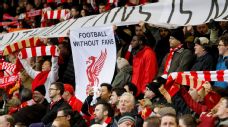 "It's very important that you can trust us," he said in The Guardian. "It was a common decision on Teixeira. We said we can't play this game until the end.
"We made offers, I won't say too much about that, but they were realistic with the plusses of it being January, the Premier League, all the plusses you have when you make negotiations.
"But it was a case of: 'If you don't want it, OK, we can't change the situation, both for now and the future.'
"It's not that we haven't got money but you have to work respectfully and responsibly. That's what we do.
"It is not like you should buy and sell, buy and sell. In my opinion, usually I make a one-year contract with the players.
"I know they have longer contracts, but I say: 'Yes, if you don't play the biggest rubbish in your life, I will trust you, you have to trust me.'
"And after a year, maybe he wants somewhere else, maybe I want him to go somewhere else. That's football. Now in the middle of the season, I have been here for four months and nothing has happened on transfers. I am fine with that and we can go on working."
Liverpool's main signing during the window was centre-back Steven Caulker on loan from QPR while a deal was struck for Marko Grujic, who was loaned back to Red Star Belgrade for the remainder of the season.