Dortmund can't rule out Pierre-Emerick Aubameyang sale - Watzke
Borussia Dortmund striker Pierre-Emerick Aubameyang continued his shootout with Bayern Munich's Robert Lewandowski for the Bundesliga's top scorer award at the weekend as the club admitted they could be forced to consider bids for the African Player of the Year in the summer.
At the weekend, Poland international Lewandowski netted twice as Bayern Munich retained their eight-point lead at the top of the Bundesliga table with a 2-0 defeat of strugglers Hoffenheim.
His former Dortmund teammate also scored two late goals at the Westfalenstadion, and secured the Thomas Tuchel XI a hard-fought win against Ingolstadt.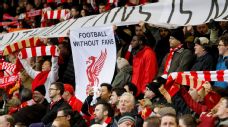 Lewandowski has now scored 19 goals this season, which is two more than in his first year at Bayern, one less than in his last season in Dortmund, when he won the Torjagerkanone (the award for the Bundesliga top scorer), and only five short of his 2012-13 record of 24 strikes.
But Bayern forward was not able to pull level with the African Footballer of the Year Aubameyang. The Dortmund forward has already hit 20 goals this term, having scored a total of 29 in his first two Bundesliga seasons.
Aubameyang has now scored in each of Borussia's last 10 matches at the Westfalenstadion, and is just two matches short of Gerd Muller's and Jupp Heynckes' all-time record of scoring in 12 consecutive home games in Bundesliga.
The former Saint-Etienne attacker is under contract at Dortmund until 2020, having prolonged his contract prior to the 2015-16 Bundesliga season.
His form this term has seen him linked with several of Europe's top clubs, although Aubameyang has ruled out leaving Dortmund in the winter transfer window, while Dortmund CEO Hans-Joachim Watzke has said not even €100 million would secure his signature.
Speaking on Sky on Sunday night, Watzke retracted his statement, and said Borussia would at least listen to offers.
"Should there be an offer, we need to discuss it," Watzke said. "Should the offer be over €100 million, we'd need to also talk to the player."
But the Dortmund chief added that the club don't plan to sell, and hope to see Aubameyang score goals at the Westfalenstadion "beyond 2020."