Chelsea's Alexandre Pato loan deal not a gamble - Guus Hiddink
LONDON -- Guus Hiddink says the loan signing of Alexandre Pato is not a gamble but admits it is up to the Brazilian to prove he can succeed at Chelsea.
Pato arrived in London on Wednesday to finalise the details of a six-month move to Stamford Bridge as the Premier League champions move to provide further cover for first-choice striker Diego Costa, who limped out of Sunday's 1-0 win over Arsenal at Emirates Stadium with a minor knee problem.
Questions have been raised about Pato's imminent return to European football after a previous five-year spell at AC Milan was brought to an end by declining form, a succession of injuries and accusations of a lack of focus.
However, Hiddink said signing the forward on loan means Chelsea have little to lose, even if he concedes that there are no guarantees the 26-year-old will be able to adapt to the rigours of Premier League football.
"It's not a gamble because it's a loan," Hiddink said at a news conference ahead Chelsea's FA Cup fourth-round clash with MK Dons.
"If you buy players who must make a next step it's more of a risk. A loan is good for everyone -- to see whether he is happy at this club and whether the club is happy with him after his few months in the upcoming time.
"He is in London. He was well spotted. Nowadays there are no secrets. We don't want to hide. He is now in the bureaucratic paperwork so we don't rush it. We'll see how soon it can be solved and he can go on the pitch. We are waiting.
"It's good to have him on loan so we can see what he can bring. When he comes in we have to allow him time to settle down, to get used to a very demanding league. Then it's up to him to make this gap smaller and smaller.
"Now he has another chance to make a step in Europe. It's a brave step and it's up to him. We'll help him to get fit and see what he can bring to this club."
Pato had been expected to complete the loan on Thursday but the deal was delayed, with sources telling ESPN Brasil that parent club Corinthians are demanding a clause that would prevent the forward from moving to any other English team until the end of 2017 if Chelsea do not make the move permanent this summer.
Corinthians requested that Pato, whose contract with the Brazilian side is due to expire at the end of 2016, be liable to pay €8-10 million if he were to breach the agreement.
ESPN Brasil has been told that Pato's advisors want him to accept the deal as the clause may not stand in court and the amount demanded is insignificant, but the player is currently unwilling to do so.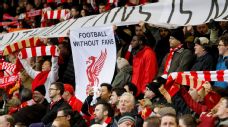 Diego Costa has shaken off the injury he sustained against Arsenal and is in line to start against MK Dons as he bids to continue the remarkable revival that has seen him score six goals in his last six matches in all competitions after netting just four times in 21 appearances prior to Jose Mourinho's departure last month.
"I don't know what he did in the previous games," Hiddink added. "I'm very pleased with what he's doing now, his efficiency in scoring goals. We're depending too much on him sometimes but I'm very happy with his performance and attitude. He's a key figure for us, very nice to everyone outside the pitch and he's focusing on his job."
Pato's expected arrival eases Hiddink's striker shortage, with Radamel Falcao a long-term absentee as he battles a "very serious" thigh injury and Loic Remy troubled by a persistent calf problem.
Sources have told ESPN FC that Newcastle United have made an enquiry for the Frenchman, who is said to be disillusioned about a lack of first-team opportunities at Chelsea, and Hiddink refused to rule out the possibility that Remy could leave Stamford Bridge before Monday's transfer deadline.
"He is injured for the moment," Hiddink said. "He has a slight injury on his calf and we'll see what will happen in the upcoming days. I don't think being injured now has an influence on him staying or going."
Liam is ESPN FC's Chelsea correspondent. Follow him on Twitter: @Liam_Twomey.