Arsenal hopeful over Nwakali and Chukwueze deals, no Chicharito link
LONDON -- Arsenal are hoping to sign two talented Nigerian teenagers before the transfer deadline, but manager Arsene Wenger has ruled out a move for Javier "Chicharito" Hernandez and doesn't expect to bring in any more senior players this month.
Sources told ESPN FC earlier this month that Arsenal are working on a deal to sign Kelechi Nwakali and Samuel Chukwueze, who helped Nigeria win the Under-17 World Cup last year. Wenger said talks are "progressing well" but that the pair are still waiting for the required paperwork to be sorted out.
"Of course there are work permit issues. There are medical issues because they have to make medicals, but it's progressing well," Wenger said at his news conference ahead of Saturday's FA Cup game against Burnley. "If we can get it over the line now during this transfer period, we will do it."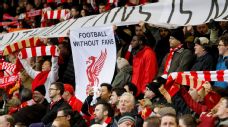 Nwakali was named the best player of the tournament and has been pursued by a number of top European clubs, including Manchester City, where his older brother is in the academy.
"We identified Nwakali as the player of the tournament basically, and as a top player," Wenger said.
If the deal goes through, it's likely to be the only one Arsenal complete before the winter window closes on Feb. 1. Having brought in midfielder Mohamed Elneny from Basel and seen a number of players return from injuries, Wenger said he doesn't need any more additions.
"Not at the moment," he said. "I have 23 players in training, plus two [injured duo Jack Wilshere and Santi Cazorla] is 25. Unless people go out, we are not on the verge of bringing anybody in."
Arsenal had been linked with a move for Hernandez, the former Manchester United striker who is now at Bayer Leverkusen. But with Alexis Sanchez fit again and Danny Welbeck back in training, Wenger said he doesn't need any more forwards.
"No, Welbeck is coming back now and Sanchez is back," Wenger said. "We have Giroud and Walcott, so you would not understand why I don't play Giroud and play Hernandez. We have the number of players and the quality we need."
Wenger also said Mathieu Debuchy is still likely to leave the club, but is still trying to find another team.
Debuchy wants to leave in order to get more playing time ahead of the European Championship, with the France right-back having lost his starting spot to Hector Bellerin. Wenger said Debuchy is free to go, but still needs to find a new club amid interest from Aston Villa and Sunderland.
"Debuchy might go somewhere, but I don't know where at the moment," Wenger said. "Of course, that decision has to be made very quickly now, because there's only 48 hours to go.
"He has much interest, but I have a number of people who can play right back so I open the door for him, because at the moment he doesn't play because he has Bellerin in front."
Mattias is ESPN FC's Arsenal correspondent. Follow him on Twitter: @MattiasKaren.