FIFA transfer bans for Barcelona, Real Madrid and Atletico 'medieval' - La Liga
La Liga president Javier Tebas says the punishments handed out by FIFA to Spanish giants Real Madrid, Atletico Madrid and Barcelona for breaking youth transfer regulations are "medieval and anachronistic."
Earlier in January, Madrid and Atletico were banned from all transfers during the summer 2016 and winter 2017 windows after FIFA found the two clubs had on many occasions broken the laws regarding the international transfers of players aged under-16.
Both clubs have denied any wrongdoing and are set to appeal as far as the Court of Arbitration for Sport if necessary, with Atleti lodging a formal appeal to FIFA's Appeal Committee on Tuesday.
Barcelona took similar steps with CAS when found guilty of similar offences in 2014, but still ended up serving a ban during the January 2015 and summer 2015 windows.
Nevertheless, La Liga chief Tebas says that minors at the Madrid, Barca and Atletico academies are well looked after in all senses, and instead of punishing the clubs for breaking the rules, the rules themselves should now be changed.
"It is medieval and anachronistic that FIFA punishes Real Madrid, Barcelona and Atletico for having model academies where the children receive not just a great sporting formation, but also education," Tebas said.
"La Liga is against child slavery and trafficking of minors but this has nothing to do with coming to play football at the schools of Real Madrid, Barcelona or Atletico, because it is undoubtable that there they are well looked after. What is needed is to change the rules on youths in a rational way, because what FIFA is doing makes no sense."
Tebas made the comments during a visit to Brussels to participate in a debate on "Europe and Third-Party Ownership (TPO)", organised by the European Parliament's Sports Intergroup, where he said La Liga's clubs needed this method of financing or face losing their best players -- including Lionel Messi, Neymar and Cristiano Ronaldo -- to richer Premier League rivals.
"This is a strategic issue for Spanish football," he said. "What we are asking is that we may make use of the financial market to obtain our talent. If our clubs do not increase revenue, they will be unable to attract talent and unable to compete.
"Without them, in five years, La Liga will be like the ACB [basketball league in Spain] and the Premier League like the NBA. English clubs have three times more income for TV rights, and teams need alternative financing or our biggest stars -- like Messi, Cristiano, Neymar, [Kevin] Gameiro or [Antoine] Griezmann -- will end up leaving to play in the Premier League."
Alluding to recent scandals at FIFA, Tebas said that world football's governing body lacked the "moral authority" to tell clubs how they could manage their own financial affairs.
"La Liga, the Portuguese League and many other European leagues that fear FIFA sanctions, are in favour of regulating TPO financing," he said. "We are talking about an industry that, just in Spain, generates 0.65 percent of the GDP.
"It is not right that such important financial decisions be made in a private Swiss institution like FIFA. Is FIFA entitled to make this decision? Today, I am in a state of shock that personnel from FIFA and UEFA are lecturing me on ethics. They are not competent to talk about ethics. In La Liga's opinion, FIFA has no moral authority."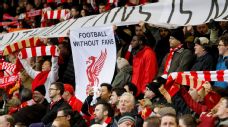 TPO is banned in England and other leagues amid worries about clubs losing control of their own financial futures, but Tebas argued that regulation could offer a protection against getting into difficult debt situations.
"At La Liga, we have financial control mechanisms in place to eliminate debt," he added. "I can assure you that Spanish clubs will not incur debt in the event that TPO were permitted, because there is a regulation against that.
"If this issue is regulated, there will be legal certainty. If there is legal certainty, there will be many more investment funds and, therefore, a more competitive market and less unfair terms."