Real Madrid won't buy in 2016 January transfer window - Florentino Perez
Real Madrid president Florentino Perez says his club will not sign anybody in the January transfer window, while denying his thinking was in any way linked to the club being banned from the market for a year by FIFA for irregularities in youth transfers.
Madrid were earlier this month banned from all transfers during the summer 2016 and winter 2017 windows after FIFA found they had on many occasions broken the laws regarding the international transfers of players aged under-16.
The Liga giants have called the sanctions "absurd," denied any wrongdoing and are set to appeal the judgement to the Court of Arbitration for sport if necessary.
Blancos chief Perez told France Football, in comments reported in AS, that he had been pained at Madrid's reputation for looking after youngsters had been "stained," while saying he was very happy with the club's Galactico-filled squad at the moment.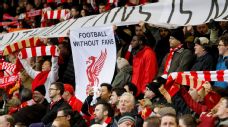 "The FIFA punishment is painful," Perez said. "It is very serious to stain the image of Madrid with this. We are convinced that all this is a mistake, it is absurd to think that Real Madrid would be punished for a case of protecting minors, when children have always been a priority for us.
"We are not going to sign anyone in the winter transfer window, but that has nothing to do with the punishment, it is because we have the best players in the world and the best coach."
That coach is Zinedine Zidane, who replaced Rafa Benitez in early January. Perez said Zidane had not hesitated for a moment on being offered the job, and recalled how happy the former France international had made Blancos fans as a player.
"[Zidane] said yes immediately, without doubting," he said. "It was so clear, I knew that Zidane was ready to take on this new and emotional challenge. Many people are in love with Zidane, they compare him to [Alfredo] Di Stefano in importance. I saw Di Stefano play and now many new generations can say 'I saw Zidane play.'"
Madrid's current biggest Galactico is Cristiano Ronaldo, who has been linked with Ligue 1 side Paris Saint-Germain. Perez said he was not shocked when other teams wanted to sign Ronaldo, but the 30-year-old was not going to leave the Bernabeu.
"I am not surprised," he said. "Cristiano Ronaldo is the best player in the world and the leader of Real Madrid. It is normal that [PSG] dream of having him. He is the successor of Di Stefano and is very happy here, so he will not be leaving Real Madrid. He is the best player in the world, and he must keep playing for the best team in the world."
Florentino also gave his support to Madrid and France centre-forward Karim Benzema, who is still under investigation for an alleged blackmail of his international teammate Mathieu Valbuena.
"We have supported [Benzema] and we will support him always," he said. "After speaking with him, I am sure that it is impossible to think he did anything bad. He is a good kid and I have no doubt that, above all, he wanted to help his friend Mathieu Valbuena."