Atletico Madrid make formal appeal against transfer ban
Atletico Madrid have lodged a formal appeal against their player-registration ban.
The Spanish giants, along with city rivals Real, have been banned by FIFA from registering new signings for the next two transfer windows after being found to have breached rules on the international transfer and registration of players aged under 18.
Atletico announced their intention to appeal against the sanction two weeks ago and they have now made their position official.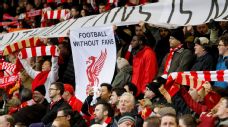 A statement published on the club's official website read: "After studying the documents we received on Jan. 14 we have today notified the FIFA Appeal Committee that we are appealing against the sanction which prohibits us from registering players in the next two transfer windows.
"We consider that we have acted within the law in all cases. We are also requesting a probationary suspension of the sanction pending the outcome of the appeal."
Atletico were also fined 900,000 Swiss francs.