Pierre-Emerick Aubameyang won't be sold for €100 million - Dortmund CEO
Borussia Dortmund would not sell Pierre-Emerick Aubameyang even if a club were to offer €100 million for the African Player of the Year, CEO Hans-Joachim Watzke has said.
Prior to Dortmund's 3-1 defeat of Borussia Monchengladbach on Saturday, former Germany international Lothar Matthaus said on Sky Germany that he believes Premier League clubs will be ready to bid at least €100m for Aubameyang.
However, Watzke told Bild that Aubameyang is not for sale no matter what bids are made for the Gabon international.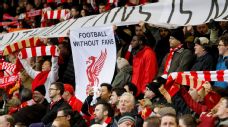 "Even if a high offer would come in now, it would not matter," Watzke said about Aubameyang's future. "We will not sell Auba."
The attacker, who despite several good chances failed to contribute a goal in the win at Gladbach, joined BVB from St Etienne in 2013, and is under contract at the Westfalenstadion until 2020.
Speaking to Canal Football Club on French TV on Sunday, Aubameyang ruled out a return to Ligue 1.
"I don't want to go back to France for the moment," the forward said, adding that he is not even interested in joining Paris Saint-Germain, the runaway leaders in France.
"Last year, maybe but this year, no," Aubameyang said.
Meanwhile, Dortmund forward Marco Reus scored his ninth goal of the Bundesliga season at the Borussia Park on Saturday, and also set up Henrikh Mkhitaryan for the second goal of the night.
The Germany international, despite several injuries, has now scored 67 goals in all competitions since returning to his hometown club from Borussia Monchengladbach in 2012, 30 of which have been the 1-0 for BVB.
Dortmund coach Thomas Tuchel praised the26-year-old in his postmatch news conference, and said that Reus is "very close to returning to the highest level," adding that in training "Marco is focused and free."