Tottenham target Moussa Dembele not for sale - Fulham's Jokanovic
Fulham manager Slavisa Jokanovic insists that Tottenham target Moussa Dembele is not for sale this January, with the Craven Cottage boss also ruling out an exit for Ross McCormack.
Sources told ESPN FC earlier in January that Tottenham are planning a move for highly rated forward Dembele before the close of the transfer window, with the 19-year-old out of contract at the end of the season and snubbing Fulham's offer of a new deal.
Dembele has impressed this season with 11 goals and his form has not gone unnoticed elsewhere, with Manchester City, Manchester United, Liverpool, Arsenal and Juventus also showing an interest in the Frenchman.
According to sources, Spurs are hoping to steal a march on their rivals by setting up a deal with Fulham for Dembele.
However, Jokanovic says the Championship club are not looking to sell either Dembele or McCormack -- who have scored 24 between them -- this winter due to the club's current transfer embargo.
"There is always speculation about Dembele and McCormack, but people need to understand Fulham too," Jokanovic told Sky Sports. "If they are serious people they see we do not need money right now, we need other things, and we are not in a situation where we have to sell our best players.
"We have seven days or so left and everything will be clearer then but, from my side, I don't want and I do not make the steps to sell anyone. The plan is to bring in new people and we are looking at the loan market."
Fulham would be reluctant to lose Dembele because of the transfer embargo, but they would only be due a compensation fee for the player if he stays until the summer.
The 19-year-old joined Fulham as a youngster from Paris Saint-Germain in 2012 and made his Premier League debut as a 17-year-old as a substitute against West Ham in November 2013.
If Tottenham sign Moussa Dembele he will join Belgian namesake Mousa Dembele, also a former Fulham player, at White Hart Lane.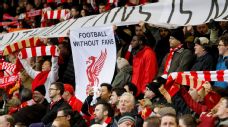 McCormack -- linked with Middlesbrough this month -- watched Saturday's 1-0 home defeat to Hull from the stands, but Jokanovic said: "Ross didn't play because yesterday he was sick and he has had some some physical problems after the last game.
"He has only trained once this week so he didn't appear in the squad. I don't believe physically he was ready to play. Psychologically, I understand there is much rumour and speculation, and I understand McCormack too.
"Ross is a professional and has a family, and he is thinking about the solution and the best steps for him, I understand that."