Rodrigo Bentancur 'honoured' by Real Madrid links, likes Manchester United
Boca Juniors midfielder Rodrigo Bentancur has told Marca that Real Madrid are yet to make a formal offer for his services, and revealed that Manchester United are his favourite European team.
Bentancur, 18, has reportedly attracted the interest of Madrid, with Serie A side Juventus also said to have shown an interest in the young Uruguayan.
Bentancur's father said earlier this week that the player is happy at Argentine club Boca for the moment. Despite Zinedine Zidane suggesting Los Blancos will not make any January transfers, Real's recently imposed FIFA transfer ban to cover the summer 2016 and January 2017 windows may force the Bernabeu outfit into moving quickly this month.
Earlier this week Boca president Daniel Angelici said he had not received a formal bid yet from Madrid for Bentancur, while appearing to suggest that his club would be open to selling, for a price under €15 million.
Bentancur has now also denied reports that a deal with Madrid is close, saying: "I found out through my agent and the press and obviously I'm greatly honoured and proud that Real Madrid are interested in me.
"However, to tell the truth, I've got to make it clear that there has been no formal offer from Spain. Nothing has been finalised."
Asked if a deal would be finalised, he replied: "I don't know. All I know is that I owe Boca. I've got two years left on my contract here and until I'm told otherwise, my goal is to fight for this club."
The midfielder also confirmed that United, and not Madrid, are his preferred side in Europe, saying: "Ever since I was a kid, the Premier League and Manchester United have most caught my eye."
Asked to name his favourite team in Spain, he revealed he liked both Madrid and Barcelona, saying: "The big two, obviously."
With speculation of a looming transfer ban -- which Madrid intend to appeal -- having been around for quite some time, Madrid have stocked up on young players through the last 18 months.
The club have spent upwards of €35 million on Norwegian teenager Martin Odegaard, Brazilian midfielder Lucas Silva, Real Mallorca playmaker Marcos Asensio, Real Zaragoza defender Jesus Vallejo and Bentancur's fellow Uruguay youth international Federico Valverde.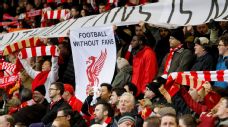 Los Blancos have also tended to sign at least one young South American talent each January through recent years -- with Lucas Silva 12 months ago following current Las Palmas striker Willian Jose in 2014 and Casemiro in 2013.
Asked if he would find starting out in a European reserve team such as Madrid's Castilla B side difficult, Bentancur said: "I don't know if that'll happen because, like I said, my duty is to Boca. But no, that wouldn't be a problem."